John Seed: Writing About Art and Artists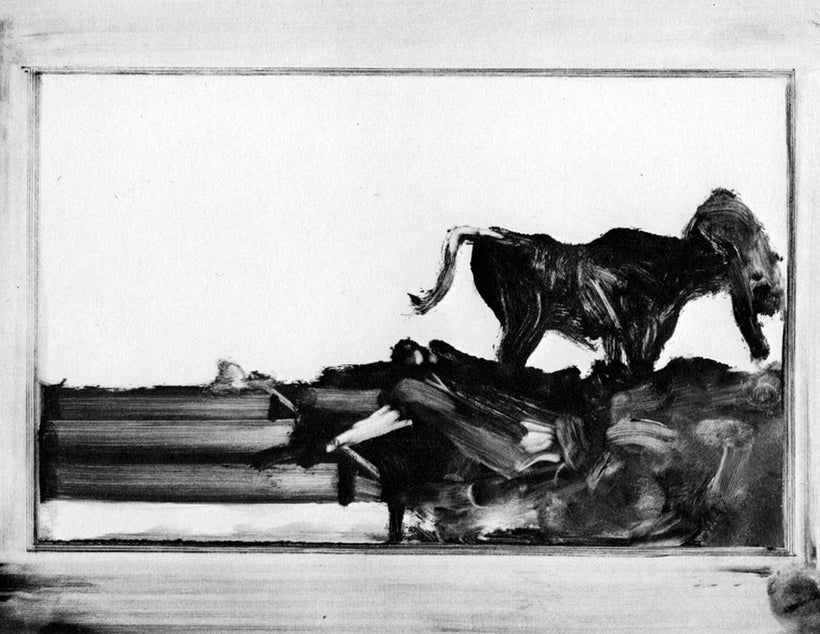 The late Nathan Oliveira (1928-2010)—an artist who was rarely satisfied enough with any single image to call it finished—liked to tell his students a story about how he had once confounded and frustrated a European art collector. It went something like this:
This collector had come all the way from Germany, very intent on buying some work, so I sat him down and had him watch a slide show of more than 50 images of a painting in progress. He watched carefully as I clicked through the slides, and when it was over and the lights were back on, he pulled out his checkbook and said "I'll buy number 17, number 22 and number 38." When I then explained that the final image was the finished painting and the only one for sale, he was very surprised and put his checkbook away. "But I don't want that one," he complained.
Oliveira's great strength as an artist—and also his great weakness—was an inclination to see art-making as a journey, not a destination: he showed the collector his works in progress to make that point absolutely clear. Like so many modernists, Oliveira had a mind that was disinclined to aim itself towards a fixed or finite result. He was a lateral thinker who saw every image as a way-station linked to an array of others. Working this way can be very neurotic, as it rarely leads to feeling finished, and Oliveira certainly had plenty of stories about the paintings he ruined over the years after putting a signed canvas back on the easel and saying to himself "I'm just going to tweak this spot over here a little bit..."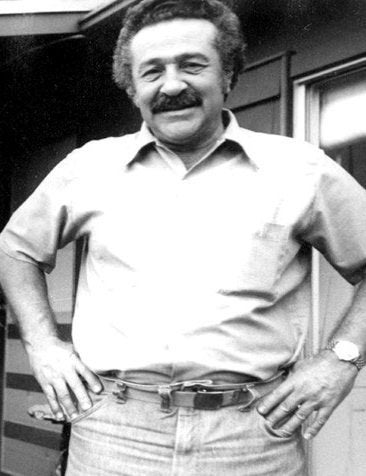 I thought of Oliveira when I heard the critic Peter Frank speak a few years ago at the Representational Art Conference, where he told us that "Most of what's out there is just a rehearsal for the real thing." It's a rare and wonderful thing when an artist does hit on "the real thing," but when you embrace the pure open-ended process of just making things—as Oliveira did—the rehearsals themselves could the thrilling. Attempting a way of making art that emphasizes process over product may not pay off immediately in material terms, but it can open up possibilities that a less risky approach would never allow.
Monotype, a medium that he discovered and mastered in the last half of his career, allowed Oliveira the flexibility he needed. It engendered a fast-moving, improvisational way of working that allowed Oliveira to take on challenging subject matter and dialogue the past masters of art history including Goya and Picasso. When I look at Oliveira's seminal Tauromaquia 21 series—a set of variations on a single Goya etching—I think of Nathan as an artist/toreador, conjuring, erasing, then resurrecting Goya's bull with his cloak of black etching ink. It's a bravura performance.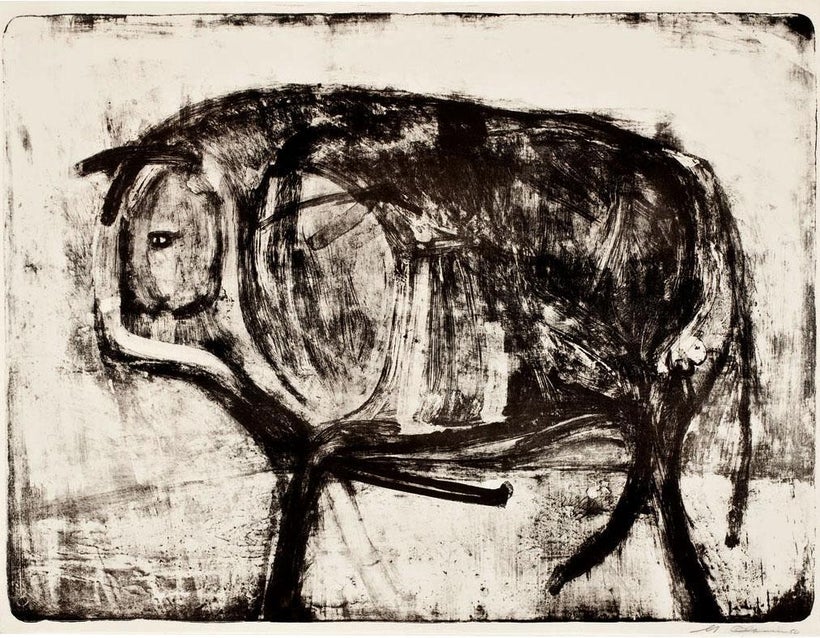 Oliveira was an accomplished printmaker who had made his first lithographs at the California College of Arts and Crafts in 1949. In 1952 he exhibited a two-color lithograph of a bullring—an early nod to Picasso and Goya—that already showed signs of process-orientation in its dueling techniques of drawing and scraping. A mid-fifties lithograph of a bull (above) which clearly responds to Picasso's famous sequence of bull-themed lithographs, already shows Oliveira's searching and varied approach to depicting the vitality of his subject. Picasso's series, in which a single lithographic stone was used to render increasingly abstract images of a bull, was a challenge and inspiration that clearly lingered in Oliveira's mind for many years.
Above: Picasso's sequence of Bull lithographs from 1945 (video)
Oliveira mainly supported himself by selling lithographs, often for around $20, until winning a Lewis Comfort Tiffany Foundation grant for lithography which was shortly followed by a Guggenheim Fellowship in printmaking. During a brief period when he was unhappy with his easel paintings, between 1963 and 1966, Oliveira concentrated on lithography. When he arrived to teach full-time at Stanford University in 1964 Oliveira brought his own lithographic press and stones, establishing a printmaking studio behind the Stanford Art Gallery. One of his early students, who made lithographs with Oliveira in a small class setting, says that his lessons and lectures were incredibly detailed and intense: she told me that the lesson Oliveira gave on properly opening and closing tins of lithography ink still comes into her mind when she opens or closes a jar of peanut butter.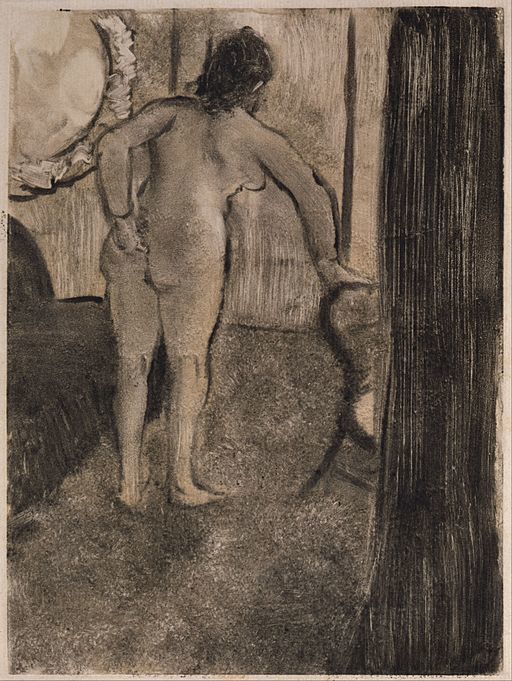 When art historian Lorenz Eitner helped Stanford's museum acquire a Degas monotype in 1969, Oliveira found himself fascinated by this "forgotten" medium:
The nature of the monotype—the reversal of image, the reflective nature of paper, the brilliance of paper through veils of ink—had all the qualities of printing that I wanted, technically, and it had one other: it left a remnant or ghost of the idea after the impression was made. I could enter back into that image that was still malleable—that I could still manipulate—and extend that initial concept to a different state...
After being presented with a supply of 200 year old paper by a friend at Fullerton College, Oliveira felt ready to rise to the challenge of an artistic dialog with a print from Goya's epic series of bullfight etchings: La Tauromaquia. He chose Plate 21, a daring composition in which the gored body of a small town mayor is hoisted triumphantly over a screaming crowd exiting the stalls underneath. Its central symbol—the bull—gave him something strong to grapple with, both in symbolic and formal terms.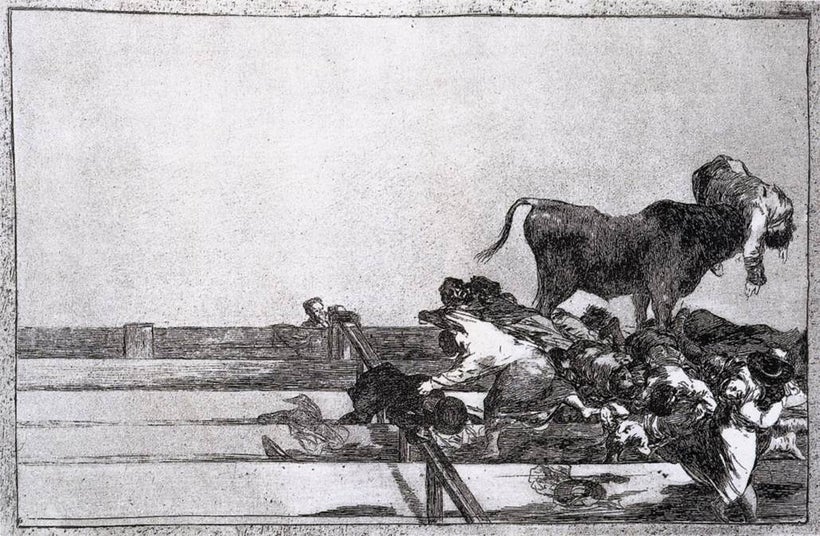 By conjuring up a match with Goya and his bull, Oliveira was able, among other things, to indulge in a reconnection to his Hispanic heritage, which had been awakened by travel and friendship. Oliveira, who was of Portuguese descent, had traveled to Madrid in 1963 to receive a prize and was befriended by Fernando Zóbel de Ayala y Montojo. Zóbel, a Harvard-educated artist and the scion of a wealthy Philippine/Spanish family had recently moved to Spain where he was at the center of a circle of modern artists including Manolo Millares, Antoni Tàpies and others. An avid collector, Zóbel later founded the
Museo de Arte Abstracto Español
in Cuenca.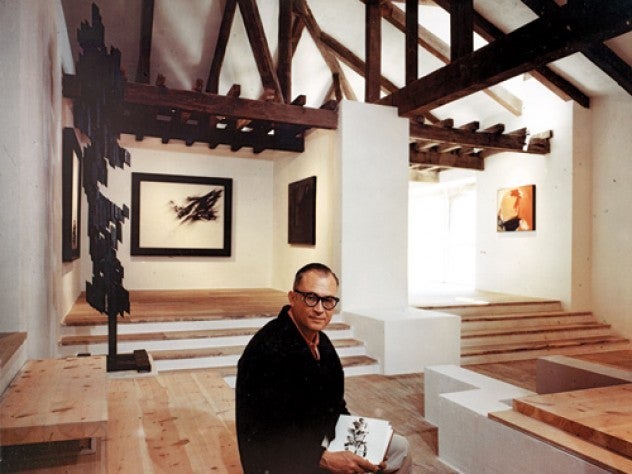 Oliveira and Zóbel exchanged works and when Oliveira first met dealer Paula Kirkeby, who later would show his Tauromaquia 21 series in her gallery, he brought her a work by Zóbel to frame. It's interesting to note that Zóbel later painted semi-abstract Dialogos (Dialogues) that were variations on paintings by Degas and others.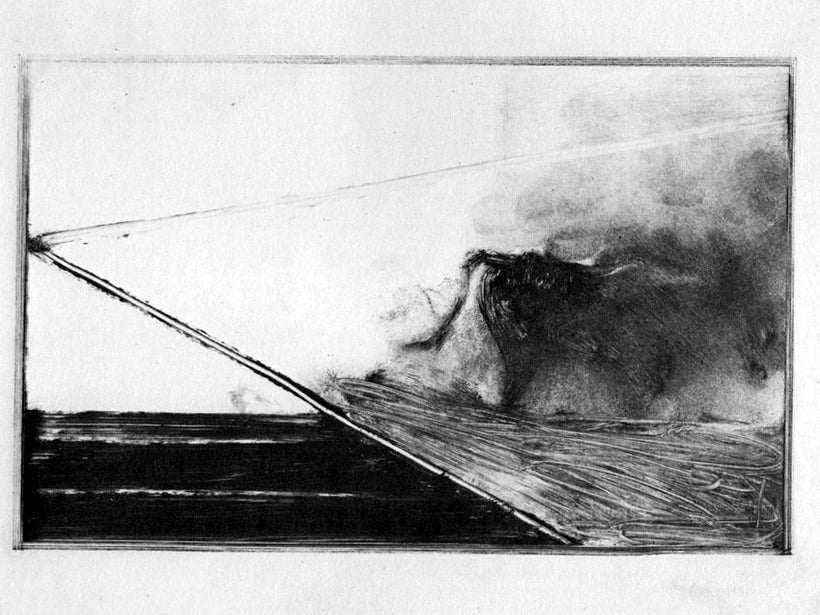 A sense of friendly competition—with living artists and artists of the past—was always an undercurrent in Oliveira's work, and although the
Tauromaquia 21
series is overtly a contest with Goya's bulls, there is another rivalry going on as well: with Richard Diebenkorn. Around the time that he made the
Tauromaquia
, Diebenkorn's abstract Ocean Park paintings were becoming much sought-after and much talked about. Oliveira, who worked with local collectors Hunk and Moo Anderson as they built the collection, was asked in 1974 to help them choose an Ocean Park painting from a New York exhibition: he advised them on the purchase
Ocean Park #60 (1973)
which is on view today at the Anderson Collection at Stanford University.
Clearly, Diebenkorn's interest in using geometry as a a kind of scaffolding that sustains abstraction, was something that Oliveira was quoting in his monotypes. Oliveira often said that when he made abstract art it "had to be about something" and Goya's composition and subject gave him a "something" that to which he could apply both his own ideas and the ideas of his peers. To put it another way, Goya gave him substance and Diebenkorn gave him structure. Two years after Oliveira completed the Tauromaquia 21 series, Diebenkorn visited Stanford and made his own series of monotypes, taking his old friend's medium for a spin.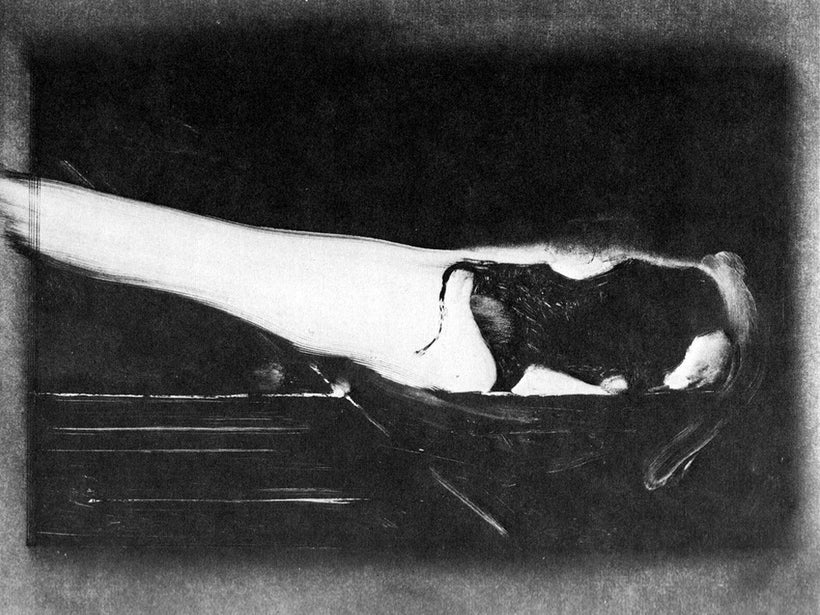 Oliveira's monotypes have incredible tonal vitality, and in his Tauromaquia 21 plates one can see how wiping could create sheathes of light. Using his fingertips, dry brushes and the ends of brushes, Oliveira indulged in the subtractive potential of the medium. In Plate #1 from his June 17th session, Goya's bull emerges from a shaft of light defined by subtractive wiping. In a kind of symbolic triumph the animal's head and horns are wiped into abstraction in a gesture of Oedipal drama. Hints of Goya's bullring stalls glimmer below, wiped from the dense ink with a few strokes.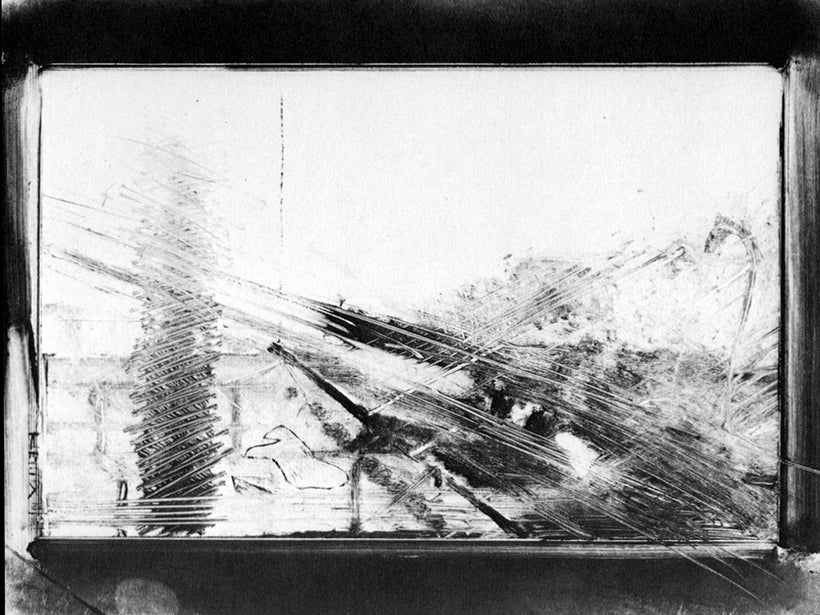 Some of the monotypes seem to veer into a kind of destructive chaos. In plate #2 from June 21st, a flurry of wiping has removed the bull entirely, leaving an admirable welter of ghostly forces that have the poetic resonance similar to that found in the works of Cy Twombly. In images like this one, you can feel Oliveira's willingness to get rid of things to possibly find others. His way of working brings to mind Picasso's answer to the question "What do you do when you get stuck while making a painting:" Picasso's reply: "Get rid of the best part."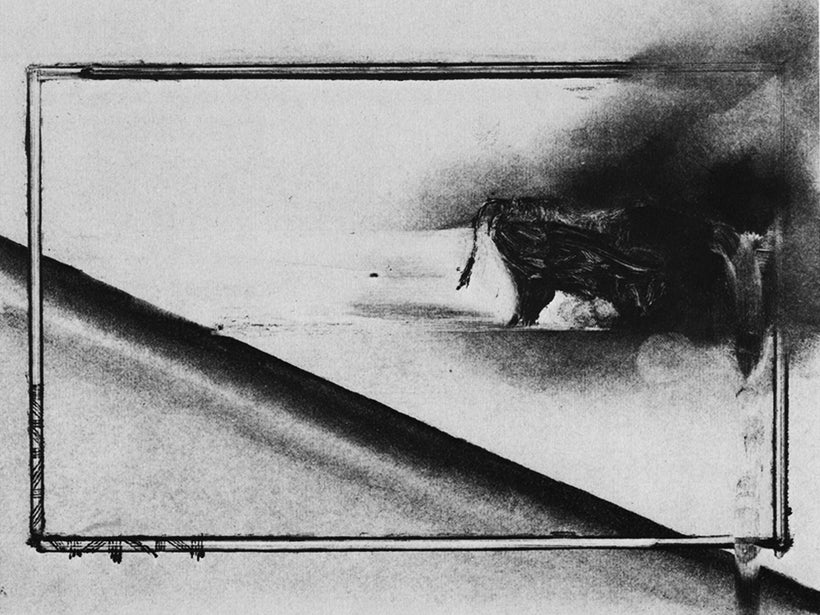 Working over a period of roughly two months, creating as few as one and as many as eight images in each session, the Tauromaquia 21 series was an exercise in freedom that helped Oliveira invent imagery that would inform and sustain his art-making—paintings, prints and sculptures—for the rest of his career. When Goya's bull reappears in the final monotype of the series, Plate #5 of June 27th, it seems both controlled and contained, as if Oliveira had made the image his own. With it's hovering frame—marked by tiny hatchmarks—and its bold diagonal, it is the work of a master: an artist/toreador has risen to the challenge of addressing his masters in his own terms. It's a sublimation of masculine competition and violence, something that art and culture can offer all of us if we choose.
Nathan Oliveira: Current Exhibitions
January 14, 2017 to April 2, 2017
Sonoma Valley Museum of Art
551 Broadway, Sonoma CA 95476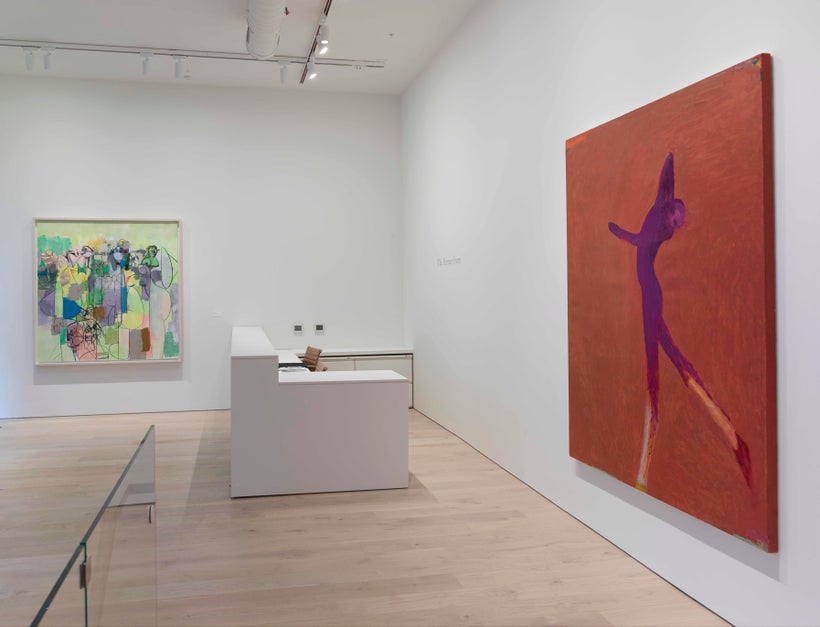 Dates: January 13 - March 4, 2017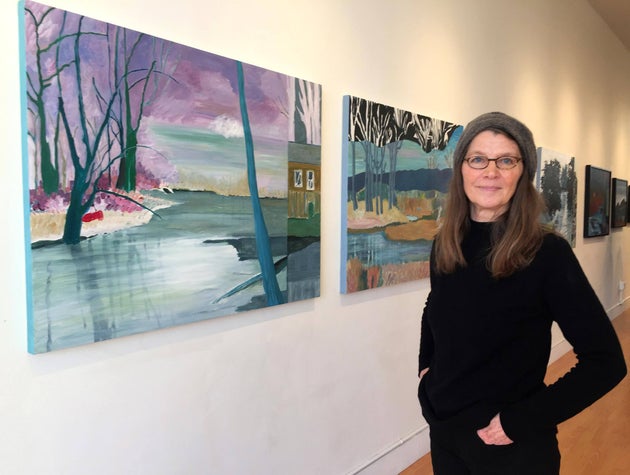 Painter Janet Norris, whose work is currently on view at the
Far Out Gallery
in San Francisco, creates personal and poetic images that multiply metaphors and possible meanings. For example, when water appears in her work—as it often does—it may represent a primeval ritual element, a mode of travel, a threat, an escape, a precious resource, or a metaphor for life or death. Norris' open-ended narratives, although told gently, often embody risks, dangers and transformations.
John Seed Interviews Janet Norris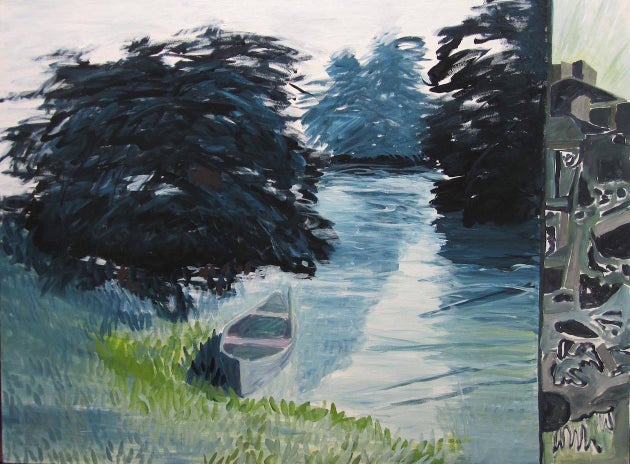 Where did you grow up and how did your childhood shape you?
Our family moved at least a half dozen times during my younger years and two of them remain strong within me today. Both were cattle ranches with what I think of as Big Nature qualities. My father was a purebred Hereford breeding expert. I grew up in an alcoholic household in which there was a lot of chaos. However, I recall my youth as being a magical time, even a very good time.
To avoid the unpleasantness of my parents' tangled relationship my brother and I often escaped into the wilds of nature. One time we walked up a mountainside path that wound its way through a forest above the Snake River, near Jackson Hole, Wyoming. We suddenly came upon a small pond that appeared very dark, so black in its depths that it frightened us. For me, it was like a secret circle of magic. I regulariy read the short stories by the German speaking Swiss writer, Robert Walser, and I think his haunted view of nature is akin to how I felt. Standing there we whispered about how animals must come to drink at evening time, both prey and predator.
Then we scattered for home and later that night I cut off my long blonde Norwegian braids for no apparent reason. Was it a sacrifice to the pond elves? Because of family circumstances, I developed an independent character, with a tolerance for being alone, which has been a boon to becoming an artist later in my life. Nature welcomes the lonely and it feeds a dreamy artist who seeks the visionary and magical. Being with nature is an aesthetic experience for me, and the idea has been confirmed by the work of many writers as well as artists.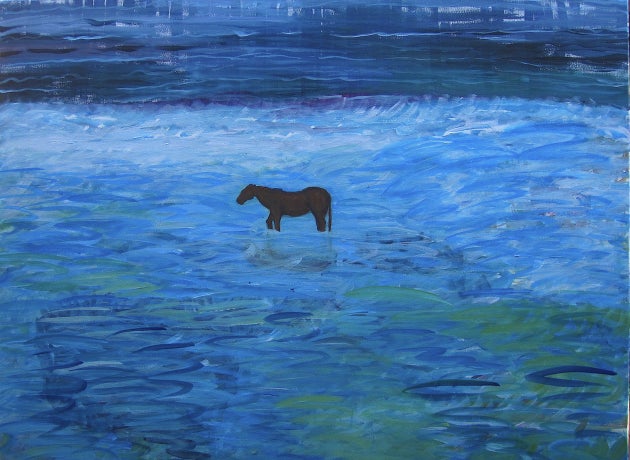 When did you realize that you were an artist?
We were very poor. There were no books in our homes but it was about age nine or ten that a teacher began to give me pages from a book that she'd evidently cut out of a text on Renaissance art. She fed them to me, one at a time. I think she saw me drawing—scribbly drawings, nothing special, and perhaps she knew of my home situation. I wondered if I'd ever be able to do more than to try my best to draw some little things I saw around me. I very much doubted it.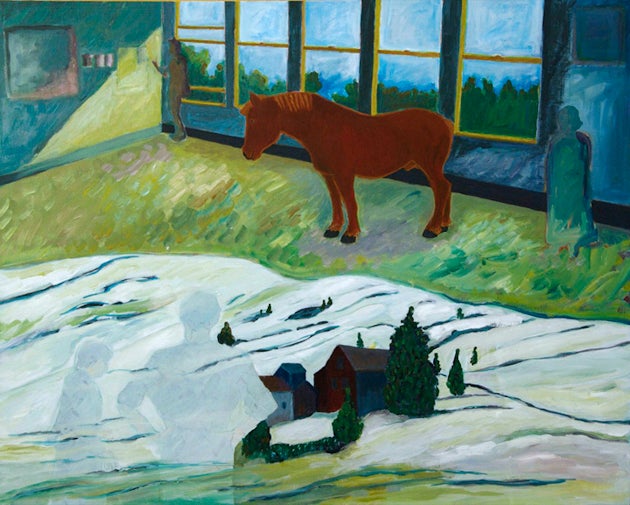 How did your art develop in college and who were your mentors?
I began studying art at Drake University in Des Moines, Iowa. A class with a Professor there would be the last time I experienced a skills-based course, because most of the rest of my coursework during the 1970's was based more on theory. And, I loved every single class! It was once more a familiar opportunity to be independent — a no holds barred situation. However, I had teachers who practically used ArtForum as a textbook – that wore on me after a time. I researched on my own, finding an artist like Agnes Martin, and inspired by her, made grids on paper that I thought referred back to nature.
In a tremendous contrast of styles, I nearly died of admiration for the work of Anselm Kiefer, with all the grit in it. Being inspired by him and other Earth artists, I used latex to create large format pieces into which I embedded dirt and pebbles. I don't think I had a mentor in the usual sense. I had professor friends. My graduate committee left me to find my own way. Throughout the education process everything I was attracted to had an underlying connection to nature.
I eventually studied Zen Buddhism, a philosophy that enhanced my view of existence. After some years, nature for me included artists such as Pierre Bonnard and Elmer Bischoff, from whom I gained an understanding of nature translated into lush color. From Edvard Munch and David Park, I understood the power of passion and the expression of the human psyche.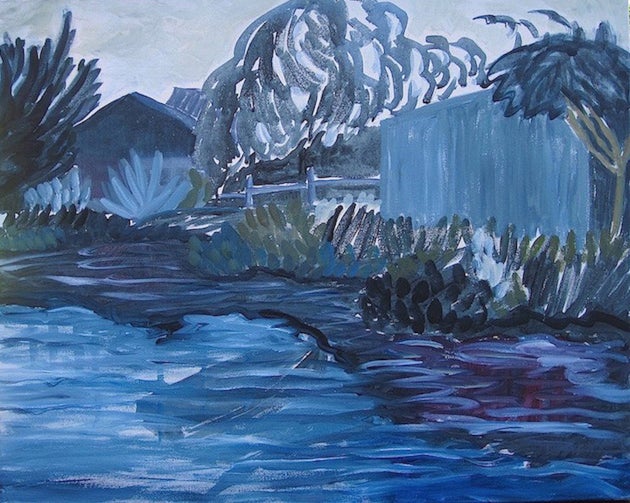 Is it fair to say that Joan Brown's work was a major influence on you?
Yes, one of the artists I was strongly attracted to was Joan Brown. I am a bit of a primitive, and so was she. She influenced me, although indirectly, to make outsider art or folk art for a few years rather than through her own work-a way for me to make a break from the art academy au courant styles. I have always loved the repetitive patterning of folk art, and I feel a strong resonance with the crazy insights of outsiders. Joan's simple, figurative narratives are especially appealing to me, those of her home life, her swim life, the patterns, the dog, etc., during the time when she was not using the thick painterly impastos she began with as a member of the Bay Area Figurative movement.
In recent years I've added two contemporaries, the Canadian and long time Londoner, Peter Doig and the Swede, Karen Mamma Andersson, to my list of influences. I have tried many styles before recently becoming aware of what I wanted to paint and it was only about ten, perhaps twelve years ago that Doig and Andersson came into view. It seemed to me that they gave me permission to use nature in a significant way, not as landscape – I was not interested in conventional landscape, but as a way to meditate on nature, to use it as a contrast between it and culture. Both have been influenced by Munch, so that was a nice connection. I am much "gentler", though, and not inclined to make in-your-face images like Andersson sometimes does, when she carries Munch's ideas to the edge. Doig was influenced by the Canadian Group of Seven who were fantastic "expressionist" landscape artists, and he sometimes haunts the forests in a way I can relate to.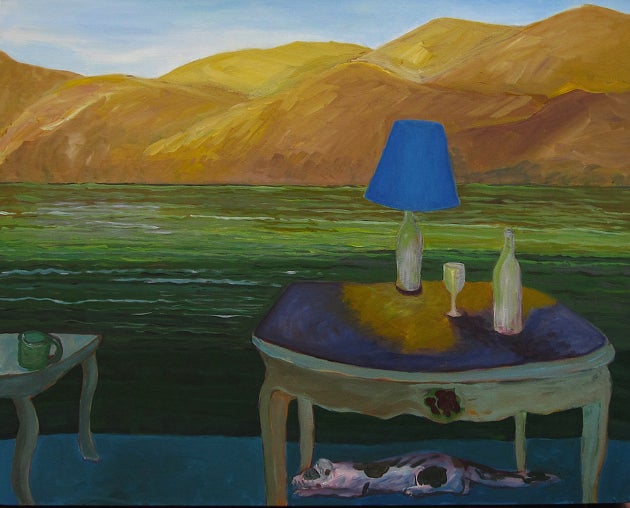 Tell me about one or two of the paintings in your current show.
I want to interject my working process here. Many of my paintings depict unlike combinations, i.e., nature/culture contrasts - because that's the way they "happen" to me. My work method involves a chance thought, something I read, or saw, or heard, followed by the realization that I may have a painting to do. I collect images from the internet and place them in a digital folder: water scenes, hills, trees, boats, humans, animals, etc., are among images I finally sketch onto the canvas. I usually create the painting in my imagination, carrying it around in my head for days or weeks before I begin to make a drawing on the canvas. I think of the images which are projected on the canvas as an armature to get the work started, but it soon disappears as the painting process cancels out its intentions in a flurry of exciting color application. I often leave stray pencil marks behind, or a fragment of canvas showing through.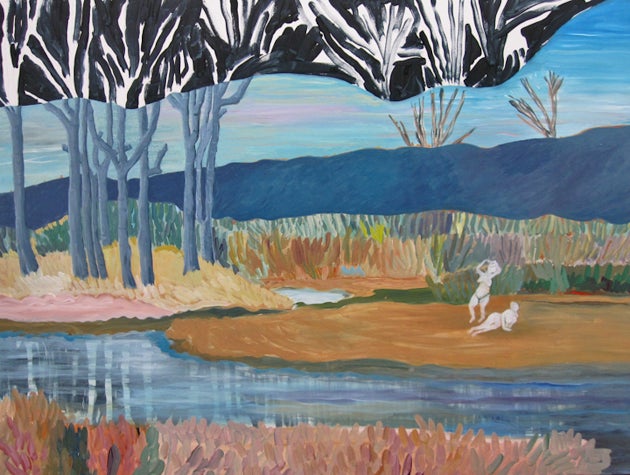 The "Remembrance of Past Times" painting presents a paradise. The color complements were very carefully considered to exude beauty. How to represent the "lostness" of paradise occurred to me in a flash one day as I was looking at the canvas, brooding on my not completely fleshed out idea – how to do the culture/nature contrast for this one – was the question I needed to answer. Suddenly, I realized that I needed to leave the top area as a crudely painted, perhaps dystopic, future. Many recent paintings reference the degradation of our environment as this one does.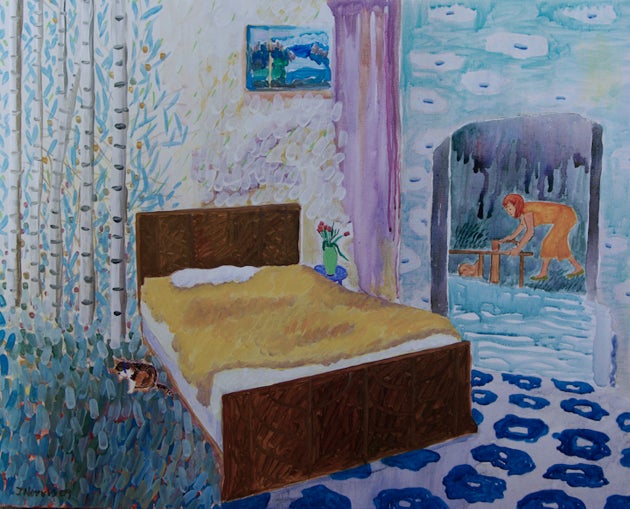 "Losing It" is about anxiety. The painting "arrived" in my mind, to begin with, with the general idea of trees invading a bedroom on the left (one is unsure of their position in the space), and expanded to a mirror to the right of the bed, with liquid or water dripping down its surface onto a not so firm floor. A woman, reflected in a mirror, is behaving in a strange manner performing a ridiculous, unknown task. This older painting, of perhaps six years ago, was made when I had the mental space (with no political worries) to make a work that was more infused with itself, with its quirks and worries and strange narratives that needn't be explained. You could laugh with it if you wished, or scratch your head.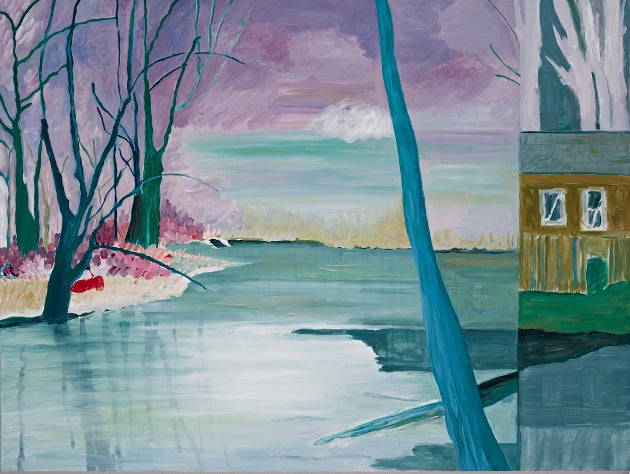 What are some of the "flavors" that color your approach to painting?
I need to be alone for hours, before and during the work process. I could not work in a shared studio space because I couldn't concentrate, couldn't get into the act of painting.
What are your interests outside of painting?
American roots music such as Delta Blues, country musicians like Merle Haggard and bands like The Band with Bob Dylan. And my two daughters and their families, neither of whom are local, but there is "an app for that" by which we can communicate whenever we wish. I love walking, observing nature with my pocket size camera, and constant reading: novels, short stories, history, art history, biographies, art reviews, blogs, literary newspapers, etc.
Janet Norris: Living Dangerously
Exhibition Dates: February 4 – February 25, 2017
Open: Thursday - Saturday 12 to 6 pm, or by appointment