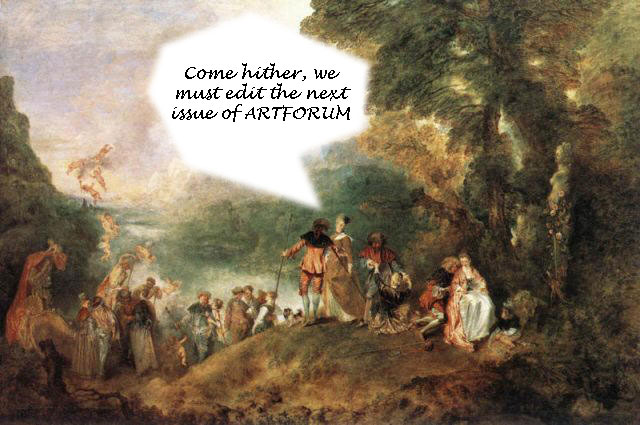 Embarkation from the Island of Artforum (with apologies to Watteau...)
Magazines are in trouble, right? Readers are migrating to the web, where innovation, and a sea of bloggers are re-inventing journalism. That has been my view up to now, and I am finding out that it is both chauvinistic and more than a bit naive.
On October 15th, Kimberly Brooks, my editor at the Huffington Post, blogged about an idea that had come to her:
Haiku Reviews.
I was very taken with her idea -- a short "Tweet-able" art review -- and found myself gloating over the "coolness" of what is happening to art writing on the web. Impulsively, I posted a reply to Kimberly's blog:
I was in Barnes and Noble yesterday, and found myself staring at the huge, heavy stack of Artforum magazines. "These are the past," I found myself thinking, "and HuffPost Arts is the future."
"You know what they say," Kimberly replied, "flattery will get you just about everywhere."
Well, OK, Kimberly you nailed me on the flattery part, but there was some actual pondering going on underneath the sycophancy. What, I wondered, is the future of print art magazines, at a time when so much writing about art is appearing on the internet? In ten years won't we be reading everything on our monitors, our Kindles and our 14th generation iphones?
Artforum
represents exclusivity: it sees itself as the private resort of art-world high society, with its own customs and language. Author Sarah Thornton says that
Artforum
"... is to art what
Vogue
is to fashion and
Rolling Stone
was to rock and roll." Art in America and ArtNews both have higher circulation, but
Artforum
has a certain cachet. You can likely find the International Edition of
Artforum
in Hong Kong boardrooms, in Davos spas, and on Qatari coffee tables.
Will the journalistic equivalent of global warming, brought on by the internet, cause a sea of bloggers to rise up and sink the island of
Artforum
? Can HuffPost Arts, and other online art sites, with their fantastic diversity and energy, swamp an art world institution?
Of course, seeing
Artforum
and Huffington Post Arts as competitors is a stretch to begin with.
Artforum
, has been around more than 50 years, and features scrupulously edited content written by paid academics and critics. There are of course, reviews, often of exhibitions held by the same galleries that purchase advertising. That must make for some interesting internal politics, and it is one of the reasons that the publication seems insular.
Huffington Post Arts has been around for six months -- one "vertical" on a growing mega-blog -- and is written by unpaid bloggers. Our editors, Kimberly Brooks and her assistant Nicole Campoy-Leffler, check our blogs for libel and insanity before they post them. We are on our own as far as out topics and approaches and there are no advertisers to please. At least I doubt I will ever say anything in an art blog that will tee off freecreditscores.com.
This leads to a very different vibe, and a staggering range of topics and of points of view. Consistency may be lacking, but there are some thrilling blogs from time to time. In some ways, the differences between the
Artforum
and Huffington Post Arts mirror the tensions between print and online publications across the board. Mulling this over, I realized I needed to re-scrutinize
Artforum
.
Back at Barnes and Noble, I noted that the "huge stack" of
Artforum
had dwindled down to four copies. That means that even where I live -- the recession-wracked Inland Empire -- people are still shelling out $10 for a 310 page art magazine that is 2/3 advertising. Maybe that is why my neighbors aren't watering their lawns: they are saving up for
Artforum
.
Speaking of advertising, as I looked over the many sleek and stunning ads in the October
Artforum
, I had to acknowledge that the publication seemed to be drawing tremendous revenue. A full page ad, for example, costs $4,200, and several galleries, including Gagosian Gallery, had costly multi-page spreads. Of the first 100 pages of
Artforum
, more than 80 contained paid ads and gallery guides. It looked like a very healthy, well-funded magazine.
In contrast, the Huffington Post as a whole reportedly became profitable for the first time in mid-2010 after five years in existence. In financial terms, it is just beginning to demonstrate its potential.
Chastened, I went home and put a question for artist friends on my Facebook status, and asked "What do you think of
Artforum
?" It turned out to be a hot-button question when posed to painters -- especially representational painters -- who feel that
Artforum
has largely neglected them. Ask a painter "What do you think of
Artforum
" and the answer is usually "The Emperor's New Clothes." Ask a New Media artist and they will say "The Cat's Pajamas."
My friends are painters:
"I stopped looking at
Artforum
long ago. There were never any paintings." - Patricia Cole
"I haven't looked at
Artforum
in over a dozen years." - F. Scott Hess
"SCLEROTIC." - Robert Morrisey. (Thanks Robert: I had to look that up...)
"Ya mean Art Borum? Too jargony." - Margaret McCann
Later, Margaret corrected her spelling to "Art Borem."
When I searched Google I found that
Artforum
has no lack of vocal blogger detractors. In 2005 Charlie Finch -- the resident curmudgeon of artnet.com -- blogged about looking over a copy of
Artforum
with dealer Brooke Alexander and raving about the magazine's circulation numbers: "...the same 35,000 people as always. How long can the same 35,000 people circle jerk each other until they are blinded by the come?" That is a good example of something a blogger can say that I doubt would ever appear in a printed art magazine.
Charlie Finch would probably be dismayed to learn that since 2005 the "circle" has grown. I e-mailed Amanda Schmitt at the
Artforum
circulation department, and she promptly replied with some current numbers:
"Dear John -
Artforum
magazine reaches 50,000 subscribers each month, and Artforum.com has over 100,000 unique visitors per month."
OK then, maybe the notion that
Artforum
is going to sink into a sea of bloggers isn't accurate. For one thing,
Artforum
, like other magazines has hybridized itself and has a healthy web presence that includes
"Scene and Herd,"
which provides high-end gossip and handsome jpegs of art world somebodies.
Artforum
, of course, has bloggers too. Thinking it through, many well known art bloggers --
Tyler Green
comes to mind -- are part of the web outreach program for print magazines.
To continue my research, I sent out a quick questionnaire to my email list of New York art dealers. Since
Artforum
had been described as "jargony" I framed a question about that:
"Some complain that
Artforum
is full of jargon and that it does not cover painting. Do you agree?"
Jamie Sterns, the director of PPOW Gallery answered simply "No."
Francis Naumann, a curator and dealer specializing in Surrealism and Dada responded "Absolutely."
Artforum
, I was learning is a polarizer of opinion.
At least David Leiber, a partner in Sperone Westwater Gallery took a kind of sensible middle ground calling
Artforum
"admittedly theory strapped but not necessarily allergic to painting." Leiber went on to observe that
Artforum
"...does cover the media arts thoroughly -- film, video, music, etc. -- which seems appropriate in today's environment."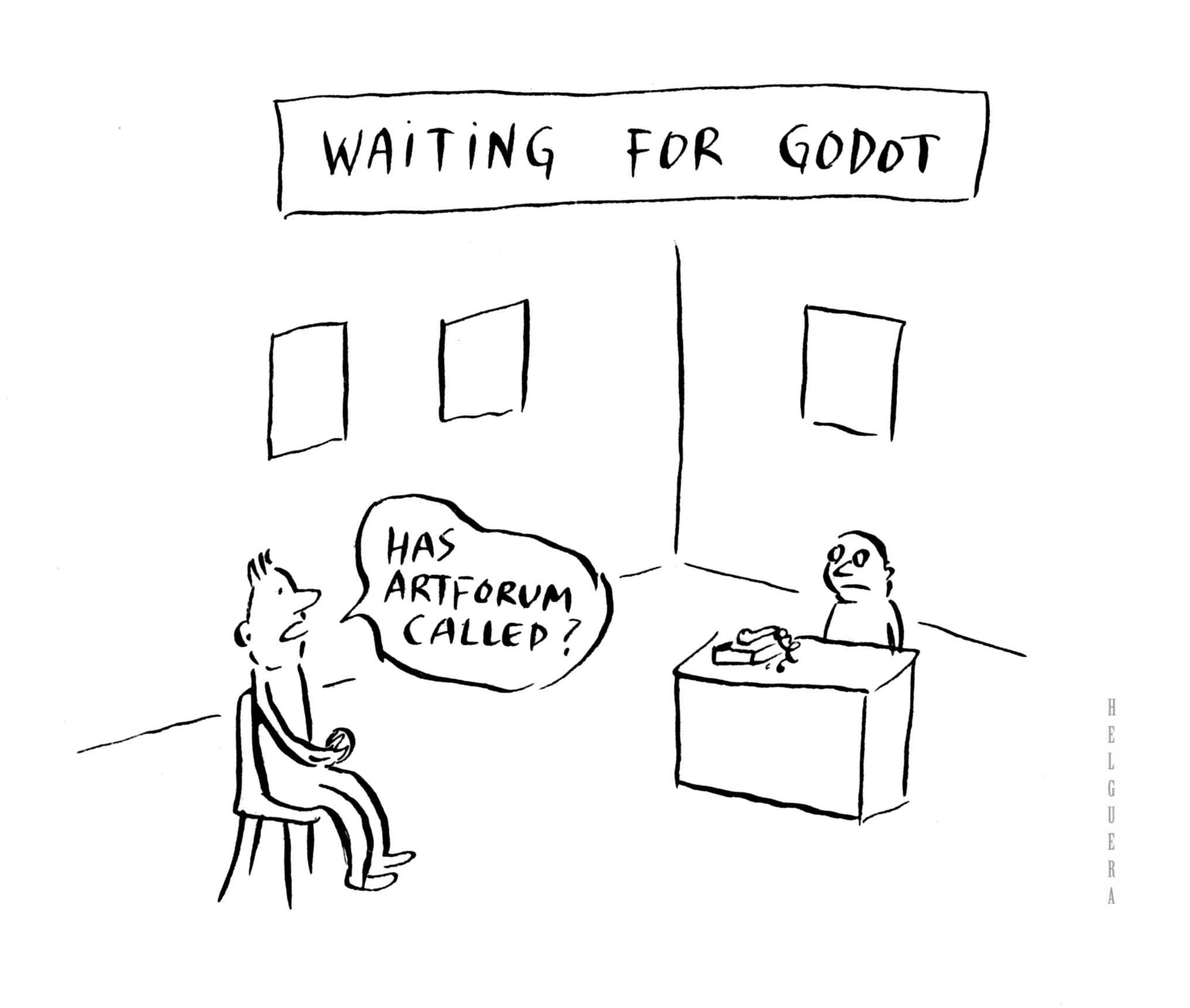 Drawing by Pablo Helguera for Artoons.
This gave me an epiphany.
Artforum
appeals to people who want carefully vetted content that has a vibe of exclusivity. The challenging writing, obtusely beautiful ads, and the sheer heft of the physical magazine have a special alchemy.
Huffington Post Arts is for anyone willing to click on a link, read for 10 seconds, and see if a blogger can draw you in. Some of the blogs I have come across on HuffPost --
Rebecca Taylor on her pilgrimage to Robert Smithson's Spiral Jetty
and
James Elkins on looking at Mondrian close-up
-- strike me as some of the freshest art writing around. Those are the kinds of blogs that got me over-excited in the first place.
With
Artforum
, if you find the writing too dense you can flip a few pages and scan some of the beautiful, often inchoate images presented in the gallery ads. On Huffington Post Arts, you are only a click away from reading items like "Brooke Hogan Shows Off Weight Loss In A Bikini." I love that.
Reading over the e-mails I got back from Gallery Owners and Directors gave me a reality check.
Artforum
isn't sinking in a sea of bloggers. It is thriving in a sea of bloggers, and other print publications.
Jamie Sterns, for example, reads
Artforum
, but also gets
Art in America, Bomb, Frieze, Parkett,
and TEXTE ZUR KUNST. She also reads the art content on the following blogs and sites:
Contemporary Art Daily
,
Art Observed,
Artforum.com
,
Art Fag City
,
Dossier
,
16 Miles of String
,
artnet.com
,
NYMag
,
NYTimes Art and Design
,
artinfo.com
,
artlovers New York
,
whitehot magazine
,
The Brooklyn Rail
,
and Paper Monument
In the end, Tamsen Greene, the Director of the Jack Shainman Gallery, and also a writer who contributes to
"Modern Painters"
sent me a comment that set things straight:
"There is nothing like a beautiful art publication. There is also nothing like having quick access to information. They both serve different purposes and together complement each other."
Tamsen, by the way, also reads a wide range of art print publications, websites and blogs. "And of course," she says, "
Marina Cashdan's blog
for the Huffington Post."
I still say that Huffington Post Arts is the future. So is
Artforum
, like it or not. The imminent death of printed magazines -- especially art magazines -- may have been over-dramatized.
Now I need to take a look at about a zillion other magazines, websites and blogs and see what they are all about. Would it be too much to try and say something flattering about all of them?