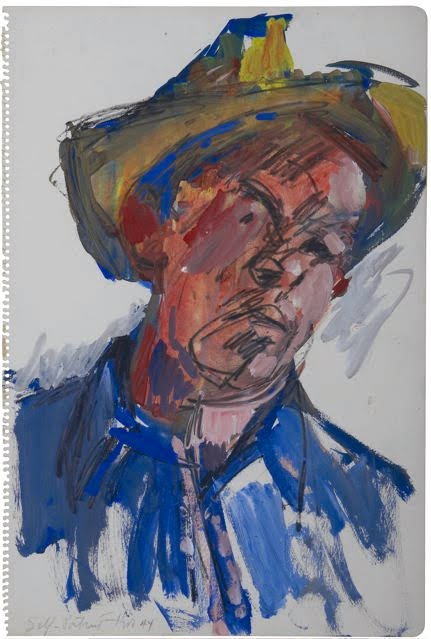 Hassel Smith "Self-Portrait," 1944
watercolor and chalk on paper
Hassel Smith's
1944 "Self-Portrait," torn out of a spiral drawing pad, emanates restless energy. Anchored by bursts of calligraphic brushwork that let naked paper peek through, it is both vivid and self-assured. At first glance it appears incomplete; a metaphor for the partial image that art lovers still have of Smith, a protean artist who has been called an "Underground Legend." According the arts blogger Tyler Green, Smith's works "...are in the collections of lots of museums you know and love, but they rarely make it out of storage."
Miraculously, with a few final, dazzling strokes of over-drawing -- a dot for an eye, an arching eyebrow and a slashing mouth -- Smith managed pull the portrait into focus and endow it with his characteristic intensity. Hassel Smith may have been restless, both as an artist and as a man, but he had a power of character that made him formidable. His stepson, artist Mark Harrington recalls "He had a wonderfully robust moral authority that was leavened by mischievous humor and disciplined by an acute intellectual rigor."
"He loved to rile people up," remembers one friend. Getting into an argument with Hassel Smith while he was alive was a mistake. Underestimating his artistic legacy, which has being carefully re-examined since his death in 2007, may be as well.
"Where is the major survey this fascinating artist deserves?" asked Art in America magazine in 2003. Hassel Smith died five years after the question was asked, and in the ensuing years small museum shows in San Jose and Laguna, as well as several other exhibitions at private galleries have begun to fill in the gaps. In another year of so, the publication of a monograph by Prestel will give the public a comprehensive view of Hassel Smith's varied ouevre.
Currently,
"Hassel Smith: Upending Orthodoxy,"
at Sullivan Goss in Santa Barbara through April 3rd, presents 14 works from the artists last two working decades. The show's title hinges mainly on the inclusion of several of the quirky, heraldic abstractions that Smith made in the early 1970s. Jeremy Tessmer of Sullivan Goss characterizes these works as both "whimsical" and "subversive" given Smith's earlier connection to the Bay Area abstraction. "Nothing could be more anathema to the Bay Area school," notes Tessmer, "where geometric painting was equated with an overly rationalist (read: anti-humanist) agenda."
It is true that Smith had cut his teeth as an abstract artist while teaching in the San Francisco Bay Area at the California School of Fine Arts between 1945 and 1952. Left leaning in his politics -- Smith had done social work on skid row during the Depression and found the experience "shattering" -- he was later characterized by Jermayne MacAgy, the wife of the school's former director, as a "renegade" and a "leading free spirit." Smith was the acolyte of the titanic abstractionist and egomaniac Clyfford Still, the school's leading figure.
Smith was friendly with CSFA faculty members David Park and Elmer Bischoff, with whom he showed abstract paintings in a 1948 exhibition at the San Francisco Museum of Modern Art, and also with Richard Diebenkorn, with whom he had a two man exhibition in 1949. His friendships with Diebenkorn and Park later chilled when they made what Smith felt was a "fanfare" of their return to figurative art, while Bischoff remained a lifelong friend. Smith's view was that Park and Diebenkorn's abandonment of abstraction was motivated by antagonism towards Clyfford Still, who "threatened their cozy bohemianism, and made mincemeat of their post-cubist preoccupation with simultaneity and other 'space' problems."
Interestingly, art historian Peter Selz feels that when Smith made abstract works they had an aspect of figuration, and that his figurative works felt abstract. What unified all of them, according to Selz, was Smith's distinctive "handwriting."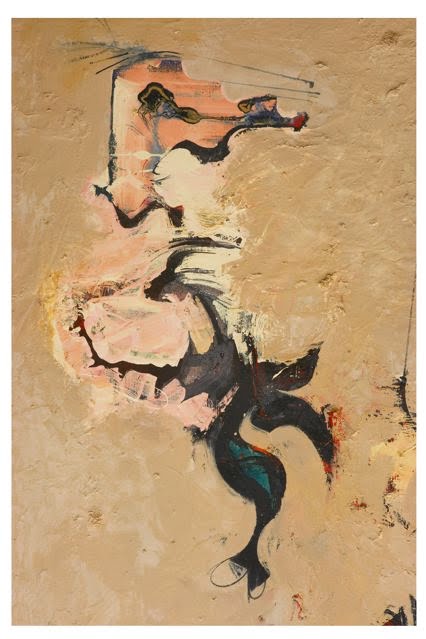 Hassel Smith "Untitled," 1959
oil and enamel on canvas, 71" x 45"
The Tate Gallery, London
Smith, who stated that he wished "...to feel free to appreciate life without reproducing it," built his reputation during this period with craggy, idiosyncratic paintings that caused one critic to call Smith's output from this era the "Thunderbolt Period," an apt designation for a man whose rows with various colleagues "...caused some furious storms."
Several bolts hit Smith directly in the early 50's. He was forced out of CSFA when a new director took over -- Elmer Bischoff resigned in protest -- and then, after he settled into a new life in a Sebastapol apple orchard, his wife June died of cancer, leaving him with a son to raise.
In 1957 Smith took part in the first exhibition at the legendary Ferus Gallery in Los Angeles, where his true believer aesthetic was embraced. The new generation of artists in Los Angeles, including Robert Irwin, Billy Al Bengston, and John Altoon, were defining themselves in an artistically conservative city, thumbing their noses at Henry Seldis, the stick-in-the-mud art critic of the Los Angeles Times.
Smith's work had a powerful impact on the young Ferus artists, particularly John Altoon, who later came to visit him in Bristol. Billy Al Bengston, another Ferus artist never had the chance to meet Smith in person, but his paintings made a big impression regardless. "I was always, and still am a big fan of his fantastic line and spooky color," says Bengston. Ed Moses was known to say that "Hassel was the Daddy of us all."
Hassel Smith in his Sebastapol Studio, circa 1958
Re-married in 1959, with a son and two stepsons to support, Smith began to show in New York, Houston, Los Angeles and London and became commercially successful. He had his ups and downs with critics, as some snippets of his New York reviews from the period show. A writeup of some of his watercolors in
The New York Times
in February of 1961 credits him with "...one of the most lively performances of the dance of form and line." A year later, a stinging review of his one man show at Emmerich blasted Smith for the "extreme incoherence" of his works.
After living for most of 1962 in Mousehole, a Cornish fishing village, Smith bounced back to California for brief teaching stints at UC Berkeley and UCLA, but in 1966 he became a lecturer for the West of England College of Art in Bristol, and entered into a new phase of life and art. Part of what had drawn Smith to Britain was the warm reception his work had received there in the early 60s, but the rise of Pop deflected attention and Smith increasingly devoted himself to teaching. Mark Harrington remembers that "The large Bristol house was frequently alive with dinners and parties, discussions, debates, but the English market and London galleries ignored him. He became very private..."
Smith did experiment with some figurative paintings that had a Pop vibe, but the next distinctive phase of work came after he switched from oil to acrylic. Smith's radical new works became what he called his "measured paintings." Their hierarchical formats were inspired, according to Mark Harrington, by "patterns and board games, by the dialectics of discipline and disorder. The measured paintings were conceived as events of a certain geometric precision and classicism." Smith later told critic Thomas Albright that one of his motives had this point had been to "...stop inventing shapes," arguing "This is what Mondrian did, this is what Still and Rothko did. They are the only true modern artists."
When Hassel Smith was feted with a retrospective at the San Francisco Museum of Modern Art in 1975 critic Alan Temko was able to do what many others were not: to see the measured paintings as being deeply connected to Smith's lifelong rationalism. He wrote: "Whatever else his (Smith's) protean art may be -- and amongst other things, in both his figurative and non-figurative work it has been a wildly expressive, almost violent art of tremendous intuitive power -- it has always been first, and foremost, a celebration of rational intellect."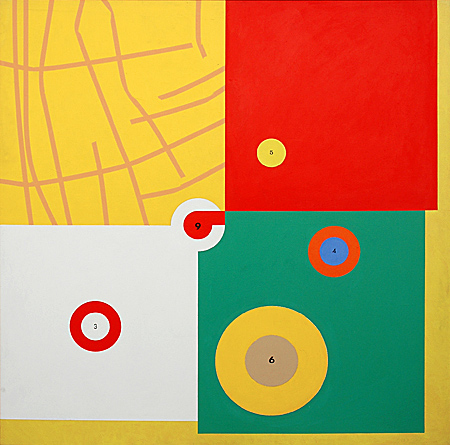 Hassel Smith, "About 9" 1976 Acrylic on Canvas, 68" x 68"
Others were not so understanding, and several shows of Smith's work during the late 70s met with silence or worse. Smith said of one show during this period that "... it landed abruptly like a lead balloon." Peter Selz, who knew Smith well and who is contributing an essay to the upcoming Prestel book says that the reception of the measured paintings was "so unexpected," adding "They are very good paintings."
One of the problems may have been that Smith had developed a caustic view of art dealers, and they responded with mutual antipathy. Selz remembers Smith telling him that "art dealers, curators and critics were a bunch of superfluous parasites." Not surprisingly, one dealer who showed Smith's work in the 70s remembers him as "a nasty piece of work." According to Selz, one of the reason's Smith's late works never took hold is that he changed dealers often.
It must have been galling for Smith to watch the commercial success of his one-time friend Richard Diebenkorn, who by the late 70s had a waiting list for his Ocean Park paintings, which -- like Smith's late work -- were geometric abstractions. Diebenkorn, who by the mid-70s had retired from teaching, and was driving a Porsche, had moved from "cozy bohemianism" to the upper bourgeoisie.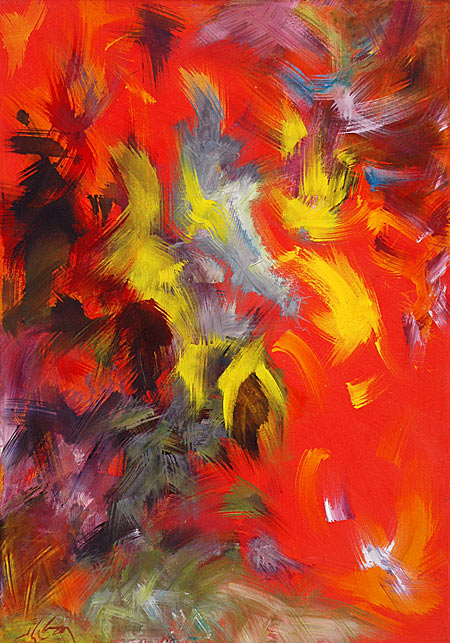 Hassel Smith, "Untitled" (Red Yellow and Magenta) 1997
Acrylic on Canvas, 48" x 68"
Before putting down his brushes due to health problems in his 80s, Smith made a final series of works in which the geometry fell away. Characterized by bold plumes of color applied in truncated gestures, they are the work of an artist who had a grip on his passions, a kind of controlled burn. The intensity of his early works -- tempered by maturity and rationality -- is still very much there. Smith, who once called the work of Jackson Pollock "Decorator junk" had a level of self-confidence that never wavered.
When I asked Mark Harrington what kind of legacy his stepfather Hassel Smith had passed on to him, both as a man and an artist, here are the things that came to his mind:
"... the example of work and self-reliance; the way he lost himself in work but structured his day. The need for quick-wits in debate, seriousness of intention combined with generosity, self-deprecation and humor: I'm saying that he had these qualities, not that I gained them! He was singularly loyal and courageous and I felt both challenged and at ease in his presence: never completely at ease and persistently challenged."
Harrington's comments suggest exactly the way an engaged viewer should feel when standing in front of a Hassel Smith painting from any period:
"... never completely at ease and persistently challenged."