"I'm interested in the look of things and the quality of being there, a moment that is completely frozen with all the variety of textures; rust on poles, crumbling asphalt, light hitting the grass. The finished paintings should evoke contrasting responses of melancholy and warmth, desolation and serenity -- everything that is small town America." -- Rod Penner
Rod Penner
hardly stands out in Marble Falls, Texas, a town of about 5,000 residents, 40 miles northwest of Austin. "I'm somewhat of a recluse," the artist comments. Generally speaking, Penner likes it that way. Since Marble Falls is mainly known for hunting, fishing, and drag boat racing, it isn't too hard for an artist to stay under the radar.
In New York, it is a different story. When his exhibition of "minis" -- six inch square hyper-realist paintings -- opens at
OK Harris Works of Art
in New York on October 23rd, Penner will be the center of attention, a situation he finds vaguely uncomfortable. Fortunately, his paintings are the real attention getters. His six inch square vignettes of small town Texas command a retail price of $8,500 each.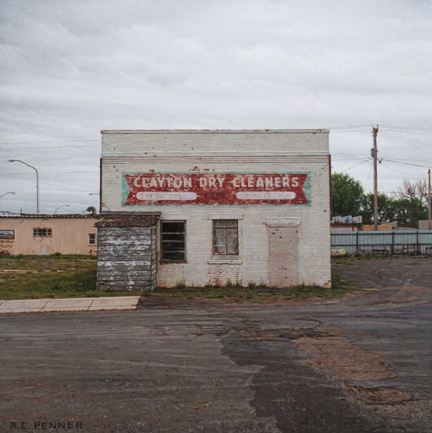 Rod Penner, "Clayton Dry Cleaners," Acrylic on Panel, 6 x 6 inches, 2010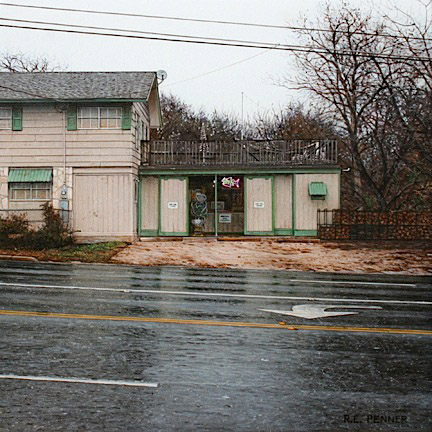 Rod Penner, "Bait Shop," Acrylic on Panel, 6 x 6 inches, 2010
To put it another way, Penner's retail price is $34,000 per square foot. That is more than the median household income in Marble Falls, which is $30,800. Remarkably, what sells so well in New York is precisely the fact that Penner has captured "melancholy and warmth, desolation and serenity," in a way that many of his collectors feel characterized the small towns where they started out.
Penner, who jokingly refers to himself as "America's favorite Mennonite Photo-realist" grew up in a tight-knit family Vancouver, British Columbia. His father, uncles, brothers and cousins all worked or still work in the construction trade. His parents, who noticed that he liked to draw were supportive of his developing interest in art, and his father bought him art supplies. He met his wife Debbie, a native Texan, in his late teens, and they married in 1986 when Rod was 21 and briefly moved to Canada.
Building on methods he had learned in college, Rod began to experiment with Hyper-realist painting techniques. Not entirely satisfied by Photo-realist paintings that he had seen in person -- they looked much rougher than they had in art magazines -- Penner tried to take his technique further, in an even more exacting direction.
In 1988 the Penners moved to Richmond, Texas. Penner's first images of Texas reflect the sense of isolation and strangeness he experienced there. "When I first moved to Texas it was like another planet," says Penner. It was "alien, the weather, the landscape: I didn't know what to make of it." Still, he was determined to find his subject matter close by: neighboring towns like Sealy and Clifton gave him austere, characteristically American images to work from.
For an artist tremendously interested in texture and detail, the dilapidated state of the buildings he photographed and then painted gave him his poetry and his visual interest. Peeling paint, cracked asphalt and weeds breaking through pavement interest Penner the way that light reflected on water interested Monet. "I could never paint new buildings," he comments.
The somber, elegiac tone of his early Texas paintings reflects a number of things: his wife's grief over the loss of a brother, the "Last Picture Show" vibe of small town Texas, and Penner's own sober view of life. Then, in 1991, the same year that Penner signed on to show his work at OK Harris, his youngest brother died in a plane crash. Two deaths -- that of his brother-in-law and his brother -- made indelible impacts that Penner feels affect his world view, and his work, to this day.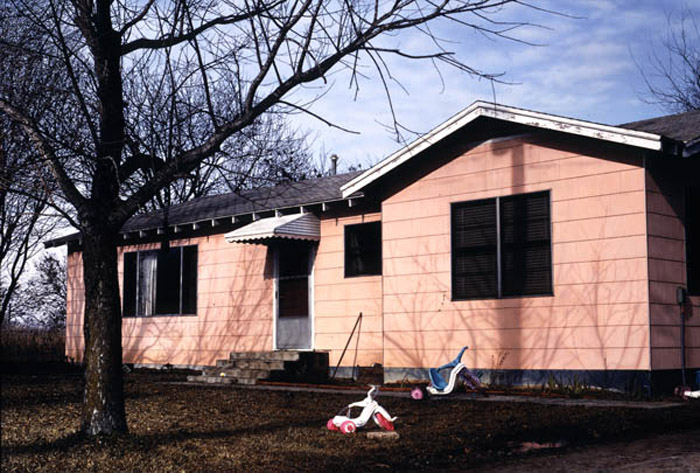 Rod Penner, "Pink House with Big Wheels," Acrylic on Canvas, 36 x 54 inches, 1992
People don't appear in his paintings, but their parked pickup trucks and their children's big wheels scattered on the front lawn remind us that they are missing. With fierce objectivity, Penner paints portraits of Texas small town life without ever showing us a single human face.
Penner's work ethic is very strong: it has to be, as he is the sole supporter for his wife a homemaker, and for five children. He is up most mornings by 4:30 for some early painting, and perhaps a walk. After breakfast he is usually back in the studio until 5.
His method of painting is methodical and systematic. Working from photos that have often been adjusted in photoshop, he paints a small, defined area each day. When working on his "minis," which are six inches square, he typically needs 7 to 10 days, which means that he is painting at the rate of a few square inches each day. Larger paintings can take up to four months to complete.
He rarely goes back and corrects his previous day's work. Penner, in this respect, is a little like an Italian fresco artist of the Renaissance who covered a single square of plaster each day, calling it his "giornata" or day's work.
The ingredients for his paintings are shockingly simple: acrylic paint and water, applied on small panels, or on wet-sanded canvas for larger works.
Penner doesn't mind being called a "Photo-realist" but comments that if anything his works are "Photo-realism in HD." People familiar with his paintings note that he goes beyond his subject matter, and manages to infuse very strong feelings into his work.
"He is a master technician, "says painter Leonard Koscianski, " but he is more than that. His paintings are actually quite expressive. There is a significant difference between his photos and the paintings he creates from them."
Penner's dealer, Ethan Karp admires the revelatory aspect of Penner's images, noting that "They encourage the viewer to look at painting, landscape and subject with a sense of objective discovery, and deliver a revelatory moment of clarity and startled awareness."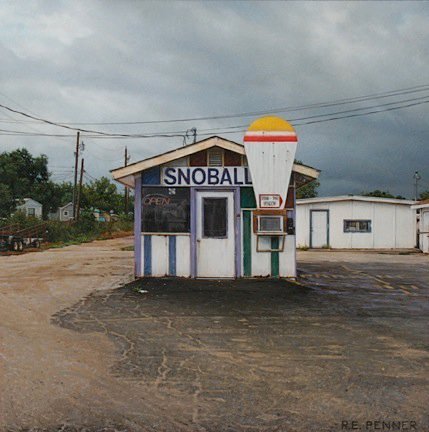 Rod Penner, "Snoball," Acrylic on Panel, 6 x 6 inches, 2010
Penner's recent art seems a bit more optimistic than it did 20 years ago. Pictures like "Snoball," which portrays a snow-cone shack with a yellow topped cone is softened by his gentle sense of humor: it is almost a "Pop" painting. The gentle rivulets of water in front of the shack suggest something melting, a wry comment.
It turns out that Texas is a great place to raise a family, and the hill country landscape around Marble Falls, where the Penners have lived since 2002, is actually quite beautiful. Life at the moment is very good for the Penner family, and his online photo album is full of snaps of Arkansas river rafting, fishing trips, and football games. Austin is less than an hour away when big city pleasures are in order.
Rod and Debbie Penner have begun to collect some modest Hudson River School paintings, and Rod is building a new studio. Both are luxuries they could have hardly imagined when they started their lives together. "We are blessed," Penner acknowledges.
When New York collectors pay big money for one of Penner's painting they are getting a piece of Americana. Hard working, and dead on honest, Penner and his paintings take us back to places and values that somehow look more and more attractive and endearing over time. Penner's paintings don't just tell us about desolation and melancholy. They also have some things to say about grit, candor and endurance: American virtues.
Penner's choice of style is also looking prescient, as the art world is paying more attention to photo-realist and hyper-realist art. "There appears to currently be a growing awareness and appreciation of hyper-realist painting as a substantial and acquirable art form," says Ethan Karp.
According to Wikipedia, Marble Falls has produced three "notable" citizens: a rancher, a 2nd place winner on "Nashville Star," and an Olympic sprinter. Another listing needs to be added:
Rod Penner: A Hyper-realist artist known for his painstakingly honest depictions of small Texas towns.