On February 24, 1943, Romualdo Locatelli, a renowned Italian painter, disappeared while bird hunting in Rizal, north of Manila, never to be seen again. In her memoir,
The Ultimate Voyage of an Italian Artist in the Far East
, the artist's widow Erminia describes how she had a premonition of tragedy as she drove him into the Philippine countryside that day. "I was shivering," she writes, "and I could not compose myself."
There was good reason for Erminia to be nervous. She and her husband, who had been traveling in Asia for over 4 years, were being increasingly threatened by the currents of war. The social prestige and political connections that had once protected them were rapidly vanishing.
Since the previous summer, tensions in occupied Manila, where Romualdo had been keeping a studio on Mabini Street, had been rising as guerrilla groups threatening the Japanese became increasingly active. In response, a new Japanese Military Governor -- General Shizuichi Tanaka -- tightened his hold on Manila's foreign citizens. Although the Japanese and Italians were still technically Axis allies, in late 1942 Tanaka ordered that Manila's Italians be gathered up and made to wear yellow bands that marked them as "traitors."
Just a few days before he disappeared, Erminia and Romualdo were shaken by an incident in which a Japanese soldier grabbed Romualdo in an Italian restaurant and threw him across the room. The experience un-nerved Locatelli who told his wife "We must do something about this before they kill some of us." He bought an air rifle afterward hoping that going bird hunting would calm his nerves: at least that is what he told Erminia.
After Locatelli failed to return from what he had promised would be a 3 hour hike on February 24th, numerous searches of the area where he disappeared were conducted by his wife and later by soldiers sent from Manila by the Japanese Imperial Command. Not a single trace of the 37 year old artist was ever found.
"He loved walking alone," says Daniela Marrucchi Locatelli, the artist's niece, who has been actively researching her uncle's life since 1969. Acknowledging that there are "many stories" about Romualdo's wartime disappearance, she avoids speculation, commenting that "the only thing we can trust, is that his wife took him close to the forest. Then he walked on alone -- he loved walking alone -- and he never came back."
Walking alone in known guerrilla territory carrying an air rifle was a fearless gesture on Locatelli's part. He had the confidence of a handsome man who stood out in the Asia not just as an European, but as a celebrated artist who had mingled with and painted powerful figures throughout his short career. In fact, from an early age he had been a society figure whose name and reputation both carried considerable history and prestige.
Born in Bergamo, Italy, on April 4, 1905, he was the first son of Luigi Locatelli -- a fresco and decorative artist -- who was in turn descended from an artistic family. In the 18th century the Locatelli family had produced two notables: the composer Pietro Antonio Locatelli (1695-1764) and the painter Andrea Locatelli (1695-1741) whose mythological landscapes have a kinship with those of Claude Lorrain. The family tree also had a streak of madness: Romualdo's paternal great-grandfather and his brother had both been committed to an insane asylum and Romualdo told his wife he did not want children for fear of spreading the "bad seed" that he might carry.
Romualdo's paternal grandfather Giuseppe owned a firm that specialized in decorative painting, and his sons Luigi -- Romualdo's father -- and Giovan Battista worked with him in executing frescoes in numerous Italian churches and palaces. In Romualdo's generation there was an abundance of talent. His younger brothers Raffaello and Stefano became, respectively, a painter and a sculptor who both executed portraits of Pope Giovanni XXIII. Three Locatelli cousins also went on the become well known painters.
Eleven year old Romualdo was noted by his first art teacher Francisco Domenighini as an "intelligent and studious boy," and by age 14 he was assisting his father Luigi in executing decorations for the parish church of San Filastro, 25 kilometers from Bergamo. After attending the Academia Carrara in Bergamo, Locatelli attended another academy at the Palazzo di Brera in Milan. It was there, at age 20, where he met his future wife Erminia who was a 17 year old art student and model who Romualdo painted as the Madonna.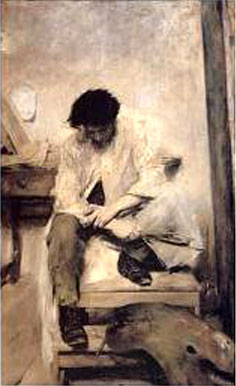 Romualdo Locatelli, "Il Dolore," 1926
oil on canvas
Collection of the Accademia Carrara Di Belle Arte, Bergamo
In 1926, Locatelli exhibited "Il Dolore" in a group exhibition at the Palazzo di Brera. An allegorical self-portrait, it shows Locatelli lowering his brushes and palette in a gesture of resignation and respect. The painting was dedicated to his father Luigi who was suffering from cancer when it was made. "Il Dolore" -- now in the collection of the Academia Carrara in Bergamo -- was singled out for mild praise by a critic who found it "romantic," and "not devoid of quality." The painting earned Locatelli, the "Prince Umberto Grand Prize," launching the 20 year old artist's career.
In 1927, Locatelli toured Tunisa, painting "Orientalist" subjects that helped build his reputation. He also painted in Sardinia, Tuscany and Veneto. Although his training was academic, Locatelli's rapid brushwork leaned towards modernist practices, and critics praised his work as "impetuous" and "bold." Locatelli's subjects ranged from genre subjects to society portraits, and his palette was restrained, favoring whites and mineral tones.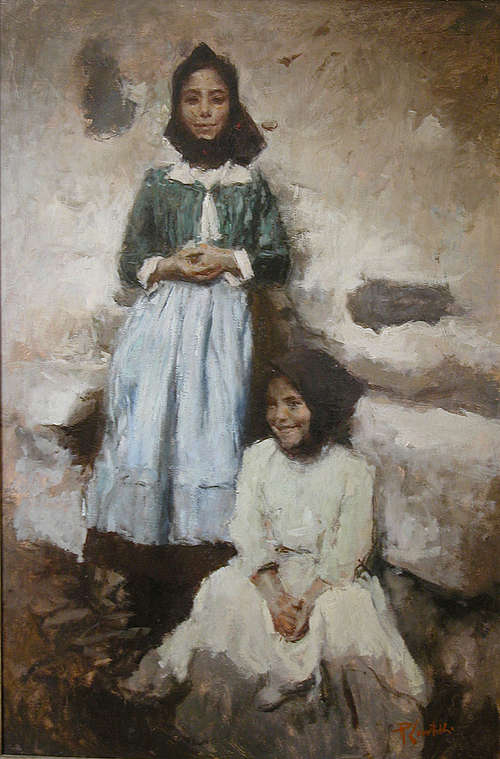 Romualdo Locatelli, "Sardine Girls," date unknown
80 x 120 cm. oil on canvas
Collection: Galleria Quadreria dell'800, Milan
By the mid-1930s, Locatelli had moved to Rome where he was highly in demand as a society portraitist. His first exhibition in Rome was opened by King Vittorio Emanuele III, whose son later commissioned Locatelli to paint portraits of his children. Locatelli made portraits of several Cardinals and Benito Mussolini reportedly owned at least one Locatelli canvas. Although he cut a glamorous figure, Locatelli was shy in public due to a speech impediment, and he depended on Erminia to deal with his patrons and dealers.
"Romualdo was very good looking but seemed very shy," says Emiliano Marrucchi Locatelli. "Actually he was not shy, but he did not like to talk because of a light stuttering. The fact that he was looking women directly in their eyes without any words made them crazy for him: sometimes. He was a REAL nonconformist for his time: he refused to wear a formal dress or either a tie when he met His Majesty Umberto di Savoia, and talked to him -- this time he seemed to forget his light stuttering -- directly, without the official words you use when talking to the Royal family. He always seemed very serious, with a perennial dramatic expression on his face, but in the truth, he loved to play irreverent jokes to people, and laugh at them."
On December 28th, 1938, Erminia and Romualdo, an elegant couple dressed in evening clothes, departed from Naples on the "Victoria" for what they hoped would be a 2 year tour of Asia. The invited guests of the colonial governor of the Dutch East Indies, the couple felt a sense of relief as they left the rising political tensions of Italy behind them. Settling initially in Bandung, Java, Romualdo and Erminia were treated like celebrities and feted by local dignitaries. When a Locatelli exhibition opened in Batavia in 1939 Erminia later recalled that "The news that a painter who was the official artist to the Vatican Palace and the Royal House of Italy generated a crowd at the opening."
After satisfying many requests for portraits, the artist and his wife moved on to Bali, establishing a studio in Denpasar, which was the most modern city on the Island. It was there that Locatelli painted the works that ultimately made his reputation. The women of Bali inspired Romualdo -- a sensualist at heart -- and the tones of their skin and hair transformed his palette. One memorable painting is of "Tigah" a model who posed nude in front of a drape of patterned fabric, and who the artist compared to an ancient goddess.
"How would you describe Tigah's beauty?" Erminia asked her husband. "It's easy," Romualdo replied, "Just look at her slender arms and long legs, her delicate hands and feet, her body so glamorous... her golden brown skin, so tanned by the sun, looks like velvet."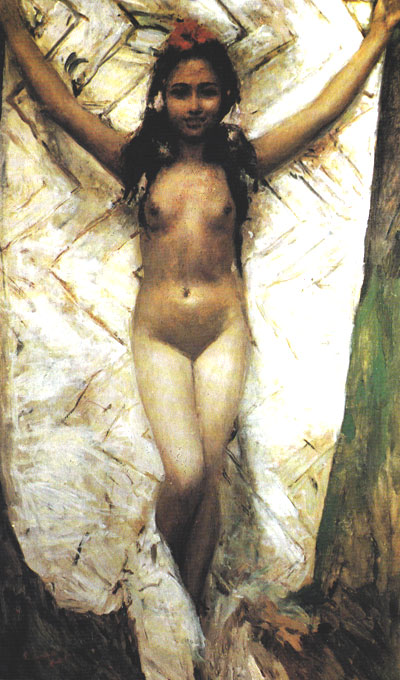 Romualdo Locatelli, "Tigah," 1939

108 x 109 cm, oil on canvas
Private Collection, Jakarta
Locatelli, who had always excelled at painting children, also made a memorable paintings of Legong Dance. Considered the most classical and elegant of all Balinese dances, Legong is a complicated dance that is performed by girls not more than 8 years old. Locatelli's 1939 canvas, "Legong Dancer," now a highlight of the newly established Museum Pasifika, is considered a late Orientalist masterpiece: a sharp-eyed depiction of Asian culture seen through a Westerner's eyes. In some respects, the "Legong Dancer" is reminiscent of the painter Degas' depictions of young women enduring the rigors of ballet training.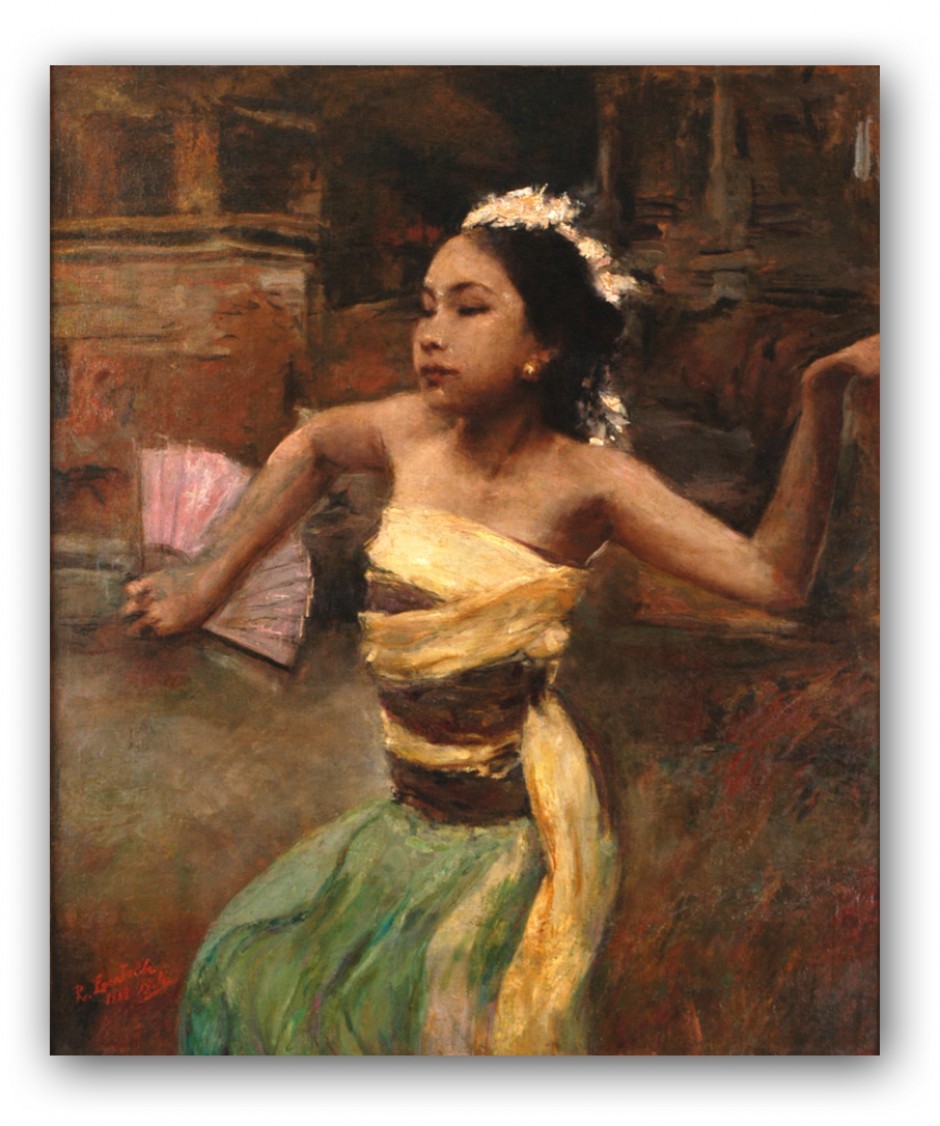 Romualdo Locatelli, "Legong Dancer," 1939
113 x 95 cm, oil on canvas
Collection of Museum Pasifika, Bali
By the time the Locatellis left Bali, Romualdo had sold nearly all his Balinese paintings and endured a bout with dengue fever. With the proceeds from painting sales put into jewels and gems worth more than 50,000 guilders, the couple extended their tour of Asia as ominous events unfolded in Europe. They traveled to Shanghai, then Tokyo where they were feted with a banquet at the Imperial Hotel. Seeing the Italian flag displayed next to the Japanese flag was a reassuring sight.
In Manila, the couple was warmly greeting by both Italian friends and American military officers, and a successful exhibition at Santa Tomas University followed. In the relative quiet before Pearl Harbor, Locatelli painted President Quezon, met Douglas McArthur, and with the help of an American colonel, managed to ship 18 remaining Bali paintings to a gallery in New York.
Even after the attack on Pearl Harbor and the Japanese invasion of the Philippines, Locatelli's status as an artist seemed to keep him safe. When Japanese authorities admired the paintings by Locatelli they found in the American High Commissioner's office he was asked to paint General Masaharu Homma, with whom the artist had a number of sittings. When General Homma left Manila one morning on a submarine, taking the Locatelli portrait with him, it marked the moment when Locatelli's fortunes began to turn for the worse. "He was so pleased with your work," Locatelli was told by one of the General's Lieutenants.
****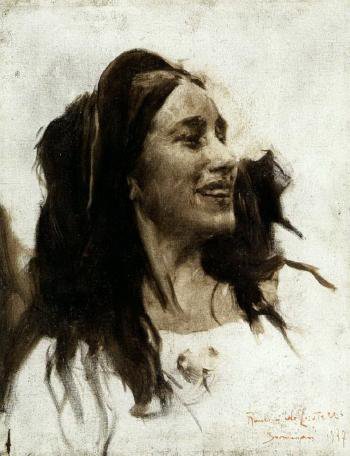 Romualdo Locatelli, "Mia Moglie," (Portrait of Erminia Locatelli) 1937
oil on canvas, 38 x 20 inches.
After Romualdo's disappearance, his wife endured profound depression, but eventually recovered with the help of friends. She was put under surveillance then incarcerated as Japanese authorities suspected that her husband had joined a guerrilla force, and that Erminia knew his whereabouts. She survived the bombing of Manila, but nearly 75 warehoused Locatelli paintings were destroyed in the inferno.
After the war Erminia came to San Francisco, and eventually moved to the east coast where she re-married and taught art at a Catholic Elementary School in Baltimore. In 1994 she published her memoirs, dedicated to the memory of her husband. She died, at the age of 97, in 2005. Since that time prices for Romualdo's rare Asian paintings have soared.
At a Christie's Hong Kong auction in May of 2010, Locatelli's "Young Balinese Girl with Hibiscus" brought a price of $772,970 US. Locatelli's most avid collectors are in Asia, where his images of pre-war culture are considered iconic.
In 1969 Daniela Marrucchi Locatelli spent six months in Bali, locating and interviewing some of the Balinese who remembered and posed for her famous uncle. She has one of his precious Balinese paintings which she plans to loan to an exhibition planned in Bergamo in October 2011, featuring the art of 3 generations of Locatelli artists.
Poignantly, Daniela mentions that her son Emiliano, a Harvard educated architect, has kept her maiden name "Locatelli" as his last name. " None of the Locatelli in Romualdo's generation had sons," she explains, "and it would be a pity to lose this branch of the Locatelli."
Regarding Romualdo's disappearance, many of this Italian family members still consider it an open matter. When she got the news in 1943, Romualdo's mother, Angelina Tua Locatelli, refused to consider him dead. As Emiliano Locatelli puts it :
Those were hard war years, and hope was the last resource of lot of people. Many friends were not surprised about his disappearance: his will to travel in wild and dangerous places during years when no Italian would have loved to travel, was seen as a way to disappear, probably a strong aspect of the dark side of his character. A friend told the family to have met Romualdo in Australia after 1943, and this shocking revelation, although without evidence, did not surprise the family at all.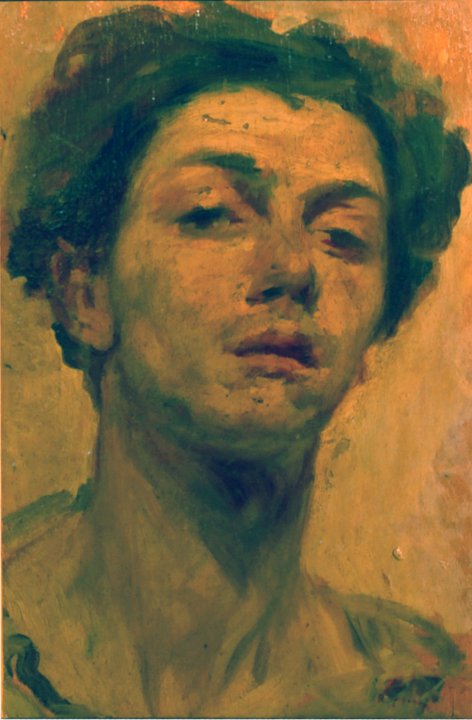 Romualdo Locatelli, "Self Portrait"
Private Collection, Italy