Edith Beaucage's "hurluberlu" paintings, which feature idiosyncratic figures and architectural references are about the rich interaction of the imagination and social spaces. Beaucage's new series has a Rococo energy, and is peopled by an engaging cast of lusciously painted faux-naif characters. The paintings are sweet, challenging, and utterly original.
To better understand the artist's ideas, I sent her a set of questions, and also asked her husband, Glen Irani, if he would add his perspective.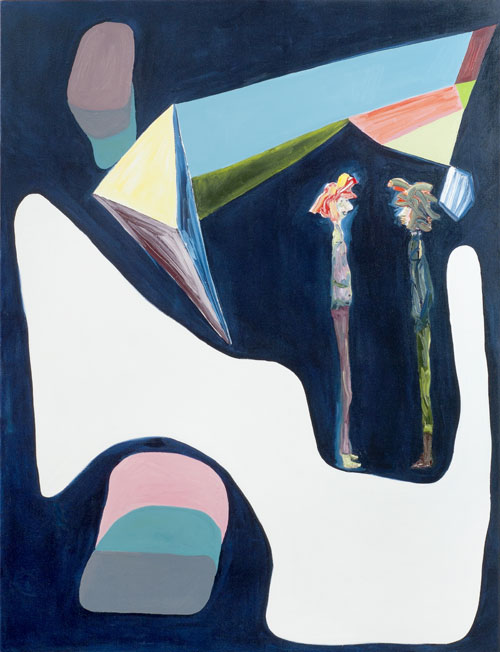 Edith Beaucage
hurluberlucubic.hur, 2011

Oil on canvas
60" x 46"
John Seed/Edith Beaucage: Q and A on hurluberluJS:
Can you tell me what a "hurluberlu" is?
EB:
A hurluberlu is a type of person that is referred to in Quebec as a fellow that is a little crazy; sweet and original in his way of thinking, and in how he dresses himself and behaves.
In each of my paintings you will find a hurluberlu juxtaposed with an abstraction that mimics what happens in a social space. The social space is therefore the unifying factor and is meant to stimulate discourse with the audience, to include the viewer. The meaning that derives from this interaction is voluntarily open.
By conceiving each image in relation to a "hurluberlu" I was able to push the abstractions each one inspired into a new aesthetic territory. The painting's titles are followed by .hur because I refer to the group as part of the domain of the hurlerburlu as opposed to internet domains such as .com or .net.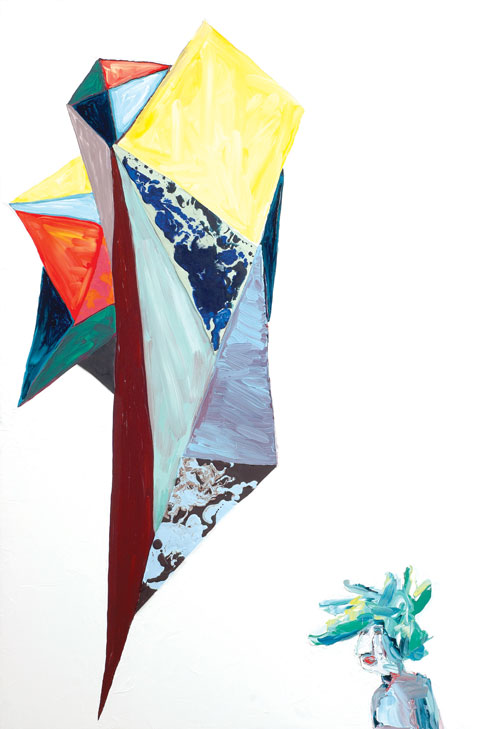 Edith Beaucage
triakistetrahedron.hur, 2011

Wax and oil on wood panel
53" x 36"
JS:
Tell me about your imagery and your brushwork: how do they relate to each other?
EB:
I like to explore relationships between signs of abstraction and figuration, and how we derive meaning by simple juxtaposition of these signs.
I am interested in fluid paint, volatile multicolor brush marks and how they can be organized to represent a figure or a form. Brush marks for me are "low-tech." They are image activators.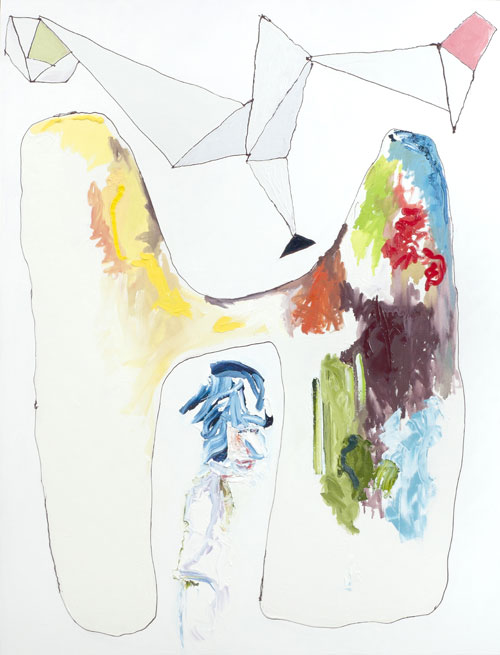 Edith Beaucage
quixoticcuboctahedron.hur, 2011

Oil and acrylic on canvas
60" x 46"
JS
: How satisfied are you with your own work at this point?
I have literally a huge pile of paintings that did not work for this exhibition. I had to go through numerous trials for getting to the equation that you see. So, yes I am happy with this new work as part of this edited process.
Working on this series has raised so many questions and challenges:
- Will works in a larger scale be clearer or harder to understand?
- How do the geometric solids function in relation to the characters?
- Is the hurluberlu a good idea?
- Should the hurluberlus be more realistic or generic representations of people?
- Some are very funny; what is that about?
- Where does humor take the work?
JS:
Who are some artists you admire, and are they influencing your current direction?
EB:
In this particular group of paintings I was thinking about specific painters in relationship to abstraction and as it turned out I "winked" at them, and I was wondering if anyone would notice that.
Gerhard Richter is present -- or "winked at" -- in the t-shirt of the hurluberlu character in Palsy-Walsy.hur.
Cy Twombly is "winked at" in the abstract shape of Quixoticcuboctaheron.hur.
Robert Ryman is definitely present everywhere.
Francis Bacon is present in the dimension of the large pieces and in the organization of the dark blue painting titled: Hurluberlucubic.hur.
Zaha Hadid is "winked at" in the multicolored volume in Triakistertrahedron.hur
JS:
Edith, is there anything else you would like to say?
EB:
Well... I love painting and I will stand in that space and defend it with pleasure.
Also, I was born in Quebec and appreciate that truly incomparable culture, but I live here in Los Angeles because I think it is the place to be to make art right now.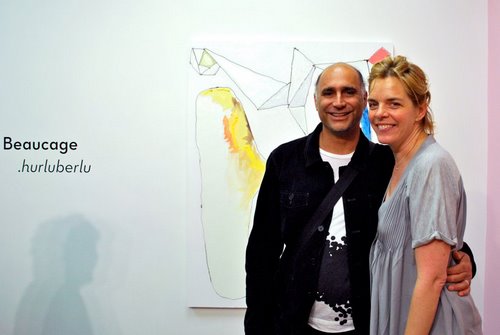 Glen Irani and Edith Beaucage at CB1 Gallery, Photo: Jason Chang
Glen Irani on Edith's Work:
"Her most recent work appears to me to be a community of really strange, ingenious characters set in abstract scenes, lots of paint and, most importantly -- to me -- a very intriguing and active relationship between all of them. When you walk into a room full of Edith's paintings, it's like your crashing a convention for extraterrestrial misfits, year 27000, and they all seem to be getting along real well, and maybe there was a food fight. You can hear the some apprehension, some quandary and everyone seems to be staring at one another wondering what the heck they should say to strike a chord with this other whatever-it-is standing across from them. It's really a blast and everyone's having a good time making it work, even though it could be a very long time before it does. That's what I see."
Edith Beaucage
.hurluberlu
CB1 Gallery
February 26 - April 3, 2011