Keith Jacobshagen, a veteran plein-air landscape painter, has lived and taught for over 40 years in what he jokingly calls "flyover country;" the environs of Lincoln, Nebraska. If you care about painting, and you want to see Jacobshagen's extraordinary installation of 365 index-card sized landscape paintings on copper --
"A Golden Year"
-- keep in mind that it is a 22 hour drive of 1,252 miles from New York to City to the Bemis Center for Contemporary Arts in Omaha, where Jacobshagen's show is on view through July 30th. If you are coming from Los Angeles, 1,600 miles away, you might want to fly, just don't
fly over.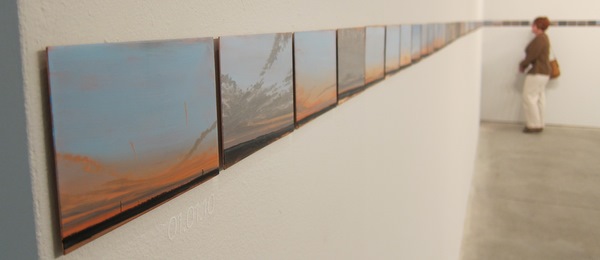 Above: Visitors contemplate some of the 365 paintings that constitute "A Golden Year"
"I'm a Midwesterner who has stayed put to make sense of where I live," says Jacobshagen.
"A Golden Year"
certainly does much more than simply make sense of the landscape: it spiritualizes it. The main gallery at the Bemis center, which perfectly accommodates the 160 feet and seven inches of Jacobshagen's paintings feels, for the moment, like a place for introspection and contemplation. The line of images, each installed 60 1/2 inches from the floor, float like a vast, serene horizon.
The sequence of paintings shown at the Bemis Center can be seen as a painter's diary, as a calendar, and as a command performance. Jacobshagen has been painting the flatlands of Nebraska for decades from the same over-arching viewpoint once used by Dutch Baroque masters. Jacobshagen, commenting on the significance of the sky as an image says " I'm sure it goes back to early humans and having some sense that the sky is what allowed us to live, it brought rain, it brought warm sun."
If the sky in his paintings refers to the ancient and the elemental, the land itself is anchored in the familiar. Of the Nebraska landscape that he has observed, and internalized over a period of many years, Jacobshagen says " I know it, it is a part of my experience."
Jacobshagen first had the idea of painting a one year sequence of paintings in the 80s, but he was too busy with teaching for to project to actually happen. After Jacobshagen's retirement from teaching in 2008, Hesse McGraw of the Bemis center asked him if there"... might be something that he had always wanted to do?"
"His eyes got big," Mc Graw recalls.
When she was viewing paintings by Mark Rothko at the Whitney Museum in the late 1970s, Georgia O'Keefe commented that she envisioned all of Rothko's works seen together as a long line: "... a portrait of a man's life," she commented. Jacobshagen's installation can certainly be seen in that spirit -- as the portrait of a
year
of a man's life -- but the artist is also careful to caution viewers not to see the show too literally. "Painting is autonomous, like novel writing," he cautions, "it has a part that is truly fiction, and the only reality is in the materials and construction."
Although the individual works in
"A Golden Year"
are each titled with a date -- for example 5/24/2010 -- Jacobshagen didn't hold himself to the strict idea of painting a single painting each day. "The Romantic side of me wanted to do one painting a day," he explains, "but my pragmatic side intervened." Starting in January of 2010, Jacobshagen began painting every day at dusk, also making watercolors and taking digital photos, gathering visions and insights. One of the artist's goals was to let the resulting small panels remain "fluid and abstract," infused with the characteristic vitality of ala prima plein-air paintings.
Jacobshagen chose to paint on unprepared copper plates: he wanted paint to be the only thing that touched the surface. Taking advantage of the "chromatic relationship" between the warm influence of the copper ground and his applications of paint, the finished panels reveal glimmers of copper tonality at their edges and in small unexpected areas. "Seen with the naked eye, they glow," observes the artist.
In fact, the "glow" of the works is meant to consistently evoke the linking motif of twilight, the transition between day and night. Keeping in mind a favorite Celtic verse --
"the time between dogs and wolves"
-- Jacobshagen has given his works a consistent theme that unites them even as the calendar aspect of their titles marches the panels forward in time.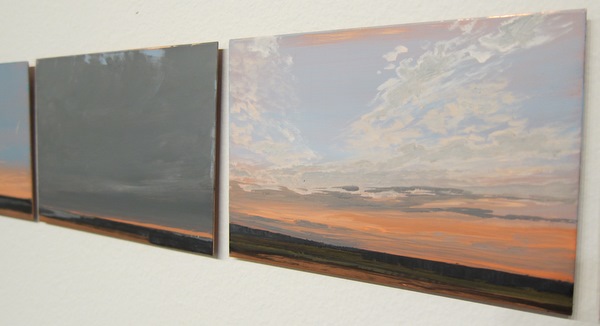 A side by side view of two of the panels from "A Golden Year"
Hesse McGraw reports that the show is having a mesmerizing effect on visitors: "They move slowly, contemplating individual paintings." Although many Nebraskans are familiar with the striking realism and hawks-eye viewpoints characteristic of Jacobshagen's large scale landscapes, the concentrated effect of so many tiny works in a linear arrangement comes as a surprise. There is a "different kind of refinement in these paintings," notes Mc Graw. "Then you realize the scope. It is
one
piece; an installation."
Although there are no plans for the future of the work, through July 30th visitors to the Bemis Center are going to find that Jacobshagen's installation has slowed down time, maybe even stopped it for a moment. Chance are that anyone who sees this show will always think of Nebraska -- and of the year 2010 -- a bit differently.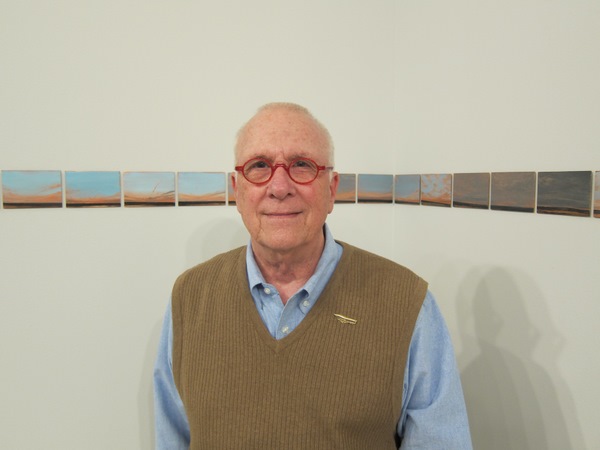 Keith Jacobshagen
All Photos: Craig Roper

Keith Jacobshagen:

"A Golden Year"


is on view through July 30 at:
The Bemis Center for Contemporary Arts
724 South 12th Street
Omaha, NE 68102