I recently interviewed Sonia Mak, an independent curator, and founding curator at the Chinese American Museum, about the exhibition
'Round the Clock: Chinese American Artists Working in Los Angeles.
The exhibition, which will present the work of 5 contemporary Chinese American artists -- George Chann, John Kwok, Jake Lee, Milton Quon, and Tyrus Wong -- is part of the Getty's Pacific Standard Time initiative.
The exhibition features more than one hundred works by these Los Angeles artists including paintings, watercolors pre-production sketches, drawings, kites and ephemera. Central to the exhibit is an examination of how these artists balanced their art practices with their professional lives, and how they achieved success in the context of the social forces that surrounded their early lives.
JS:
Tell me a bit about how this show came about and came together.
SM
: In June 2010, I attended a presentation given by Getty Foundation's Deputy Director, Joan Weinstein, on the Pacific Standard Time initiative. With the hope of ensuring that Chinese American artists would be included in this unprecedented regional initiative, I pitched a show idea to Ms. Weinstein, after which she invited me to apply for a grant. I had been working as a curatorial consultant at the Vincent Price Art Museum (VPAM) since spring 2010 to assist in the inaugural shows for their new museum building. I discussed my exhibit idea with the museum's director, Karen Rapp, who suggested that VPAM would be an ideal venue for the show. We received a lead grant from the Getty Foundation in August 2010 and hit the ground running. The project is also supported by the Pasadena Art Alliance and individual donors, which has made it possible for a catalogue to accompany the exhibition.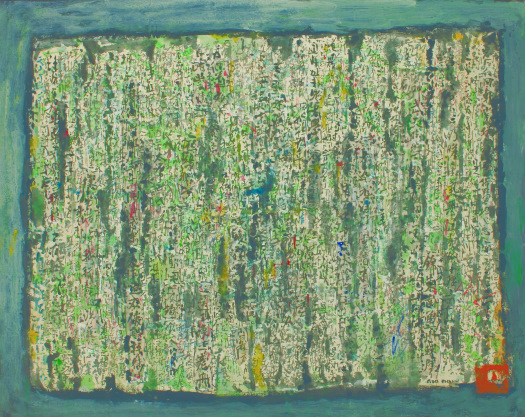 George Chann, Rice Paper Calligraphy, 1970s,
Sumi ink, watercolor and oil on rice paper, 24 x 30 inches.
Courtesy of Janet Chann. Copyright George Chann. Photo: Janet Chann
JS:
What are some of the political and complexities that the Chinese American artists had to face as they developed their work and artistic careers?
SM:
Discrimination was a reality that manifested itself in a variety of ways for these artists. Laws dating back to the mid-1800s were still in effect by the time these individuals were born and arriving in the Los Angeles area. Lawmakers were very clear about preventing an American-born citizenry of Chinese descent. Chinese were ineligible for citizenship. They could not vote, own property, or testify in court against a white person. Chinese women could not immigrate to the U.S. Congress passed the first Chinese Exclusion Act in 1882, renewed it in 1892 and again in 1902, and extended it indefinitely in 1904. These artists were in their 20s and 30s by the time the law was finally repealed in 1943.
The tide of international relations changed with World War II: not only did Congress repeal Chinese Exclusion because China and the U.S. became allies, foreign-born Chinese Americans could for the first time in seventy years become naturalized citizens. Even after World War II, Quon and Wong have both recounted how difficult it was to buy a house or insurance. No one would sell to them.
The social climate and complexities in the workplace presented other challenges and rewards. As Wong and Quon are still alive, they've recounted to me what it was like to be the only Chinese American in their work environments. Wong was only the second Chinese to work at Disney. Quon was the fourth.
They each advanced because of their ambition and skill. Others recognized their talent, and so they climbed. Wong recalls that only one man at Disney would invite him to sit with him at lunch. At Warner Brothers he made few friends, however they became lifelong friends. Quon became best friends with an old Los Angeles Junior College classmate, who went on to become Quon's boss at the Los Angeles office of BBDO (now one of the largest, global advertising companies in the world). Quon became the first Chinese art director for BBDO on the West Coast. I have some great old photos of Quon at work: think "Mad Men."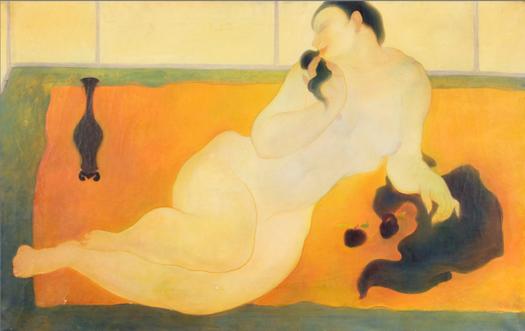 Tyrus Wong, Reclining Nude, 1940s, oil on canvas, 29 3/4 x 48 inches.
Courtesy of Leslee See Leong. Copyright Tyrus Wong.
JS:
Two of the artists in the exhibition -- Tyrus Wong and Milton Quon -- worked for film studios. How did they manage to balance this work with their personal studio practices?
SM:
Actually, in the early years, Wong and Quon worked on the side while they worked at the studios. They worked constantly, taking private commissions and/or working with other clients. They each made names for themselves within the Chinese American community as respected artists. Wong balanced his nascent career at Disney with exhibiting his own work and starting a family. Wong was highly praised by local art writers and critics, and he won awards and commendation in many exhibitions. Wong had a wife and three daughters to support. Quon wasn't an exhibiting artist: he just worked and worked. Quon had a wife and four kids to support.
George Chann and Jake Lee each tried working in the movie studios. Neither of them liked the work, so they moved on. Lee became a commercial illustrator with clients in the automobile and war industries. Chann lived in China then San Francisco before coming back to LA, where he operated the Farmers Market Art Gallery from the early 1950s to the early 1990s.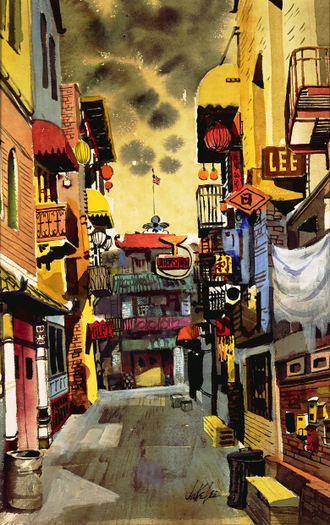 Jake Lee, Chinatown Alley, c. 1940, watercolor on paper, 22 x 15 inches.
Courtesy of The Michael Johnson Collection, www.CaliforniaWatercolor.com
Copyright Jake Lee. Photo credit: Chinese American Museum
JS:
Sonia, what were the "discoveries" you made while assembling this show? By discoveries, I mean remarkable artistic achievements but also revelations about the history of these artists and the times they lived and worked in.
SM:
Although these artists knew of one another and some were friends, they were never a cohort. Decades before the Civil Rights Movement and the notion of multiculturalism, these artists built community with other artists without regard for ethnicity. It was a refreshing surprise to learn that these five artists found invaluable alliances, encouragement, and unequaled support from within the art community, especially their fellow art school alumni. Otis and Chouinard served as pillars in the early art community of Los Angeles.
The artists of 'Round the Clock made friends at school who became lifelong friends and co-workers. Milton Quon, George Chann, and John Kwok were very active in their respective churches, which were based in the Chinese American community. The role these churches played in the early Chinese American community should not be underestimated, however it was the art schools that created vital artistic lineages that coursed through the lives of these five artists. Other PST shows I've visited seem to echo this same relationship, though it seems none have really been able to clearly articulate how important these relationships truly were.
Another discovery is that I learned a great deal about the artists as individuals, as personalities. I had curated retrospectives for John Kwok, Milton Quon, and Jake Lee when I was at the Chinese American Museum. Through this project, I feel I've begun to know the artists in a way I did not before. I plan to create a blog about the artists in the exhibition as a way to include more information about them--material that could not fit into the show--and involve the families and friends of the artists to share stories and images with the public.
They have been so generous and eager in their support, and I'd like to raise the profile of each of these artists with all that they've shared with me. Their insights and memories may not be appropriate for an art exhibition but they certainly are wonderful assets to a project invested in fostering understanding about these artists and their respective contributions to the Los Angeles art scene.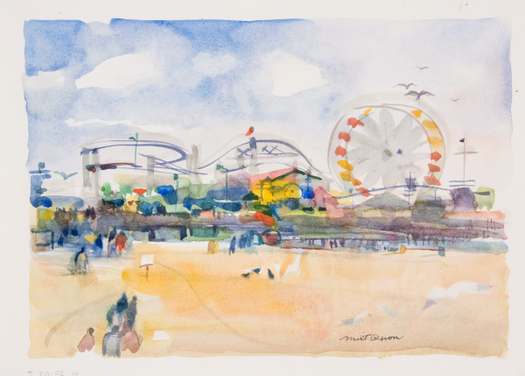 Milton Quon, Santa Monica Pier, 2002, watercolor on paper, 10 1/2 x 14 1/2 inches.
Courtesy of the artist. Copyright Milton Quon.
JS
: What do you perceive that these artists have in common? Where do their art and lives diverge?
SM:
Each of the five artists expressed themselves in traditional ways. In fact, they each drew on multiple traditions: the tradition of Chinese ink-and-brush painting, the tradition of Western modernism (Impressionism, Synchronism, Abstract Expressionism, and German Expressionism), and the tradition of Regional Painting (specifically the California-style watercolor movement). I always like to say that one plus one makes three.
What the show presents is more than just Chinese art or American art. The works offer insight into each artist's multiple creative fluencies and cultural perspectives. Their career choices, their relationships throughout the art community, and their connectedness (or lack thereof) to the Chinese American community reveal a great deal about how these individual artists derived meaning from their work.
John Kwok, Untitled, not dated, gouache on paperboard, 40 x 30 inches.
Courtesy of The John Kwok Family. Copyright John Kwok.
Round the Clock: Chinese American Artists Working in Los Angeles.
January 21st through April 21st, 2012
Opening Reception: Saturday, January 21, 2012 from 2:00 - 4:00 pm
Gallery Open: Tuesdays, Wednesdays, Thursdays, Fridays, and Saturdays
Vincent Price Art Museum, East Los Angeles College
East Los Angeles College
1301 Avenida Cesar Chavez
Monterey Park, California 91754
(323) 265-8841