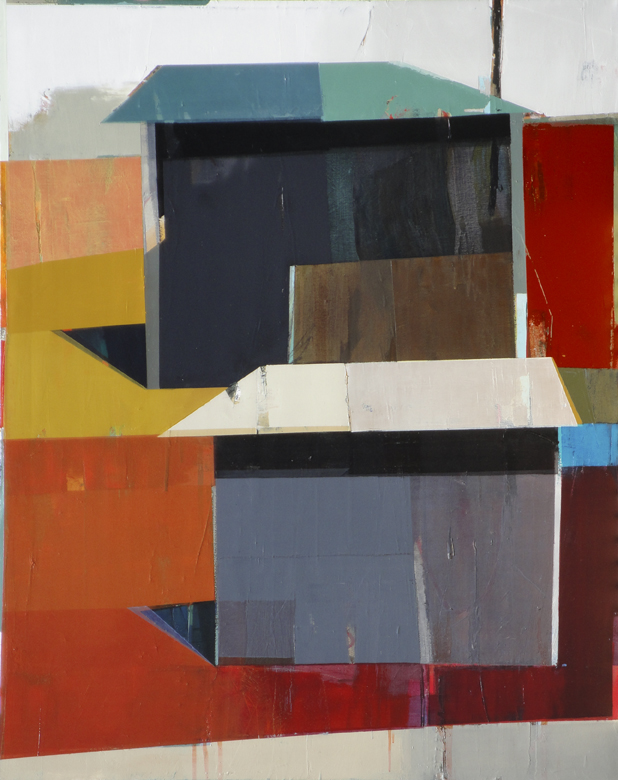 Siddharth Parasnis, "Two Houses in the Country #4," Oil on canvas, 50' x 40"
Siddharth Parasnis, who was the subject of a one-person show at
Dolby Chadwick Gallery
this past March, and whose work is currently on view at
Sue Greenwood Fine Art
in Laguna Beach, bases his paintings on architecture, but not in a literal way. "It all starts with architecture and then moves on from there," he says. Combining memory, painterly improvisation, and a sense of color that he says life has "carved in his brain" Parasnis creates a hybrid world with its own eccentric vitality.
I spoke to Siddharth Parasnis recently and asked about his sources, his way of working, and his distinctive approaches to color and geometry.
John Seed in Conversation with Siddharth Parasnis
JS:
Your paintings have a sense of "place" that serves as their starting point. Tell me about some of the places -- including India and California -- where they are rooted.
SP:
I guess that I have always enjoyed creating an ambiance; a place almost like a stage, but without characters. I think characters make everything too literal, and you sort of lose the ambiguity. I offer the viewer plenty in my work but not
everything
. I like aspects of the painting process left unanswered; I think it's part of my sentimental and physical process of painting. Painting takes the viewer with me on a journey to share that which may be derived directly from life or memory, imagination, or dreams. Paintings are my way of sharing the places that I've been to, both actual and imaginary ones.
Looking back on my life in India, I see how it consisted of tons of relatives and friends. Something was always happening; the festivities were almost overwhelming. Think of the implacable impact of Bollywood movies; busy streets with thousands of people, women with colorful saris, and street hawkers selling spices, and all kinds of colorful things. A lot of chaos!
That's what you would see in my earlier work, busy compositions, and colorful canvases.
After living in the San Francisco Bay Area for over a decade, especially now that I have settled in an extremely quiet and secluded part of San Francisco, my work has changed a lot and compositions are much mellower, deeper. They also occasionally reflect a painting from my neighborhood. But more importantly moving in this neighborhood has impacted my work on a broader aspect. The paintings started to look more California now, all these changes were first noticed by viewers, and art writers. And while reading about my own work by them, Yes - I do see that too. These changes weren't intentional but rather innate.
An occasional trip back to India brings the colors or chaos back again and spice up the works, which is fun!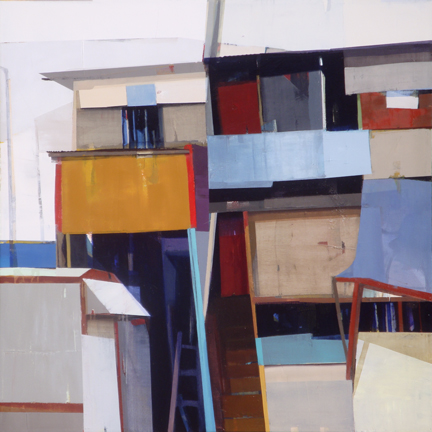 Siddharth Parasnis, "Eternity #36," 48" x 48" Oil on canvas
JS:
How abstract are your paintings? What is your mix of observation, memory and invention?
SP:
To me, the abstract and representational aspects of my paintings are so deeply intertwined that I can't put one next to the other. Abstraction is present in the representational forms, and the representational forms occur through the process of abstraction. I think, they rather go hand in hand.
To me it's like a game; finding the abstraction in representational subject matter and then locating the tangible forms in abstraction. Chasing one after the other makes each painting an intriguing journey. To me, as long as the painting is about paint, the subject matter -- whether it is representational or abstract -- is only a device.
The paintings in my recent solo shows, both at Dolby Chadwick and at Sue Greenwood, are derived from memory, imagination, dreams, subconscious inner feelings as well as coming directly from life.
JS:
Although your paintings feature many straight lines they also wobble and tilt a bit. Tell me about how you see the role of geometry in your work.
SP:
Yes, one can certainly see undeniable geometry, lines, and hard edges in my work. What makes those features so apparent is the organic play and mark making that is intertwined with it. To me there is never one thing; there has to be one thing married to another, a harmonious relationship. I also get comments about my work being very vivid, but I think vivid is a very relative term. The mundane colors next to other less mundane colors make for vivid contrasts and color relationships. It's just depends on how you look at it, I guess.
To me, composition and character of the painting is really everything -- not just colors, lines, shapes, and textures -- but everything that happens in between. There is, for example, inspiration, subject, matter, emotional involvement, energy and a lot more. Even if those things can't really be seen they can very much be accountable for the character or success of the finished composition.
JS:
You have been living and working in the San Francisco Bay Area. How have you been influenced by Bay Area Figurative painting, and by the environment of Northern California?
SP:
It's been an interesting journey; the amalgamation of the "baggage" I brought from India, my MFA here, and my continued living in the San Francisco Bay Area, have made for a unique combination. Some of the artists I discovered during my MFA program -- Edward Hopper, Willem deKooning, Richard Debinkorn, Elmer Bischoff, and Nathan Oliveira -- stirred my nerves, and excited me. I was captivated by the expressionist tendencies in their work, and by the emotional atmospheres they created.
It took 10 years to adapt to San Francisco and make me feel that it is truly my home.
JS:
Have you ever considered adding figures to your paintings? Do you have any interest in the figure?
SP:
I painted figures in my work a long time ago. They appeared in my work briefly when I was in India and disappeared later. Architecture and abstraction have played an important role for over a decade in my work and now I am exploring other subject matter, such as boats, fence, grassland, etc. I have explored subjects that I never thought I would, so you never know, I might go back to figures one day. But don't have the desire to do that right now or in the near future.
JS:
You have a unique sense of color. Is your color carefully controlled, or spontaneously invented?
SP:
It's both! I think my colors come from my conscious and subconscious experiences, and from the life that I have witnessed so far in India and here in the United States. I guess subconsciously color sort of gets carved in your brain every single minute of the life that you are living. Then while painting, it all comes out; I guess colors find the right places for themselves in the painting. I have to react to canvas spontaneously. Then the canvas gives me back something, a puzzle, a question, a direction, and then depending on what has happened, I sometimes "choose" the next move. I guess that can be called "carefully controlled".
Sometimes the canvas takes over and I follow the lead. However, no matter how big or small the painting is, I have to capture the soul of the painting in one session. The painting may take months or even years after that to bring to the conclusion but that one session is what gives the painting "life" or "birth to say the least. If it doesn't work out, then it starts all over again. Colors have to work together as a whole; capturing all the color relationships in a single session brings harmony.
JS:
How did you make the difficult choice to devote yourself to painting as a full-time profession?
SP:
Part of it is about my passion, part of it is about ego, part of it is practicalities. It's not just that I get to pay my bills when I sell an artwork but when someone purchases my work gets me, my pain, my excitement or so I believe. It helps me motivate, push my boundaries, and get through the day.
Andrew Burgess | Kathy Jones | Siddharth Parasnis
On view May 3 -31, 2012
Artist Talk: May 19th at 11AM
Sue Greenwood Fine Art
330 N. Coast Hwy
Laguna Beach, CA 92651
ph: 949.494.0669