Last August, when
F. Scott Hess
offered to paint a portrait for me, I was very pleased. My first suggestion was that he paint my five year old daughter, but Scott advised against that. "I don't know if I'm the guy you want painting your young daughter, " he told me via e-mail. "I generally make gnomes of them, and mothers are never happy."
When Scott offered to paint me instead, I was both flattered and a bit nervous. On the one hand I knew that whatever Scott painted would be remarkable. On the other hand, I was also aware that Scott would not be giving me an idealized portrait that would pump up my vanity. Scott is as close to Lucien Freud as an West Coast painter I can think of. He is an acutely perceptive artist who paints people's outsides as a map of their insides.
My portrait session took place in March in Scott's Los Angeles garage/studio. Behind me, wrapped in plastic was Scott's giant mural "In Transit." Scattered around the garage were some of the faux historical artifacts he had been working on for his
"Paternal Suit"
exhibition. I sat down, trained my eyes over Scott's left shoulder, and let him get to work. Scott doesn't mind talking while working, and we started out with light topics like LA traffic. At my first break just less than an hour later, I walked over to see the panel in progress. This is what I saw...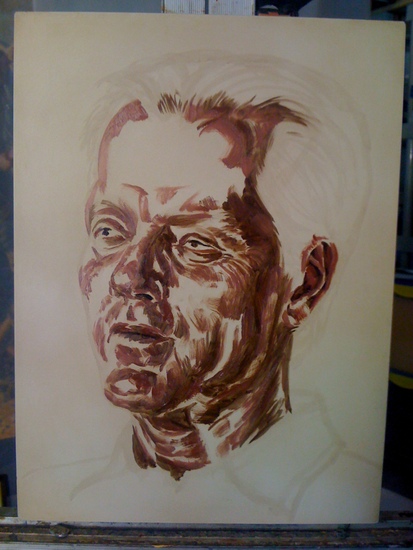 The portrait: stage one
It was disconcerting seeing myself as an
écorché.
After all, I was never able to finish painting and assembling the "Invisible Man" my parents got for me as a kid, and have to close my eyes during the surgery scenes when my wife watches "Grey's Anatomy." I sat back down.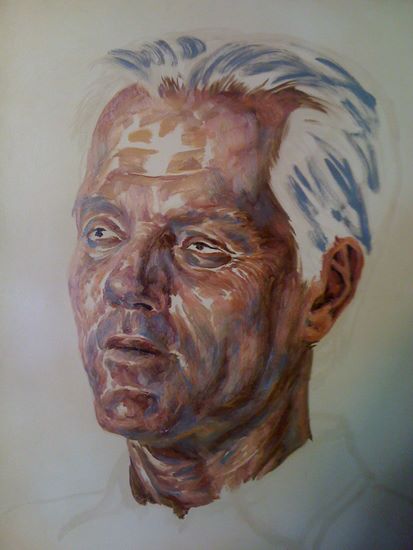 After 90 minutes
After about 90 minutes of work, the portrait had a mask of flesh tones, and also blue shadows. The effect had progressed from "skinned head of St. John the Baptist" to "battered, disoriented middle-aged man." The pinpoint irises floating in my empty eye sockets added a Zombie-like vibe. As time went by Scott and I talked about more important topics -- money, artist friends, and daughters -- and I took a shot of Scott facing me with his paintbrush.
Thinking about lunch helped me make it into my third hour of sitting, and Scott worked quietly and with great focus. Although I couldn't see the panel progress, I could hear his brush at work, especially when he laid in broad areas of color.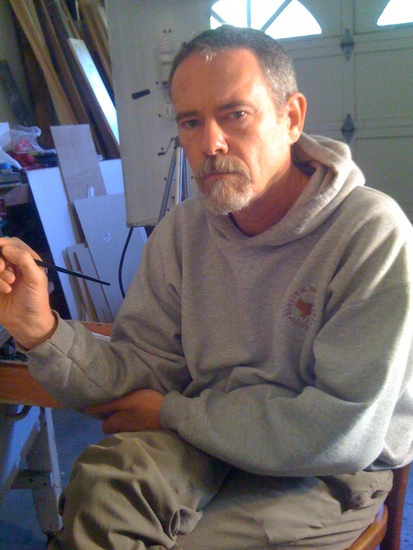 My view of Scott at work
After lunch the portrait really began to take shape. When I took the shot below I felt a shock or recognition.
There I was
... well except I had someone else's nose...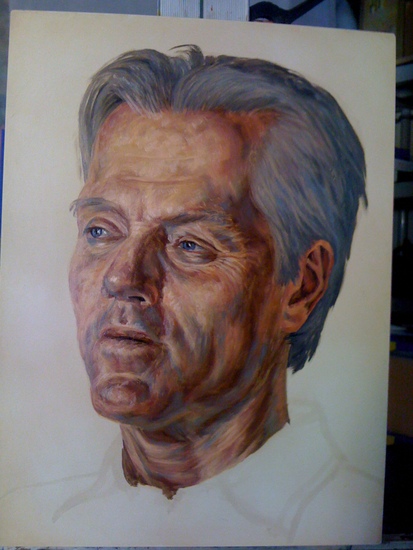 After about 3 hours of work
As the afternoon progressed, Scott left the face alone and added my collar and sweater. Honestly, the best part of the day was having over five hours of time to talk to a friend, and we covered a lot of ground.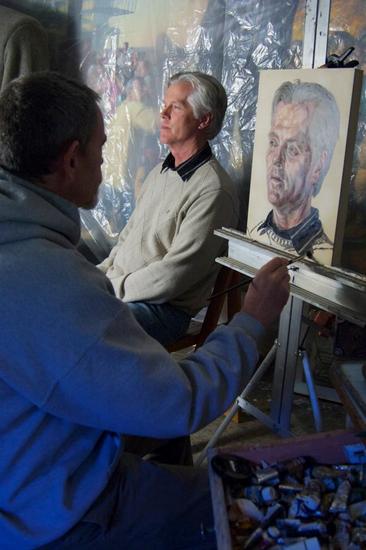 Scott at work, adding the collar and sweater
I left Scott's to drive home in the late afternoon feeling rested, but also curious: how would the finished portrait turn out? The next time I saw my portrait was on Facebook. After adding the background and refining it, Scott posted a photo of it, and asked for comments from me, my friends and family and his 5,207 Facebook friends. What had begun as a private portrait session now became a kind of public forum.
"It still doesn't look like John Seed to me," Hess posted, "but the painting is becoming more refined." I went to Target and bought a new tube of 50 SPF sunblock, and then came home to read the comments.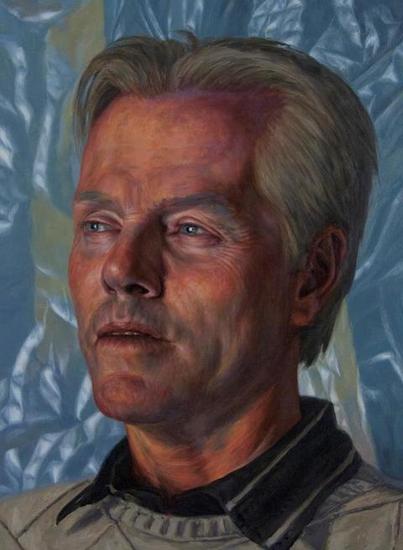 The portrait, as posted on Scott's Facebook wall
There were many admiring comments, but also some quibbles about whether Scott had really gotten me right. "I'm going for the gritty truth," he told my wife Linda in a comment. "John doesn't have a gritty truth," she replied. Several people felt that the portrait made me look older, and Scott acknowledged that his portraits tend to make people look ten years older. Jim Pujdownski, one of Scott's Facebook friends, took a pragmatic approach, commenting that " He (John) will eventually look like your painting!"
Scott then set the painting aside for a few months and devoted himself to preparing and shipping the many items in his "Paternal Suit" show. Then, on July 2nd, the finished painting, complete with Scott's signature, appeared on Facebook.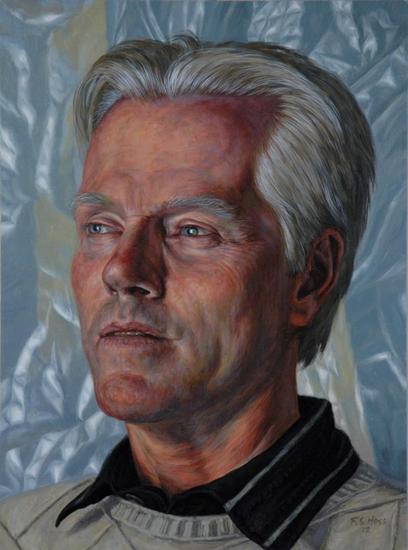 The finished portrait
"Hess captured your contemplative peaceful quite creative inner soul here," commented my friend Ron Wood. My sister Marie had this to say: "Very striking portrait but you definitely look younger in person!" I personally love the finished picture and find it dead on honest and psychologically acute.
Sitting for a portrait is a vulnerable experience, but it was very rewarding to see how carefully rendered and expressive the final image turned out in the end. Of course the picture is not entirely objective: it is also a portrait of me as a part of his world, one reflects Scott's unique vision. "Really interesting portrait John," commented artist Lucinda Luvaas when she saw it on my Facebook status, "... a bit of you and a bit of him here."