The teaching of art history has been changing rapidly in the past decade. As high quality digital images of artworks have become increasingly available, professors have scrapped their ancient Kodak slide projectors and carousels packed with slides and switched to computer driven LCD projectors that deliver seamless Powerpoint presentations and web-based virtual tours of the Sistine Chapel. At least, in this time of digitally driven change, academics have been at least able to take comfort from one source of constancy: their textbooks.
Janson's History of Art, 1184 pages long, and weighing in at 8.1 pounds is now 50 years old and available in an 8th edition. For a list price of $190.00 (or $140.02 on Amazon.com) a student with a sturdy backpack can still buy an encyclopedic history of western art, lug it to class, and then take it back to the dorm to pore over the Poussins and Picassos. Yes, Janson and its competitors are now supported by "innovative" online supplements, but the printed textbook remains the essential core of college art history courses.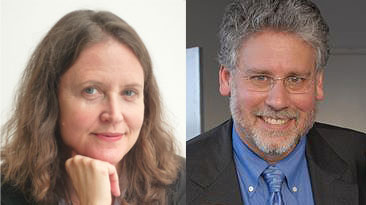 Dr. Beth Harris and Dr. Steven Zucker
In the view of Dr. Beth Harris and Dr. Steven Zucker, the Deans of Art and History at the fully online
Khan Academy
, traditional printed art history textbooks will soon go the way of slide carousels. Harris and Zucker are the innovators behind
Smarthistory
, which bills itself as a "multimedia web-book about art." They believe that Smarthistory can involve and inform students with video "conversations" that allow the passionate, subjective side of art history to shine though in a way that traditional textbooks, with their authoritative and singular viewpoints, do not allow. Harris and Zucker put it this way: "We find that they (traditional art history texts) are difficult for many students, and just are not particularly engaging."
Of course, there are many academics who have their reservations about the idea of Smarthistory serving as a course text. One well-regarded art historian and author told me that the "the site is of limited scope and value" and that it should be seen "as a supplemental resource, along with many, many other online resources." His views on the matter are clear; "Smarthistory cannot possibly replace a comprehensive textbook, certainly not now and possibly never."
Thomas Germano, a Professor of Studio Art and Art History at the State University of New York, takes a pragmatic, middle of the road view: "I do believe this is the future of most textbook publishing but there will always be a demand (albeit ever shrinking) for traditional print." Students, who are increasingly comfortable with the internet, and who are also struggling with the soaring costs of college, are likely to be very receptive -- perhaps more than their professors -- to Smarthistory's youtube zeitgeist and zero cost.
Since Smarthistory was founded in 2005 -- it originated from a set of podcasts Harris and Zucker made at MOMA and the Metropolitan and took off from there -- it has logged over 3.9 million visitors and received
numerous awards.
A year ago, it became part of the Khan Academy, an ambitious website which aims towards the lofty goal of "changing education for the better by providing a free world-class education for anyone anywhere."
To understand what Harris and Zucker are attempting to do -- and to appreciate the way their insights and observations work together -- take seven minutes and watch their short video conversation about Bernini's "St. Teresa in Ecstasy." An interview with Harris and Zucker follows.
John Seed interviews Dr. Beth Harris and Dr. Steven Zucker of Smarthistory.org
JS
: Is Smarthistory ready to replace printed art history textbooks?
BH/SZ:
Yes - Smarthistory is ready to replace printed textbooks, but more importantly, we think we have created a different type of textbook.
Since joining the Khan Academy last fall, we've added close to 150 new videos including 90 for the Google Art Project. We've focused on works of art that are most often taught in introductory college-level art history courses (and AP classes). We continue to add new content (videos and essays) every week.
Students tell us that Smarthistory does a better job than the textbook because it uses multimedia, and because it's both experiential and conversational. They also appreciate that it's on the web, and that it's free. Teachers appreciate that Smarthistory uses a creative commons license so that they are free to use this content without asking permission. We also make nearly 2,000 high resolution photographs of key works of art
available on Flickr
with a
creative commons license
.
Also, keep in mind that nearly every Smarthistory page contains a set of curated links on that topic. There are a lot of great sites out there from educators, museums, and other educational institutions, but we all know that a simple google search often doesn't lead students to the best resources.

JS:
How many videos have you and your contributors posted so far?
BH/SZ:
There are approximately 450 videos, and over 200 essays. To date, we have 50 contributing authors, including the two of us. Smarthistory depends on the community of art historians to create an open educational resource for our discipline. We are always looking for art historians interested in contributing to topics in their area of expertise.
JS:
How does your content engage students in way that a textbook might not?
BH/SZ:
Just like in a classroom, students using Smarthistory can look closely at an image while listening: we never appear as talking heads. With a textbook, students divide their attention between text and image and often only look to the image to illustrate what the text has discussed. As you know, that's not ideal for teaching students to engage with a work of art.

JS:
Are you able to present the variety and quality of images that the teaching of art history necessitates?
BH/SZ:
Because we're web-based, Smarthistory is not limited in the number of images we can use. For example, for a recent video on Raphael's "Galatea," we used 23 images. They show related works of art; the Villa Farnesina, its garden, multiple views of the room where the fresco is located, and details. In contrast, the textbook uses a single photograph that isolates the Raphael from the surrounding frescos.
Being web-based allows us to easily add and update content. That means we stay current while textbooks publish expensive revised editions every few years. Our videos can also be downloaded in the Khan Academy app--so they can be viewed off-line ensuring that the student have access to our content when and where they need it.
JS:
How do you produce your videos, and what is their point of view?
BH/SZ:
We record most of our audio on-site to give students a sense of what it's like to be in the museum, church or the palace we're visiting. The textbook tends to isolate and decontextualize the object.
In contrast, our audio offers powerful clues to the on-site experience, foot falls on a marble floor under stone vaulting, and our photographs display, not just the isolated image shot from scaffolding high above the floor, but also photos that show what the viewer really sees including the worshippers and tourists who have come to visit. We show the work of art embedded in a world our students recognize. And instead of the disinterested voice of the textbook, we often convey the enthusiasm that comes from direct aesthetic experience.
JS:
Smarthistory uses "conversations" in place of lectures. Can you tell me more about why they are structured this way?
BH/SZ:
Our audio discussions are spontaneous and unscripted, making them more engaging for students to listen to. We hope this empowers students to have their own conversations in museums based on the close looking and art historical method we model. And the conversation doesn't just take place between us. You can view the videos on the Khan Academy website, and because there is such a large and engaged learning community there, you can ask questions, and usually get them answered by fellow students: we sometimes chime in as well. Questions and answers from all the videos are aggregated here:
http://www.khanacademy.org/humanities/art-history/d
JS:
Am I right that many of your videos are now available in a variety of languages?
BH/SZ:
Yes, thanks to the active learning community at Khan Academy, our videos are being transcribed and translated into numerous languages using the crowd-sourced platform, Amara. For example, our video on the sculptures from the East Pediment of the Parthenon have been translated into Spanish, Portuguese, Romanian, Chinese, Turkish, French, Dutch, Russian, and Bulgarian and additional translations are underway in Greek, Catalan, Kannada, Japanese, Bengali, and Cebuano.