It's a good thing that the
Paul Thiebaud Gallery
in San Francisco has two floors. Kim Frohsin, whose work will be on view there through December 22nd is currently taking advantage of both levels to present dual shows that she sees as "totally separate." Together, they form a striking essay in aesthetic agility.
On the gallery's first floor is a grouping of vivid, stripe-infused images of numerals, executed in mixed media:
Portraits of Numbers: 2011-2012
. On the second floor is
The White Dahlia Series,
a selection of 96 life drawings that Frohsin made of female models who were asked to pose with a "noir" theme in mind: death. As a tribute, and a kind of coda, there is also third small show also on view featuring selected photographs by the late Philomena Ryan, who documented Froshin at work with her models during the creation of
The White Dahlia Series
. Something about working twin artistic tracks, which Frohsin has done now for over a year, stokes her creative fires. "Last year in the studio was great," she says, "I worked at full force... didn't even get a cold."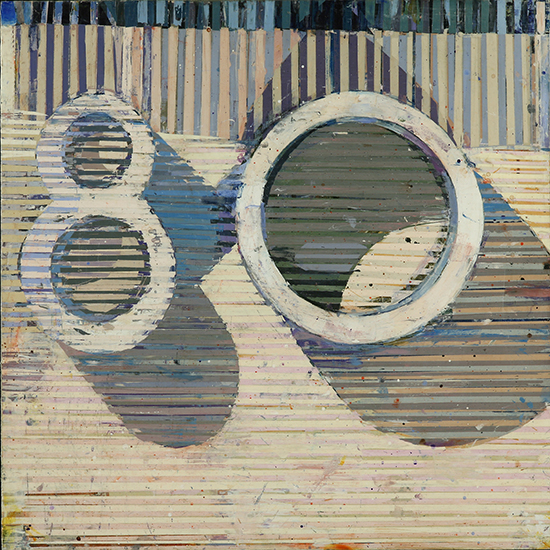 Kim Frohsin, "#80: A Nautical Woman," 2012
Acrylic, ink, gouache, dry pigment and pencil on archival board, 22 x 22 inches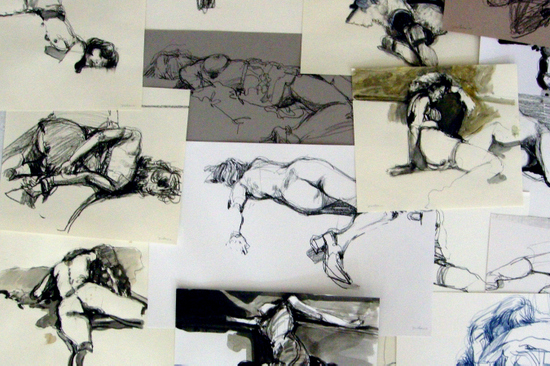 Kim Frohsin: Drawings from the White Dahlia Series
Frohsin's number series came about as the result of an invitation. Asked to prepare for a 2012 "Portrait Show" at Fort Mason, Frohsin balked at the idea of portraits of people: "I wanted to make portraits of ideas," she recalls. Frohsin began with a portrait of her favorite number -- 21 -- and the series took off from there in non-sequential fashion. When developing the number paintings Frohsin generally has an association or personal connection in mind. For example, she thinks of 21 as being "somehow black and white perfect: it gives me comfort."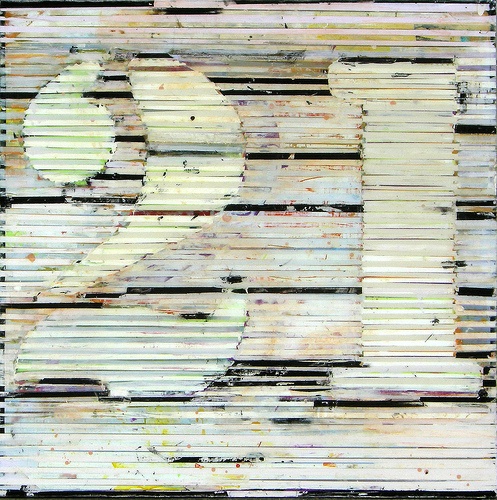 Kim Frohsin, "#21 and Stripes," 2011
Heavy acrylic, ink, pencils , 24kt gold leaf, dry pigment on archival mat board, 22 x 22 inches
Other numbers, 27 for example, started out free of associations, but took on meanings over time. "I randomly chose 27," Frohsin notes, "It seemed to go nowhere. Then I went to Wikipedia: I never knew about the 27 club -- which is made up of popular musicians including Jimi Hendrix, Janis Joplin and Kurt Cobain, who all died at age 27 -- it changed the course of the piece. It all turned white.... I whited out everything and left floral veins of blue... that's the only color that came through."
Something similar happened when Frohsin took on the number 80. "Well," she recalls, "the font is something I took from a photo I shot of a Deco building in the Marina district. Then the palette made me think of water and the 0 is like a porthole: thus the "nautical" aspect. Then, if you look up meanings of the number 80 your will find it is a feminine number. So, voilà: #80 is
A Nautical Woman
."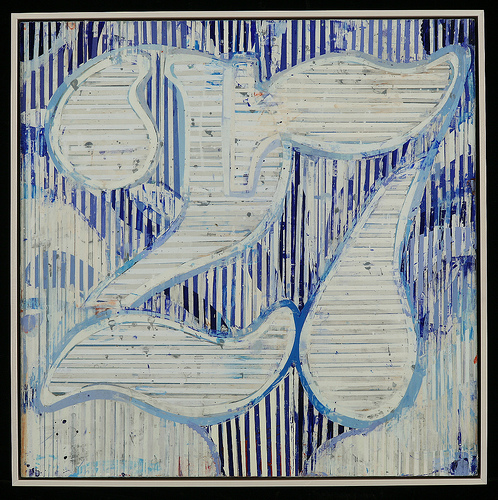 Kim Frohsin, "27 Club," 2011
Acrylic and mixed media on archival mat board, 22 x 22 inches
Whether a number begins with a "personal encrypted reason," as 21 did, or takes on associations later as 27 did, the random mix of ideas and poetry gives her the fuel to bring the work to its physical realization. "All these numbers are super layered," Frohsin observes. "I use power tools to build up and sand down the layers. I hardly ever use paintbrushes, but instead use palette knives, razor blades, tape, and dry pigment as "seasoning."
The White Dahlia Series
came about after Frohsin was struck by a theme that she wanted to work with: death and crime. In a sense, the drawings that resulted have an aspect of collaboration and performance: "Not your usual figure drawing session..." is how Frohsin puts it. As she worked with female models who struck seven minute poses on an all white stage, the artist asked the models to imagine death and gravity. "How they felt, how they fell, how they abandoned themselves, how they let go... it was a special challenge."
Frohsin's models had very vivid reactions to her requests and to the emotional suggestions of the poses they created in response. "Taking on such poses," one of them told her after a session, "simulating death: it all makes me wonder what my own final death pose shall be, you know?" As Frohsin has written:
"Many of the models related to me that in taking on these 'death poses' their minds lead them to dear ones in their respective lives who have passed; they felt transported and saw the 'work' as a sort of therapy to evoke deep/buried memories & recollections of family or past loves and the broader, abstract aspects of being."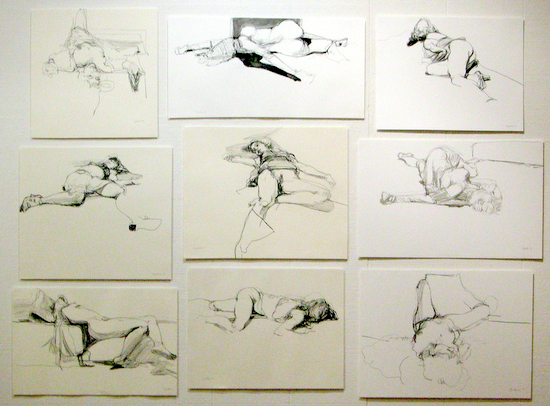 A group of drawings from The White Dahlia Series
Some of the drawings have hints of eroticism, which Frohsin says came directly from the models: "That wasn't my prompting." Although Frohsin acknowledges that an erotic charge may be present, she is more interested in the spiritual and ethereal aspects that came through. She is hoping it will appear "as if these women/bodies, found in my lines, present as transcendent, angelic entities: anonymous 'white figures' floating in space and time."
The two approaches on view at the Thiebaud Gallery may seem divergent, but they share Frohsin's energetic willingness to explore new artistic territory. "I have been pigeon-holded as a Bay Area Figurative," Frohsin relates with some annoyance, "but I don't want just that label. I have to use my drawing skills, and also keep pressing forward in other media. For example, since June I have been exploring the world of experimental pinhole photography...with a little bit of Baldessari as an influence. That's how I roll."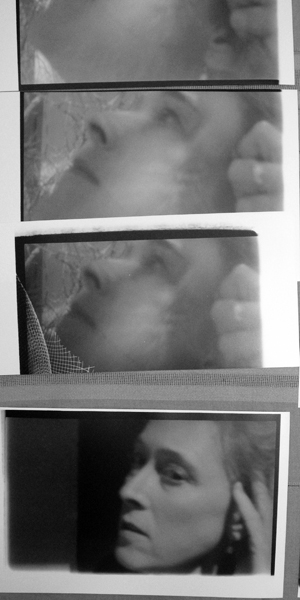 Kim Frohsin: Pinhole Self-Portraits, 2012
Kim Frohsin
Portraits of Numbers: 2011-2012
The White Dahlia Series: 2011
Paul Thiebaud Gallery
645 Chestnut Street
San Francisco, CA 94133
Opening Reception: Saturday, November 3, 4 to 6