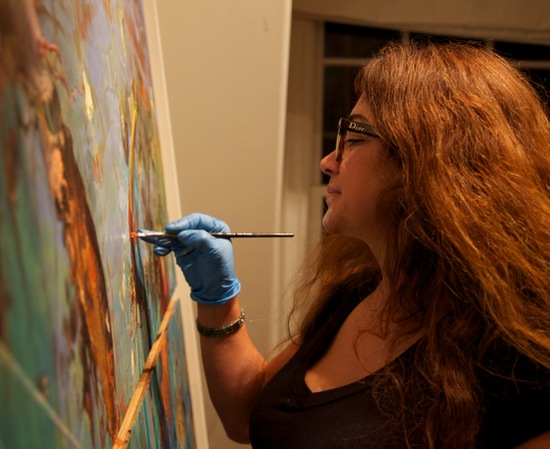 Fatemeh Burnes in her studio: photo courtesy of the artist
If you are fortunate enough to see
Fatemeh Burnes
' exhibition at Mt. San Antonio College -- "Imprints of Nature and Human Nature" -- the variety and quality of the work will likely knock you out. "How is it," you may wonder, "that one artist can do so many things so well?" Part of the answer must be that Burnes, who is a painter/photographer/printmaker, puts herself completely into everything she does. "There are no categories for me, only experiences," she comments, and each of her varied works of art emanates Burnes' phenomenal curiosity and passion for life.
Her works are full of every kind of sensation, and her approach ranges from naturalism to abstraction. Always adventurous -- in life and in art -- Burnes has been astonishingly productive during a period in life that has presented her with tremendous joy and sobering challenges: her much adored first grandchild was born a year and a half ago at the same time that she was enduring radiation treatments for a stubborn tumor. "I have had a very dramatic life," Burnes acknowledges. Her ability to channel the drama of her own experience into works of art, and to inter-relate it with the drama she observes in nature, has resulted in a compelling and varied body of work.
John Seed Interviews Fatemeh Burnes
In her short essay, Shana Nys Dambrot says that you have a "polyamorous" artistic practice that presents your total consciousness. Have you always been so wide-ranging in your creativity?
I've always been very responsive to the moment and therefore very spontaneous and hungry for what surrounds me both conceptually and perceptually. The primary interest for me is to be able to communicate that state of being or what I experience at the time on a larger scale. Sometimes what I want to do is above and beyond what I'm capable of, but what my passion requires of me is to not be restricted by my ability -- I'm not intimidated by what I don't know. I don't look for experimentation, but when the opportunity comes that I find something stimulating I grab onto it. This is also true with the process of art-making, I take chances.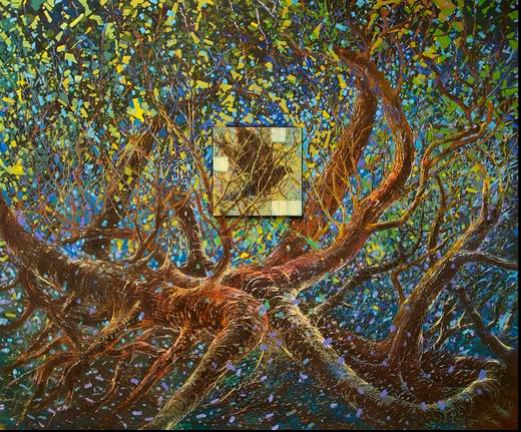 Fatemeh Burnes, "Shattered Mosque," (Blue Revolution Series) 2009-11
Oil on canvas, 60 x 72 inches
Your work seems to come from your memories, but it doesn't come across as nostalgic. Is it fair to say that when you are making art you are very much in the present?
My work is not autobiographical and I'm not the direct source of my art making. I get inspired by what exists outside of me which ultimately comes to be what's inside of me. There's an famous poem by Saadi Shirazi which basically says that we are all parts of the same body. It states,
"Human beings are members of a whole / In creation of one essence and soul / If one member is afflicted with pain / Other members uneasy will remain / If you've no sympathy for human pain / The name of human you cannot retain!"
I live in the present, and my work is about cause and effect, the human condition. Time is a non-element for me because the concept is not just about history. History simply repeats itself and we are a part of it, contained in its capsule of energy. I don't dwell on the past, but I can't ignore the effect of it, and my work is about how our nature has been impacted by events in human history, and essentially what our nature is about. It's not a slice of time, it's what always continues. Time is evidence of what has always taken place, but for me, it's not about storytelling.
Fatemeh Burnes, "Untitled," (Transluminants Series) digital print suspended in resin
In your current show you are displaying your "Transluminants," which are altered digital images that are protected by resin. How long have you been working with this medium?
For the past few years, I have been trying to find a way to display these photographs non-traditionally. I wanted to make them one unit. I started looking at all different options including researching light boxes, experimenting with encaustic, and eventually I ended up with resin. My primary goal is to protect the effect of light because these photographs are palettes of light and movement and secondarily to make them as archival as possible. Each medium has a different effect and interacts with light differently. At this point, what interests me with resin is its accessibility and it's also very sensuous to touch. I love the tactility and the temperature. I also think that conceptually, working with toxins and turning them into beautiful objects that are no longer toxic is a very playful idea.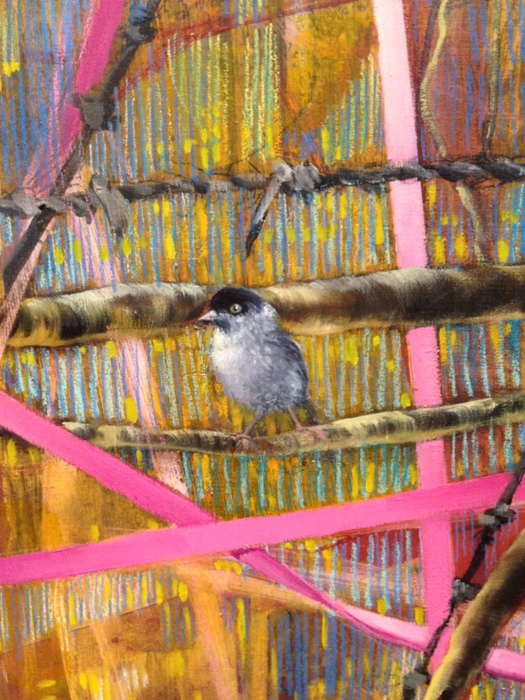 Fatemeh Burnes, detail of a bird image from "Stripes," 2012
Graphite, oil, emulsion, carving and acid on panel, 48 x 72 inches (complete image)
The last time I saw your work -- many years ago -- birds were an important image, and they are still appearing in your current work. Can you tell me why they continue to appeal to you?
My last bird painting was called "Stripes." It's ironic that I have to think about the fact that birds have actually left my compositions since last march in my exhibition at Municipal, and I still can't believe it's been a year. The use of birds is probably connected to my childhood and mythology.
At age 8, my cousin and I, with my encouragement, believed we could fly without any wings of wax and jumped off a two-story building. It resulted in broken ribs and more. I've always had interest in birds and what they can do... they sing, dance, fly, they are painterly, musical, tactile, in the air, on the water, or on the rocks. I envy them. I find them strong with a very delicate anatomy, and their evolution interests me as well. This is only on a biological level.
Birds have had a great placement in Persian culture, particularly poetry and mythology. I see people as different birds, even done portraits of people as different birds and most of these birds are made up the way I think of them. Now I think the bird finally is dissolving in my paintings and I'm open to it if it comes back.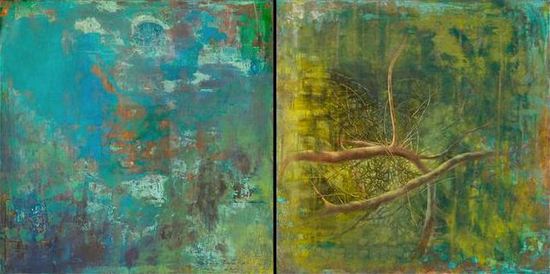 Fatemeh Burnes, "Untitled," (Dachau Series) 2010-11
Oil, natural pigment and acid on copper, 16 x 32 inches
You allude to some of the twentieth centuries most tragic cities -- Hiroshima and Dachau -- in a recent works. Tell me about your decision to deal with cataclysmic subject matter.
And also Islamic Revolution. I don't use these subjects to make any statement, I am just very much affected by the imprints of these tragedies on our daily existence. I study history, genetics, geology, etc. with the curiosity of what role do we take as human beings and how do "we" affect "us," meaning nature? I don't see man as separate from nature, I see man as nature. Our genetics, psychology, and behavior interest me tremendously. By studying these tragedies, I learn everyday more and more of our nature and what we are capable of. I don't make portraits of tragedies, I'm eager to learn and know in a scholarly sense, and then I process what I have learned spontaneously by what I do best, which is make art. I'm like a conduit, and my art-making echoes my curiosity and compassion for us, nature.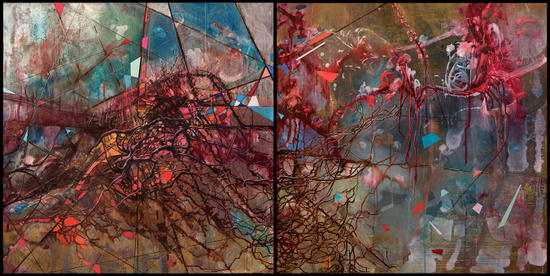 Fatemeh Burnes, "Hiroshima," 2012
Oil, acid and natural pigment on copper, 36 x 72 inches
When I visited your exhibition we talked about how your artistic practice has given you a "safe" place while you have dealt with health issues. Could you say a bit more about that?
When I am working is when I feel most connected to nature -- a nature that I think of and believe in on many levels. During the process of creativity I feel no fears and I'm free and fluid. There are no boundaries, there are no diseases, and it's all about light. It's a place of light and hope.
Fatemeh Burnes, detail of "Nest," 2012
Oil and emulsion on copper and hand-carved panel, 44 x 48 inches (complete image)
What matters most to you at this point in your life?
The extent of my love for my children and grandchild is unexplainable. I felt the same emotions at Dachau when I sensed the presence of existence and life, or when I would visit an orphanage, or mentor a homeless teenager. What I find different is the energies, how I respond to my grandchild very differently than to my adolescent and my adult children. It's hard to categorize this sensation as just my biological connection -- it's just the opportunity of being intimate, being able to give, to love them and be with them more. What is the most important to me is to continue having this opportunity to love and give through friendship, motherhood, teaching, whatever is possible for me.
Fatemeh Burnes, "Flourish," (Transluminants Series) digital print suspended in resin
Is there anything important you would like my readers to know about your life and art?
I have had a very dramatic life from childhood through adolescence and adulthood. I can't help it, and it's kind of entertaining. I don't entertain myself with it because I don't want to even think of it, but sometimes people want to know and it will suddenly occur to me that I am the subject. I am very distant from myself and it requires other people to help remind me of my stories. Beyond memory and nostalgia, what you experience always lives within you, one way or another. I neither fight it nor celebrate it.
Fatemeh Burnes:
Imprints of Nature and Human Nature
March 14-April 21, 2013
Mt. San Antonio College Art Gallery
1100 N. Grand Avenue, Walnut, CA 91789
Gallery Hours:
Tuesday - Thursday 11 a.m. to 2 p.m. Tuesday Evenings 5 to 7:30 p.m.