Sadegh Tirafkan (1965-2013)
Photo: Gallery Etemad, Dubai
Artist/Photographer Sadegh Tirafkan, who passed away in Toronto on May 9th of brain cancer, was a distinctive and complex individualist. Although deeply influenced by his Iranian heritage -- his work was about roots and identity -- he resisted labels; "I never want to be categorized by a singular place or category," is how he once put it.
"Sadegh's works speak volume about the loss of individuality or rather markers of individuality in our current age where crowds and collectivism are the norm," says his friend Jareh Das. "Where Tirafkan focuses on the individual -- as in his 'Loss of Our Identity' series -- he presents the individual as a complex character constantly vying between past and present, ancient and modern belief systems."
Tirafkan's childhood and adolescence were shaped by the grand forces of war and revolution. Born in 1965 to devout Muslim Iranian parents living in Iraq, the rise of Saddam Hussein forced his family's return to Iran in 1970. After the overthrow of the Shah in 1979, 14 year old Sadegh volunteered to serve in the Basiji, the poorly equipped people's militia whose soldiers ranged from teenaged schoolboys to unemployed seventy year olds.
Often acting in conjunction with the Iran's Islamic Revolutionary Guard some Basiji participated in suicidal "human wave" attacks against Iraq designed to clear minefields and draw enemy fire. Inspired by patriotism and promises of eternal glory Basiji militiamen marched into battle in successive rows, wearing plastic "keys to paradise" around their necks.
Tirafkan served for three years as a cultural militiaman, living alongside other young Basiji members in a mosque where they carried out collective rituals in honor of the martyrdom of Inman Hussein, the Prophet Mohammed's grandson. His interests at the time were cultural and aesthetic -- "film, theater and anthems" -- but he also learned to shoot a rifle. Tirafkan later wrote that "...spending the best decade of my life in the middle of a revolution and war had taught me so much, I don't think I would have ever been able to have the same experience just through reading or watching a movie about this time."
In 1984 Tirafkan entered Tehran Fine Art University to study photography. At the time, Iran's Revolutionary atmosphere demanded that photographers train as photojournalists who could create documentary work to serve political purposes. To satisfy his university requirements, Tirafkan took conventional photographs of streets and people, but did so with an acuity and restlessness that hints at his later themes and interests.
Sadegh Tirafkan, "A Church in the Julfa Neighborhood: Esfahan," 1989, photographic print
© The Estate of Sadegh Tirafkan
After graduating in 1989 he was given a government voucher that allowed him to subscribe to a magazine called "Creative Camera" which gave him precious glimpses of western photography. In an atmosphere in which gharbzadegi -- "Westoxification" -- was seen as a direct threat to Iranian cultural identity, this kind of access was rare and carefully controlled. Following his 1990 one man show of portraits at the Seyhoun Gallery in Tehran, Tirafkan came across an article about the American photographer Cindy Sherman, which a friend was able to translate for him. "After reading the article," he later recounted, "I knew that another kind of photography existed which was very different from what we knew as art photography."
An invitation to exhibit in Paris then opened up a career outside of Iran, including a brief period of living in New York in 1997. Interestingly, Tirakfan's time in the west had the effect of putting him more deeply in touch with his Iranian cultural and aesthetic roots. Now a practicing postmodernist Tirafkan returned home to create "Persepolis" -- Iran's first conceptual video installation -- in which the artist poses amidst the ruins of ancient Iran's ancient imperial city.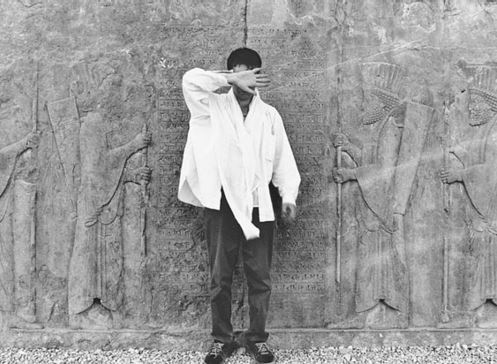 A video still from "Persepolis" © The Estate of Sadegh Tirafkan
Defining himself as a conceptual artist with roots in photography, Tirafkan's mature photographs, digital collages, installations, and videos became vehicles that allowed him to explore the themes that would preoccupy him until his death: masculinity and identity. He would explore these themes in a way that wove the threads of his own life and experience into the vast and ancient tapestry of Iranian culture.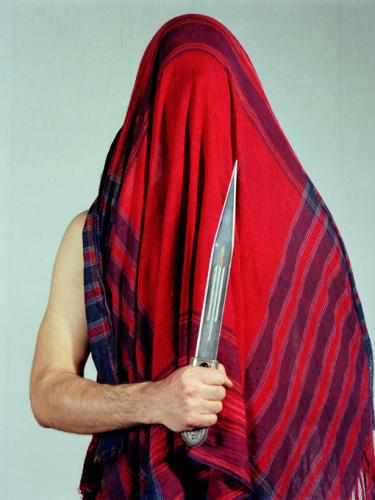 Sadegh Tirafkan, "Iranian Man," 2000, c-print © The Estate of Sadegh Tirafkan
Writing about his photo series "Iranian Man" in 2007 Tirafkan explained his underlying ideas and cultural contexts:
My initial inspiration for this series came from looking at ancient drawings, existing in places such as Takht Jamshid and Perspolis. In this series of pictures, a man is hiding his face behind a red cloth/towel, which should usually cover the lower body; maybe he is ashamed of his past. We can't see his face, but he has a sword in his hands. But in some images, you may notice that his hand is up and seems like he is about to give up, maybe after all, he is tired of putting up the veneer of toughness... maybe he is ready to quit.
Tirfafkan served as his own model for the "Iranian Man" series, and his bare torso -- decorated with block stamping, calligraphy, and tattoos -- often appeared in later photos and videos. In his "Body Signs" and "Body Curves" series words spelling fire, water, renewal, secrets -- and also single letters -- stand for the artist's psyche while the stamps represent symbols of Iranian popular culture. Tirafkan once commented that "...flesh is the canvas branded by culture." These series -- and others that followed -- also demonstrated the artist's willingness to expose the male body, breaking down another Iranian cultural taboo.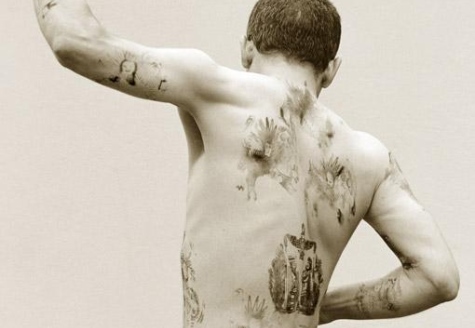 Sadegh Tirafkan, "Body Curves," 2001-02, stamps and hand written calligraphy on silver print
© The Estate of Sadegh Tirafkan
The confessional aspect of Tirafkan's self-portraits gave way over time to digital collages that made broader cultural commentaries. In the last decade of his life Tirafkan orchestrated layered vignettes of heroisim, athletic prowess and self-flagellation. His "Endless" series frames images of daggers and combat in a kind of dance of death and intimacy. These digital collages represent one of the artist's ongoing projects: an attempt to represent "...a different side of my culture through images to address cultural and religious aspects of where I came from and their homoerotic and homosocial potential."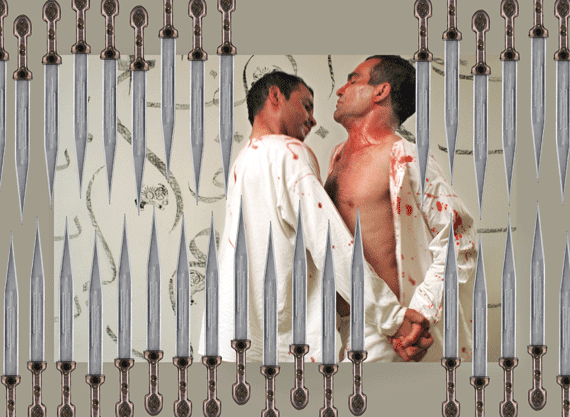 Sadegh Tirafkan, "Untitled" from the Endless series, 2009 digital photo collage
© The Estate of Sadegh Tirafkan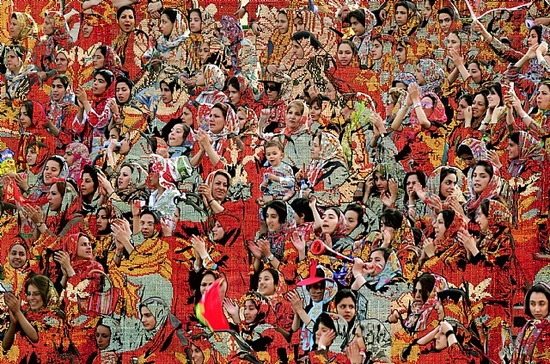 Sadegh Tirafkan, "Multitude #3," 2008, digital collage
©The Estate of Sadegh Tirafkan
In 2006 the artist turned his interest to the problem's of Iran's growing population. Using digital collage, and adopting the metaphor of a human carpet, he created his "Multitudes." The idea of the carpet, as he explained in an exhibition catalog, allowed him to address a rich and inter-connected set of ideas:
The carpet is emblematic of Persian culture. It is a symbol of culture, seasonality, richness, diversity and continuity - in time and in history. As such I have been obsessed by the parallelism and marriage between this symbolic, intricately loomed object and the people to which it belongs.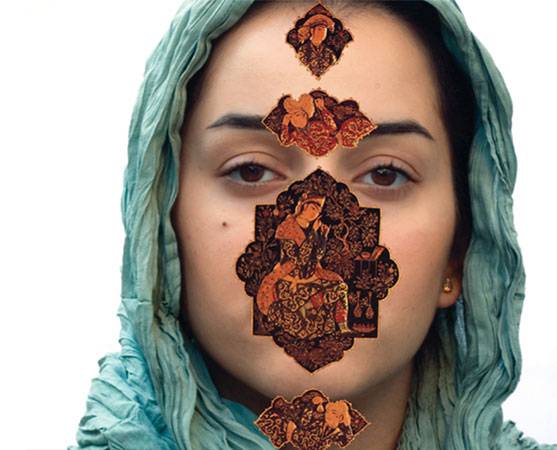 Sadegh Tirafkan, "The Loss of Our Identity #2," 2008, digital collage
© The Estate of Sadegh Tirafkan
Another series of digital collages -- "The Loss of Our Identity" -- sets cultural images and emblems against the features of contemporary Iranians. Tirafkan's friend Jareh Das recalls being deeply captivated by "Loss of Our Identity #2":
This photo montage quietly speaks of the silencing of females which I must say isn't just a Middle Eastern concern but universal. To be seen and not heard could be a literal interpretation of the work as her eyes gaze piercingly whilst her mouth obscured by the decorative motif of male royalty. Its a work I keep going back to and have been captivated by since I first encountered it.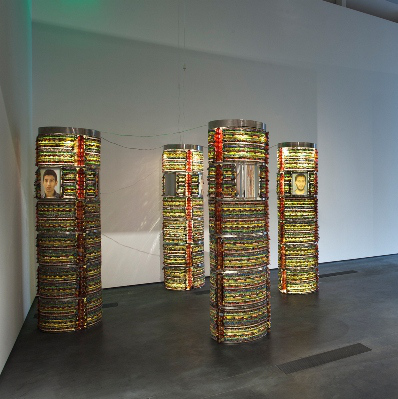 Sadegh Tirafkan, Always in Our Thoughts, 2011
© The Estate of Sadegh Tirafkan
In 2011 Tirafkan exhibited a suite of multimedia columns referencing the hijla -- temporary shrines to commemorate the dead -- titled "Always in Our Thoughts." Conscious of his own mortality, he had been struggling with cancer for three years at the time, but remained hopeful that his mother's prayers would help him defeat the disease. Wrapped in strips of cloth that allude to the bits of fabric tied to traditional hijla in remembrance of the dead, these final projects transformed and updated an ancient way of coping with grief, as Tirafkan explained in an interview:
With Hijla, I wanted to present a gift from the living to the deceased in their honor, but to also celebrate life. The word actually means marriage, and traditionally it's an image of a deceased man, but I wanted to break the taboos and use pictures of living people and also women and include mirrors, so that the viewer can share in the celebration.
In his final decade Tirafkan made regular visits to the U.S. and Canada, but remained an Iranian in his heart, deeply proud of his culture. Acclaimed both in Iran and in the west, the artist who had begun his life as a boy revolutionary died a revolutionary of another kind.
"My goal is to demonstrate that all the people regardless of gender, culture and religion are indeed seeking inner peace and sanctity." - Sadegh Tirafkan
A celebration of Sadegh Tirafkan's Life will be held at the
Museum of Contemporary Art, Tehran
, Wednesday, May 29th, 5 to 7 PM