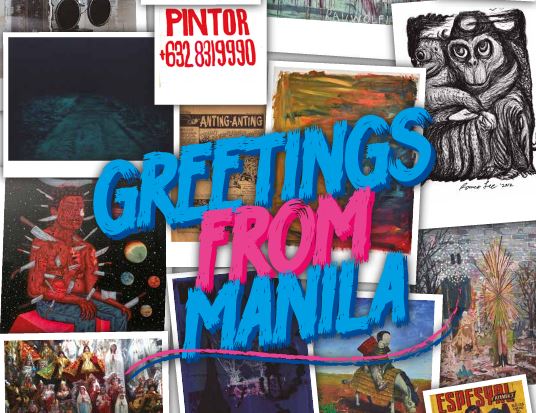 A "Postcard" from the Press Release for "Manila Vice."
When Dan Brown recently released his new novel
"Inferno"
the book's description of Manila -- "six-hour traffic jams, suffocating pollution, and a horrifying sex trade..." -- caused a commotion. Brown soon received a letter from Francis Tolentino, the chairman of the Metro Manila Development Authority scolding the author for his "inaccurate portrayal of our beloved metropolis." Of course, Brown's book is fiction, but Manila
is
the world's most densely populated city, and its problems are real: most of its sewage flows uncovered and untreated into Manila Bay, and its infamous air pollution is being made continually worse by smog that drifts in from China. It is a city where beauty and vice collide: a place full of ripe and revealing subject matter for art.
Philippine born Artist/raconteur/curator Manuel Ocampo -- who earned an early reputation for his paintings critiquing Spanish colonialism and Catholicism -- has recast himself as a post-identarian artist and an organizer: his most recent effort is "Manila Vice," which is a kind of grunge riposte to European highbrow art fairs. A mix of murals, installations and paintings, the exhibition currently fills the halls of the waterfront Musée International des Arts Modestes in Sète, France with Manila's sleazy, Rabelaisian energy.
Ocampo sees the Philippines as a country of "many identity crises," and a place of cheap adventures. The 23 artists he showcases are "multitaskers" who survive by alliances with "formal markets" (galleries) and also with "informal markets" that thrive at the margins of culture. The lack of a unifying identity is, in Ocampo's view, "the tragedy of all Filippinos" but the versatility and fluidity of the culture is also a source of rich and subversive possibilities. "Manila Vice," Ocampo notes, "brings together contemporary artists who reflect the diversity of artistic approaches and necessarily subjective reactions..." that Manila's urban culture fosters.
I recently interviewed Manuel Ocampo via email and asked him to tell me about "Manila Vice."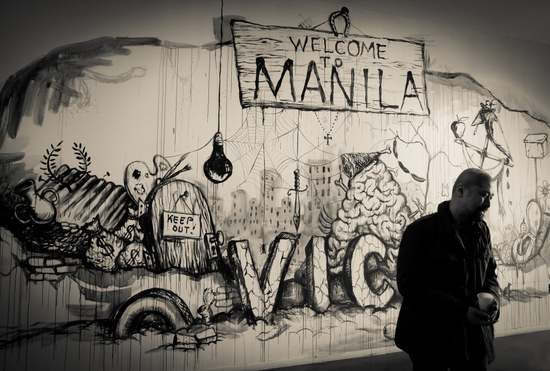 Manuel Ocampo
John Seed Interviews Manuel Ocampo:
Manuel, the title of your show "Manila Vice" suggests the theme of a city of illicit pleasures. How do the artists and works you have chosen illuminate that theme?
The artists were chosen because their work deals with certain subject matters that are outside the usual subjects one might expect from art coming from Manila. A lot of the works inhabit certain narrative spaces that are full of dark humor, irony, and perversion which I think best represent what Manila is all about. Take for example Romeo Lee's painting in which a scene depicts life underneath the ubiquitous underpass flyovers in the city. The slime and grime of the megalopolis can be felt in the texture of the painting. there are tenement housings and a city floating in floodwater while an image, on the bottom right corner shows a small worm nonchalantly wriggling along picking its nose.
What kinds of imagery and content are present in the exhibition?
Themes that come up in the show are your everyday Manila scene of naked brutality mixed with irony. The majority of the artists are painters but they are not technically good in fact they are real bad painters. What matters to them is the content of the work. Like, for example, Robert Langenegger's depiction of a black boy in sheep's clothing violating a stunned wolf in sheep's clothing while a ram sheepishly looks on. Some of the subjects can be offensive and at times are politically incorrect, but the artists are brave to challenge an art world that is devoid of any statements.
This is the second major traveling show you have organized. How did you fall into the role of a curator?
Yes, I guess you might say I fell into this hole of a role. I did not plan on being a curator but no one in Manila is doing these kind of shows and these artists are seldom supported by institutions in Manila so I felt I needed or I convinced myself to do something about it.
Can you tell me the names of a few artists in this show whose work you feel deserves international recognition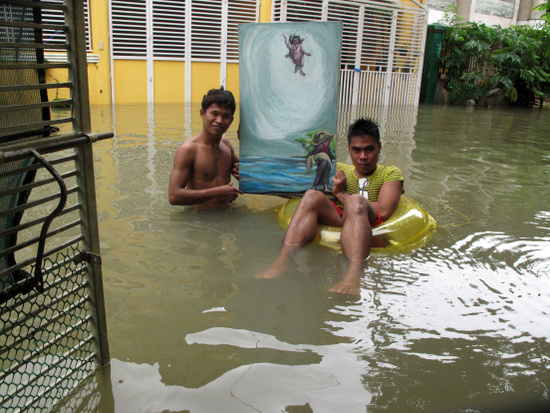 "Auction Junction," by Romeo Lee, during a recent Manila Flood
Photo - Romeo Lee
Romeo Lee is an artist of unusual charm and talent. His work is so unrefined that you might think he is doing it on purpose but that is what makes his works stand out among the many painters in Manila. He often calls himself a part time painter but a full time lover. Jeona Zoleta is also one in which art historians might have a hard time describing. She likes to paint sexually perverted scenes but at the same time loves glitters, unicorns, and rainbows. Robert Langenegger likes to depict people with down syndrome with their weenies hanging out. I don't know if they deserve international recognition but their work definitely needs to be seen.
The Philippines have a complex and hybrid history. Do you feel that Philippine artistic culture is beginning to mature and shake off its colonial roots?
Nope, I hope not. Maturity, especially artistic maturity in an over all cultural sense is a dangerous place to be in. Cultural maturity always reeks of money, development, professionalism and other boring unimaginative stuff.
What kind of public and critical reactions has "Manila Vice" received so far? Does the European public react differently than the Philippine public to the kinds of art you have showcased?
The Europeans I think can relate to some of the works because of their perverted past but the Philippine public is in denial of this kind of work representing a Philippine character. The Philippine public still needs to get rid of it's conservative Catholic baggage and accept a religion that is more life giving rather than life draining.
For someone to fully appreciate "Manila Vice" what should they understand about the current state of avant-garde art in the Philippines?
Well, there is no avant-garde art in Manila. And "Manila Vice" is nowhere reflective of what is happening in the Manila art market scene. Viewers should just be aware and be on their toes when looking at my curated exhibitions as they can end up stepping on some wet and smelly mine field.
Tell me about your plans for the future of this exhibition and other exhibitions you have in mind?
It is really hard to tell what the future may hold for these shows I have been organizing. I've had five shows and three catalogs and I feel that I need a break and do my own thing for a change.
Manila Vice MIAM (Musée International des Arts Modestes) Sète, France
April 13, 2013 - September 22, 2013
Website:
http://www.miam.org/actu1.htm
Artists include: Gerry Tan, Poklong Anading, Romeo Lee, Gaston Damag, Valeria Cavestany, Carlo Ricafort, Arvin Flores, Bea Camacho, Kawayan De Guia, Dexter Fernandez, Mm Yu, Lena Cobangbang, Maria Jeona Zoleta, Pow Martinez, Maria Cruz, Robert Langenegger, and David Griggs
MIAM (Musée International des Arts Modestes) in Sète, southern France.
Maria Jeona Zoleta, "5 $tar Hotel," 2013, Installation, Mixed Media.
Photo: Pierre Schwartz
Left: Manila jeepney decorated by the artists of Manila Vice
Upper Left: Paintings by Romeo Lee
Facing Wall: "Leebing Things," acrylic mural by Romeo Lee
Photo: Pierre Schwartz
A detail of Romeo Lee's "Leebing Things," white acrylic on wall
Photo: Pierre Schwartz
Various oil paintings by Romeo Lee, 2005-2012
Photo: Pierre Schwartz
Maria Jeona Zoleta, "Kinder Garden," 2013, Mixed Media Installation
Photo: Pierre Schwartz
Robert Langenegger, "Untitled," 2013, Acrylic on tarp, 183 x 175 cm.
Photo: Pierre Schwartz
Robert Langenegger, "Castration Was One of the Options," Oil on canvas, 55.5" x 49"
Maria Jeona Zoleta, "Dog Eat Dawg World," 2012, Oil on canvas
Romeo Lee, "Social Rea-Lee-sm," 2012, Oil on canvas, 48" x 48"