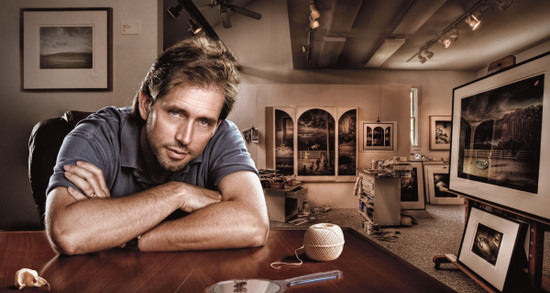 Rob Evans in his studio: Image by Bill Simone Photography
Painter, Digital Printmaker and Curator
Rob Evans
-- who has lived in a Pennsylvania farmhouse adjacent to the Susquehanna River for three decades -- is the subject of an exhibition now on view at the Baum School of Art: "Rob Evans Mystery and Metaphor." Working from his surroundings and from the seemingly ordinary, Evans has carefully crafted a magic realm that presents cycles of transformation, decay and ephemerality. I recently interviewed Rob and learned more about his background and his ideas.
John Seed Interviews Rob Evans

Rob Evans, "Moth," 1993, acrylic on panel, 24 x 72 inches (triptych)
Tell me something about your early background and how you became an artist. What kinds of early experiences shaped you and your art?
Since childhood I have always been visually oriented - I believe I was born that way. I was always the kid in school doing the class mural or poster. At the same time, my need to probe for a deeper understanding of the nature of things stems from being raised by two scientist parents (a biochemist and an archaeologist) with an endless curiosity about the world around them. I grew up in the suburbs of Washington D.C. with unlimited access to the great art and science museums of the Smithsonian. This exposure to both art and science awakened the sense of mystery in me which is still at the core of what motivates me to create.
The suburbs surrounding Washington D.C., for a young child, were not a particularly inspiring place to grow up. However, during summers and holidays our family would visit a large property owned by my maternal grandparents overlooking the Susquehanna River in south central Pennsylvania. Perched on this property's highest point and surrounded by 100 acres of old growth oak forest was a magnificent 4 story stone inn (named Roundtop). This was the primary residence of my grandparents and I spent many extraordinary summers there roaming the woods, collecting insects, animal bones, old bottles and all kinds of interesting artifacts.
Experiencing the cycles of life, death, growth and decay first hand in this natural realm opened my sense of the wholeness of things in a way the suburbs couldn't have. This place had a profound effect on my sensibilities as an artist and is what ultimately drew me back there to raise a family and paint. Our farm (located on property adjoining Roundtop) and the surrounding natural landscape are starting points for almost all the concepts I deal with in my paintings.
While I was drawn to the extraordinary beauty of the wooded hills and farmland of the Susquehanna Valley there was also a keen awareness of the push of urban sprawl - the highways, power lines, industries, housing developments all encroaching. Fences, jet trails, dots of light on the horizon or plumes of smoke are all recurring elements in my work and refer to this ever-present tension.
I remember well my grandmother having to temporarily abandon her home at Roundtop during the near meltdown at Three Mile Island nuclear power plant back in the 1970's. Its dual plumes of steam are still within view of our family property, less than 10 miles up river and often appear in the background of my paintings. As an artist I am fascinated by this dichotomy of sublime beauty and a foreboding sense of peril and unease - to me, capturing this is what differentiates a 21st century painting from a 19th century one.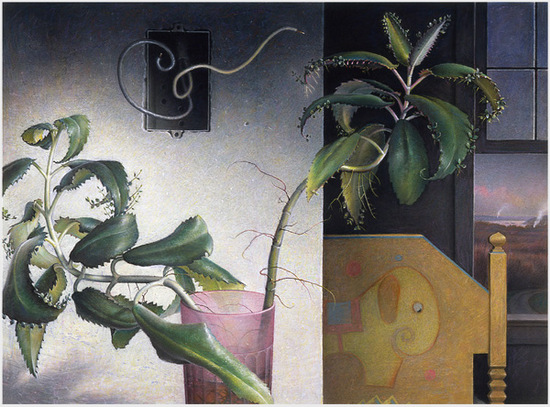 Rob Evans, "Pregnant Plant," 1995, pastel on paper, 21 x 28 inches
You have said that your work is "between Regionalism and Magic Realism." How did your style evolve?
I have always been drawn to artists whose works interpret and transform reality in some way. Both Magic Realism and Regionalism utilize a dream like edge that transcends descriptive observation, yet at the same time both are rooted solidly in the real world, inspired by or related to real places, experiences and memories. That connection to place in my work is something I share with Regionalists like Grant Wood and Thomas Hart Benton. I think it gives the work a sense of honesty and authenticity. Using the familiar as a vehicle for channeling something larger and more universal is an approach I have taken throughout most of my career, from my early farmhouse interiors like "Power Lines I and II" or "Evening Ritual" to my more recent altarpieces and triptychs like "Origins" and "Movement".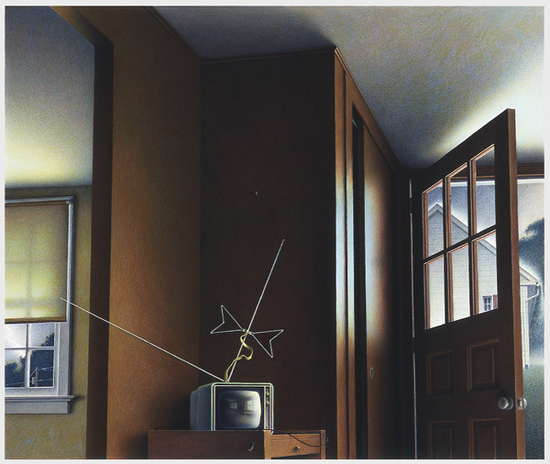 Rob Evans, "Power Lines II," 1987, mixed media on paper, 21 x 25 inches
Insects and elements from the natural realm, the Susquehanna River, fences, doorways and empty rooms, although a familiar part of my surroundings, take on deeper significance, becoming unconventional metaphors for such things as change and transformation, the ephemeral, the precariousness and uncertainty of life's journey and the mysteries of life's cycles and rituals.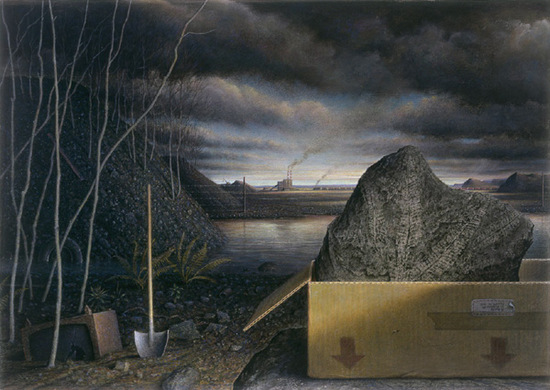 Rob Evans, "Fossil," 1997, mixed media on paper, 27 x 38 inches.
Tell me about the ideas and meanings behind your painting "Fossil."
"Fossil" was inspired by childhood excursions to the strip mines located on the mountainside behind my paternal grandparents home near Wilkes-Barre, PA. The devastation had exposed enormous fossils in the slag piles and my brothers and I would find huge chunks of layered slate that opened up like books, revealing whole fern plants embedded in the rocks from millions of years ago.
I became intrigued with the idea of one of these fossils, juxtaposed against the backdrop of that barren landscape with the ominous coal processing plant and scattered human debris all around. On the one hand you have the specter of an environment near the brink of uninhabitability due to human dependence on fossil fuels, yet at the same you have these living ferns, the recent incarnation of its fossilized ancestor, along with trees and other plants reclaiming the landscape. It seemed to be a strange and compelling image with the power to conjure up many layers of meaning and debate.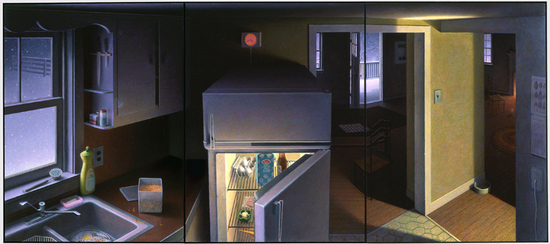 Rob Evans, "Evening Ritual," 1989, oil on panel, 40 x 90 inches (triptych)
Tell me about your activities as a curator.
Curating for me began as a way to seek out and connect to my roots as an artist as well as to my contemporaries in the current art scene. One of my first curatorial efforts was the exhibit "Transforming the Commonplace" which was shown in 2003 at the Susquehanna Art Museum in Harrisburg, PA. It examined the work of a group of renowned contemporary realist artists who shared a similar interest in working with everyday experiences, events, places, people or objects as a vehicle for expressing something more universal or sublime. It included major works by many artists I had admired over the years including Antonio Lopez Garcia, Vincent Desiderio, Bo Bartlett, Jamie Wyeth, Odd Nerdrum, Tom Uttech, Brett Bigbee, Susan Hauptman, Debra Bermingham, Israel Hershberg to name just a few.
The best part of the process for me was having the privilege to visit some of the artists in their studios to select works, resulting in the forging of new friendships. As an artist who has chosen, at this point, to live and work somewhat away from the urban centers of the mainstream art world, I found it to be a wonderful and energizing way to stay connected to a community of artists with similar sensibilities and interests. I also recently organized and curated a traveling exhibition titled "Visions of the Susquehanna: 250 Years of Paintings by American Masters". Having lived and painted in the Susquehanna Valley for most of my career I became intrigued with the idea of exploring the lineage of artists who had painted here before me.
After much research I was thrilled to discover and bring together an amazing group of works by such prominent historic artists as Benjamin West, George Inness, Thomas Moran, Jasper Cropsey, and Charles Demuth as well as contemporary works by Mark Innerst, Debra Bermingham, Leonard Koscianski, Paul Caranicas, Randall Exon and many others. The exhibit was documented by an 80 page book and received widespread press, helping call attention to the need to preserve and protect this endangered river and its rich artistic legacy.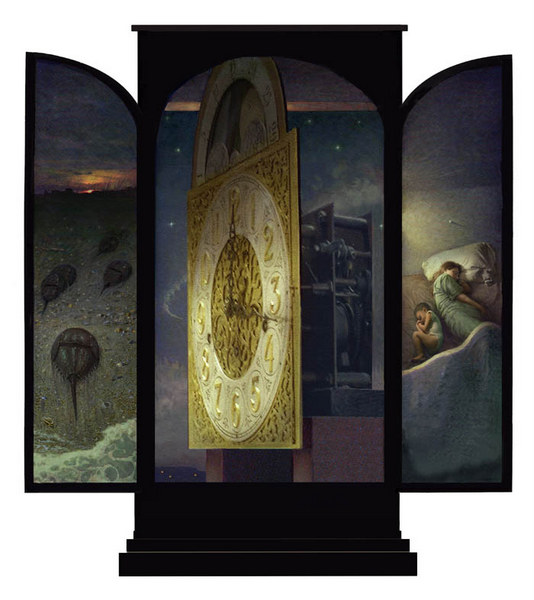 Rob Evans,"Study for "Movement," 2010, mixed media on museum board, 37 x 33 inches
Note: this work is a study for a 7 foot high free-standing altarpiece currently in progress
What are your interests outside of art?
My greatest passion outside of art is my family. My wife Renee is also an artist and we have enjoyed sharing the process of renovating and transforming our farm into a creative workplace and model for sustainability. We converted the barn on our property into 2 expansive studio spaces, a conference room and private B&B guest room. We have installed 30 solar PV panels on the roof of the barn and have renovated the farmhouse to include passive solar heat as well as geothermal heating and cooling, LED lighting, high efficiency appliances and sustainable materials such as bamboo and cork flooring.
Both our children, who seem to have inherited the creative gene, are also pursuing the visual arts in one form or another and we enjoy spending time with them whenever possible. Other personal favorite pastimes (which seem to have taken a back seat lately to other things) are playing the banjo, pounding some occasional boogie woogie on the piano, playing ultimate Frisbee and working with various local non-profit organizations involved in land preservation, arts advocacy and environmental issues.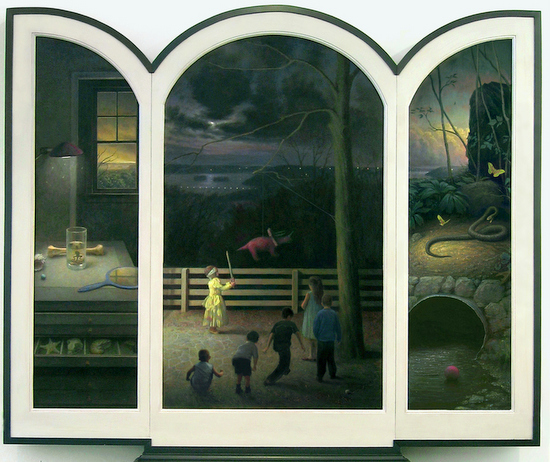 Rob Evans, "Origins," 2007, oil on board mounted to aluminum, 84 x 76 x 6 inches
What do you hope viewers will get from your current work?
At the most basic level I just want each of my paintings to be enjoyed as a mysterious and beautiful physical object with a richly painted surface and a sense of history behind it. Then, hopefully, through entering the illusory reality of the painted space, they can engage with the intrigue and mystery of the subject matter as it is transformed by the artist's vision. Finally, as they look deeper into the work, hopefully they begin to discover additional layers of meaning that perhaps connect with events or things in their own life. As this happens, perhaps they begin to get the meaning I intended, or perhaps they find their own personal meaning for the work - each is valid.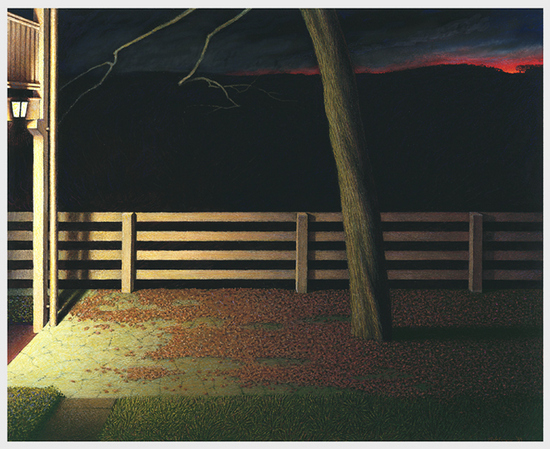 Rob Evans, "The Patio," 1984, mixed media on paper, 17 x 21 inches
My hope is not to lead them along with any specific narrative or message but instead to keep things slightly open ended - allowing room for interpretation. No matter what meaning they find, they will have lost themselves for a brief time in the painting, and, as a result, hopefully will leave it seeing the world in a slightly different way. Art can have this amazing impact, expanding the scope of our lens on the world to see, appreciate and contemplate things we might have otherwise overlooked or ignored.
There's a favorite story of mine that illustrates this point. It revolves around an exhibit I participated in a few years ago called "The Object Project." Fifteen prominent artists from across the country were given the same 5 objects and invited to create paintings for a national touring exhibit. The group included such uniquely visionary artists as Will Wilson, F. Scott Hess, Steven Assael, Daniel Sprick, Robert Jackson, Debra Bermingham, Scott Fraser, Michael Bergt and Pamela Sienna among others, and resulted in a fascinating, Rorschach Test-like interpretation of these fairly mundane five objects, one of which was a cheap blue plastic hand mirror from a chain store like Walmart.
The work I created for the show, my large altarpiece "Origins," had returned to my studio when the exhibit tour ended and a patron, who had heard about the exhibit, came in to see it. The original blue mirror was sitting on a table nearby and this patron suddenly stopped in his tracks and shrieked "Oh my God - that's THE MIRROR!" and picked it up like it was a rare religious icon. It was fascinating to me how this whole project had elevated these very un-ordinary objects into something extraordinary, illustrating very vividly to me the power of art to transform and enrich our perception of the world around us.
"Rob Evans: Mystery & Metaphor"
The Baum School of Art
510 W. Linden Street Allentown, PA
Sept. 18th - Oct. 19th
Artist Talk: Thursday, October 10, 7:30 pm