What a year Los Angeles artist F. Scott Hess is having: his works are simultaneously on view in a two-part retrospective, and a one-man gallery show. His deadpan historically-themed mockmentary and curio cabinet
The Paternal Suit: Heirlooms from the F. Scott Hess Family Foundation
is gradually making its way from the deep South to the West Coast.
Hess is the subject of a feature article in February's
Juxtapoz,
and a ten-page spread in a Polish art magazine: since he doesn't read Polish, that has been a bit frustrating. A 200 page
F. Scott Hess
coffee table monograph is due out this fall. It all seems to be coming together in a kind of perfect storm: in fact, Scott has been calling 2014 the year of the
Hess-storm.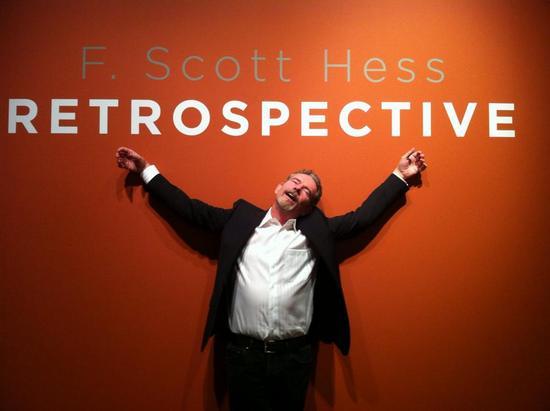 F. Scott Hess: Photo by Marc Trujillo
Despite all the attention Scott can still go martyr and bring on a striking crucifixion pose at a moment's notice as he did on the opening night of his CSU Fullerton retrospective. "I tend to focus on what hasn't happened, on what's lacking," Scott wrote in an unpublished set of career musings he penned a few years ago: "Positive reinforcement rolls off me like water off a duck's back." Still, even while throwing back his head in a martyr's pose Hess can't quite wipe the grin off his face...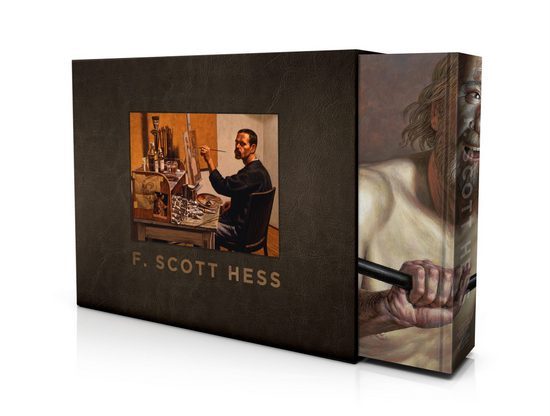 F. Scott Hess, 10 x 13 inches, 200 pages
Published by Grand Central & Gingko Press, Designed by Wendy Peng
Essays by John Seed, Leah Ollman, Doug Harvey, and Mike McGee
Available: Fall 2014
To achieve what he has, Hess has relied on his inborn "mule-like stubbornness" for nearly forty years, making art on his own terms. Remarkably, he has built his career without any real acknowledgement from the East Coast art establishment: his work has never been reviewed in Art in America, Art Forum, or Art News. He has had solo shows in Vienna, Tehran, Laguna Beach, San Francisco and Mobile, Alabama, but only scant exposure in New York. Of course, there is always 2015…
Committed to narrative and representational painting since the start of his career, Hess has always seen himself as standing outside the periphery of the official Art World. "I didn't play their game," he has written: "I didn't deal with issues the Art World felt important. I didn't work in forms and mediums that were
of the time
."
Instead of "playing the game" Hess has been painting brilliant and darkly funny paintings, building friendships, teaching and serving as a beacon to an upcoming generation of representational artists. In recent years he has used social media expertly and hit the max of 5,000 Facebook friends a long time ago, and he uses the "like" button fearlessly. Scott is a great painter," says his friend and fellow artist Marc Trujillo, "and in addition to the example he provides in rigor of his work he's also been really generous and helpful with his contacts. He puts me in touch with people and we compare notes about everything."
As this year's
Hess-Storm
demonstrates, all the effort that has paid off in both his personal and professional spheres. "Scott is responsible for a resurgence of narrative in painting," says curator Mike McGee, "A lot of younger artists have come along since (Scott) and felt empowered to tell stories."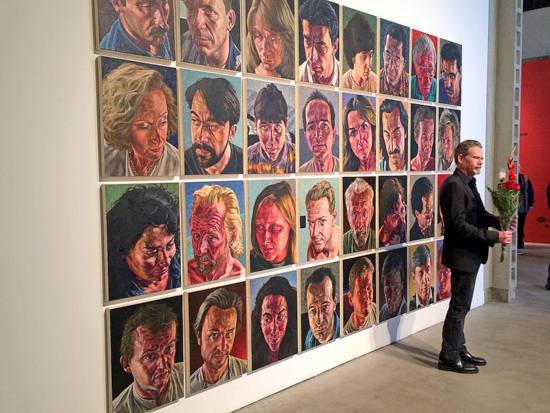 F. Scott Hess at Barnsdall Art Park on 2/2/2014 with 32 Portraits from 1991
Photo by Ron De Angelis courtesy of Koplin Del Rio Gallery
One of his new paintings from 2014 --
Lift
at Koplin Del Rio -- is a trenchant and enigmatic masterpiece that needs to be seen in person to be appreciated. It features four naked figures -- two men and two women -- who hoist a hippo skull against a sky that illuminates its interior with a flecks or golden-orange light. Scott says it was designed to have "multiple meanings" and to be seen as alternately "religious, cultish, evolutionary or mystic."
Of course hippos don't normally have fangs, so the skull that the figures gingerly hold aloft is from an animal that doesn't really exist: it is an artist's willful invention, admired by a naked cult. It is a very funny painting but it also makes a point: don't be embarrassed if your taste is a bit different from everyone else's. Find the right cult, enjoy the camaraderie and admire the fire of ideas that only the imaginative can perceive…
F. Scott Hess, Lift, 2014, oil and egg tempera on aluminum panel, 39" x 32"
Photo: Koplin Del Rio Gallery
F. Scott Hess
Koplin Del Rio Gallery
6031 Washington Blvd
Culver City, CA 90232
January 11 -- February 15, 2014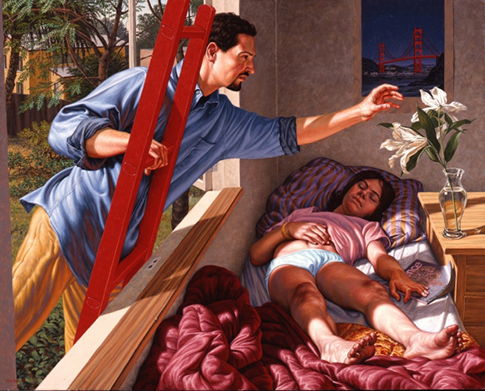 F. Scott Hess, Thief, 2002, Oil on Canvas, 32 x 40 inches at the Begovich Gallery
F. Scott Hess: Retrospective
CSU Fullerton: Grand Central Art Center
Curator | Begovich Gallery Director, Mike McGee
125 N. Broadway
Santa Ana, California 92701
January 25 -- February 27, 2014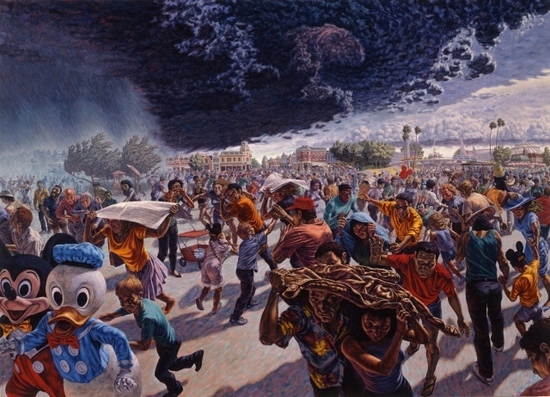 F. Scott Hess, Sudden Storm, 1987, Oil on canvas, 87 x 121 inches, at Barnsdall Art Park
F. Scott Hess: Retrospective, Part II
Los Angeles Municipal Art Gallery, Barnsdall Park
4800 Hollywood Blvd.
Los Angeles, CA 90027
February 2 -- March 16, 2014
The Paternal Suit: Heirlooms from the F. Scott Hess Family Foundation
Sumter County Gallery of Art
Sumter, South Carolina
February 13 -- April 18, 2014
Coming to the Long Beach Museum of Art: Dates TBA
F. Scott Hess at The Representational Art Conference (TRAC2014)
Presentation: Achieving Figural Movement
March 3, 1:45 to 2:30
Panel Discussion - The Future for Representational Art
Moderator: John Seed
Panel: Candice Bohannon, Graydon Parrish, Peter Trippi, Kara Ross, F. Scott Hess
March 5, 8:30 to 10AM
The Crowne Plaza Hotel Ventura
Visit the TRAC 2014 website for registration and information