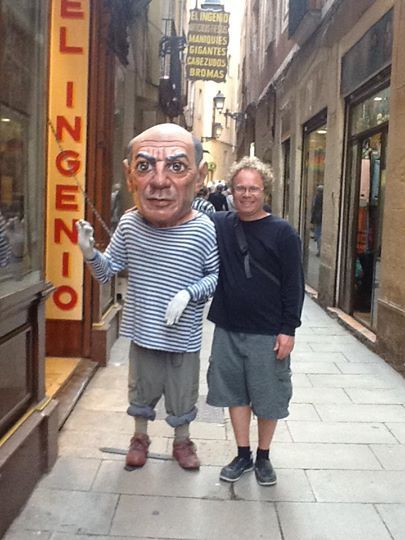 Picasso and Conrad Mecheski in Barcelona
"Whoso would be a man must be a non-conformist"
- Ralph Waldo Emerson
Conrad Mecheski, who passed away in early May from cancer, was an artist who had a very pure sense of the role that art should play in his life.
Born in Northern Ireland, Conrad attended high school in Vienna, Austria and then studied at the Art Institute of Boston. After 1991 he spent a number of years in the Kensington neighborhood of San Diego, living simply in a small apartment filled with paintings and exhibiting his vividly colored canvasses at local galleries. More recently he had moved to Florida where he faced his final illness.
Although his work was most often called Expressionist, Mecheski was very much an individual, and the appearance of his work varied considerably over time. At one point Mecheski had wanted to be a writer, and his art often incorporated written commentaries. His imagery wandered freely between art historical references, fantasy and reality. Mecheski's work had a wide emotional range: it could be sentimental, erotic, angry, inventive, lovely or flat-out silly. He worked in a variety of media including drawing, painting on paper and canvas, and iPad. He also made polychromed sculptures and loopy pen doodles.
"When he woke up in the morning he had nothing in mind," explains his wife Mia Aguilar. "He would have his banana, set up and put paint on paper. He had no preconceived notions about how the painting would unfold." One of Mecheski's short artist's statements also emphasizes his dedication to art as a form of exploration:
Many people have given me advice and have tried to fix me. It is difficult for a human to just be. That is what I can try to do. Just be. We don't need to give each other anything. To just be with each other is enough. There is peace in that. We don't know what will happen, we never have known. That is why I love to paint so much, because I love the mystery of not knowing the outcome of the painting. I don't know the outcome of my life. Never did, never will. It remains a mystery. It is exciting up to the end.
Mecheski was in many ways a rather private man who preferred to be in touch with a few close friends, but the paintings he posted on Facebook in his last months were in essence public statements that allowed a wider group of friends and acquaintances into his life. Along with posting paintings he also posted his personal musings:
To be misunderstood is fantastic. There was a time when I painted to be understood. Then I realized it was limited. This is not something i try to do. It happens, It's misunderstood.
Although most of the paintings Mecheski created during his hospitalization were imaginative fantasies filled with invented characters, one of his final paintings included all the members of his immediate family.
Mia and Conrad married on May 2, the day before he passed away.