"In a decaying society, art, if it is truthful, must also reflect decay." - Ernst Fischer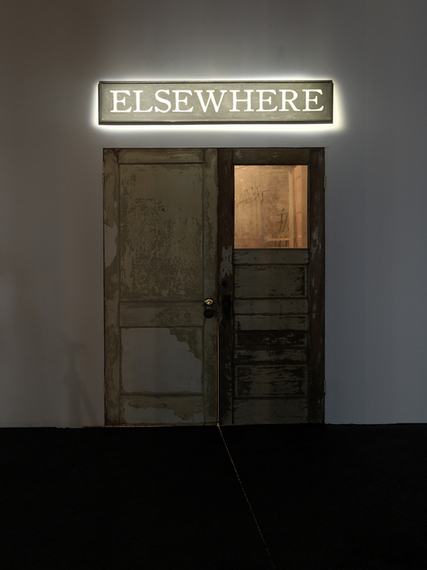 To enter Michael C. McMillen's new installation at the Grand Palais --
Entropic Taxi; The Final Destination
-- visitors need to open a creaking pair of double doors below a spot-lit wooden sign that announces their destination:
ELSEWHERE
. I'm betting that the hint of existentialism will go over well in Paris.
Once inside, they discover curious patchwork dwelling accented by a rusted-out 1930 Citroën Rosalie perched at a tilt above a pile of leaves. The car is an elegiac image: a forgotten relic that moldered in the Loire valley for decades before being hauled into Paris for McMillen's piece. Most of the other materials used in the installation came from McMillen's home in Santa Monica: he still lives in the home where he was raised by his grandparents and he has been collecting evocative junk for decades. Paris is the "final destination" of a great deal of California debris from the artist's backyard...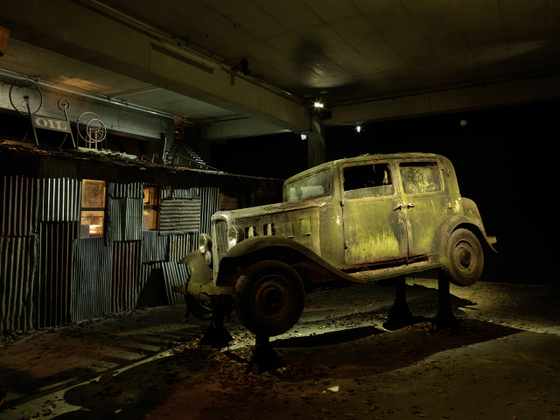 McMillen's piece is one of a flock of installations assembled by co-curators Mary Brugerolle & Gérard Wajcman as part of an exhibition titled
All that Falls
: "From the Berlin Wall to the Twin Towers, the twenty-first century was born in the fall," they philosophize in the exhibition catalog's opening statement. Along with twenty-three other artist/particpants McMillen was selected because his art deals with the dialogue between decay and redemption.
Like other installations he has previously created in the United States,
Entropic Taxi; Final Destination
combines detritus, cultural artifacts, street signs and even film. The entire installation was built with a 5 degree tilt in both the walls and floor: McMillen notes that this "produces an odd sensation in the visitor that is hard to identify at first."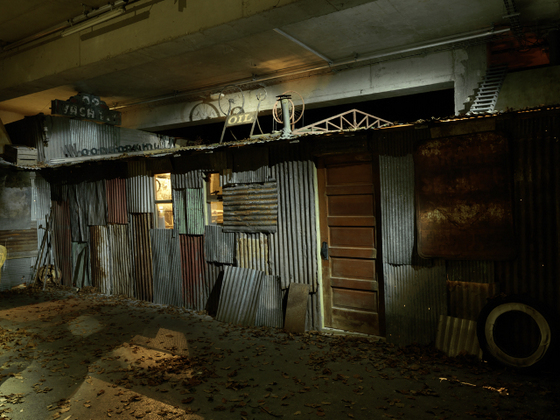 Inside the installation's ramshackle dwelling -- a kind of post-industrial hobbit house and workshop -- they eventually come across a chair that faces video tower. This "curious stack of analog technology" shows four of McMillen's surreal homemade movies, which are there both to add narrative suggestions and to entertain.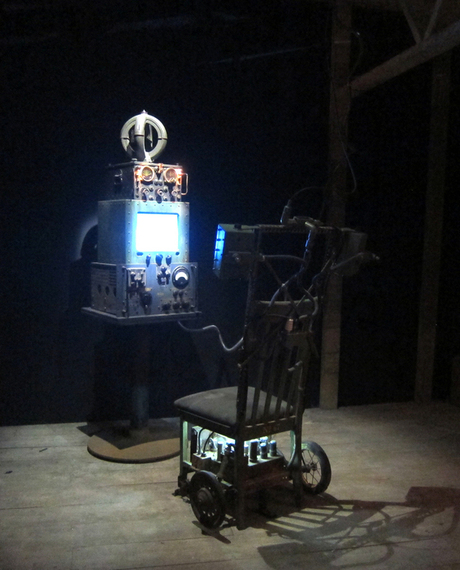 One of the goal's of McMillen's piece is to "take you out of Paris," and the quirky, abandoned vibe of
Entropic Taxi
certainly does that. The Citroën Rosalie that tilts outside might be seen as a symbol roaring-20s optimism, a relic of the brief window of optimism that was felt in Europe before so much of Europe fell to Fascism and Hitler. It is truly one delicious piece of rusted-out automotive history. Of course, Mc Millen has put it in front of you to let you see if it holds any symbolic meaning for you as an individual. If he has done his job, the beautiful decay of his installation will remind you -- as the curators of
All that Falls
propose -- that "There are falls, which, like curtains, reveal and open our eyes."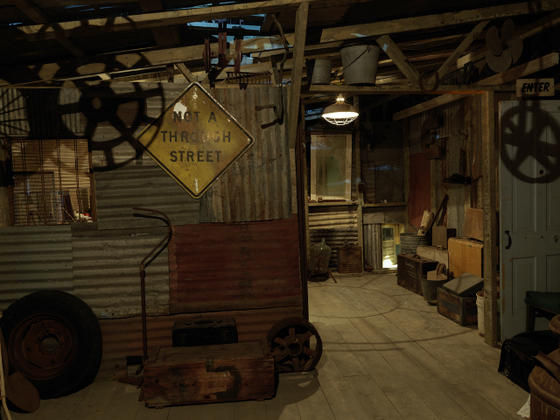 Video: Michael McMillen prepares for his Palais de Tokyo Exhibition:
Final Destination from zac t on Vimeo.
The Entropic Taxi; Final Destination
All that Falls
The Palais de Tokyo
Through September 7, 2014
Artists:
Ronald Amstutz, Vasco Araújo, Julien Bismuth, Jean-Pascal Flavien, Dominique Ghesquière, Lola Gonzalez, Camille Henrot, Willy Kautz, Agnieszka Kurant, Julie Legrand, Urs Lüthi, Michael C. McMillen, Steve McQueen, Philip Metz, Deimantas Narkevicius, Tony Oursler, Daniel Pommereulle Benoit Pype, Delphine Reist, Lili Reynaud Dewar, Jimmy Robert, Miri Segal, Pablo Vargas Lugo. And with the participation of: Felix Baumgartner.