Now on view at the El Camino College Art Gallery
Myth and Image
is an exhibition that explores the relationship of traditional mythology to contemporary visual imagery. The exhibit was organized by ECC Gallery Director Susanna Meiers, who comments that the show is "aimed at getting the viewer to consider the mythological in terms of connection with the numinous within us all." The twenty-four participating Southern California artists offer their individual interpretations of myths ranging from Classical Greek and Roman to East Indian, Latin American and Iranian. Each visual image is accompanied by a retelling of the myth.
Four of the exhibition's images, along with the retellings that accompany them are featured below: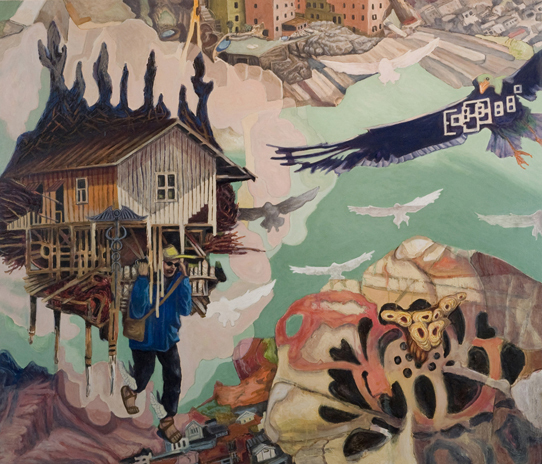 Corey Sewelson, Crocus Messenger, Acrylic and oil on wood, 36 x 42 inches
Hermes, the trickster god of transitions and boundaries, and the human, Crocus were friends who often played discus. Hermes killed Crocus by accidentally hitting him in the head with the discus. He was so distraught that he transformed his friend's body into the Crocus flower we know today.
This is not at all a literal illustration of this story. There is a mix of images from this Crocus story as well as some symbols of Hermes attributes and life. Hermes was the god of travelers, often shuttling back and forth between the two worlds of the gods and mortals. He was on the move so much of the time that I felt the image of the uprooted home helped convey that mobility. He was the messenger of the gods, primarily of Zeus, his father. Zeus often appeared in the form of an eagle, which in my painting shows him watching over Hermes. His typical attributes and symbols are shown- the winged sandals, pouch, cap, and caduceus staff. An abstract image of the crocus flower appears in the lower right.
What appealed to me in the Crocus creation story was that Hermes demonstrated such devotion and humanity in wanting to memorialize his friend. He created a beautiful new species of flower so that mortals would enjoy the remembrance, and, since the crocus is a perennial, it will be renewed each year as a perpetual reminder.
- Corey Sewelson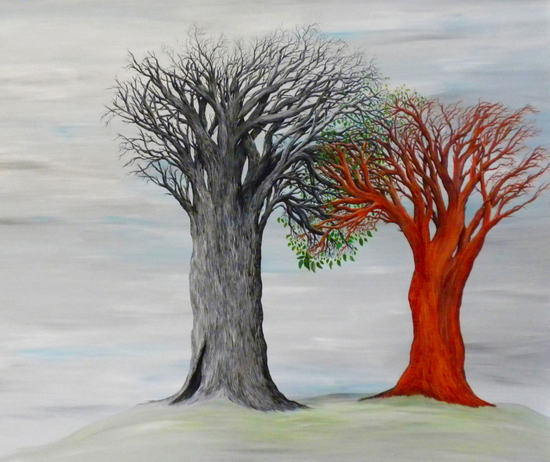 Roxene Rockwell, Baucis and Philemon, Acrylic on canvas, 40 x 50 inches
In my work I often use trees to symbolize humans. For me trees metaphorically represent all of us, as we stand strong or physically frail, bending resiliently with life changes or succumbing to old age.
I was drawn to the Greek myth about Baucis and Philemon for their great kindness and enduring love, and for how they turned into trees. This couple wished to die together and so doing would stay together forever. Because of their benevolence the Greek god Zeus granted their wish by turning them into trees standing side by side as their lives as humans ended.
- Roxene Rockwell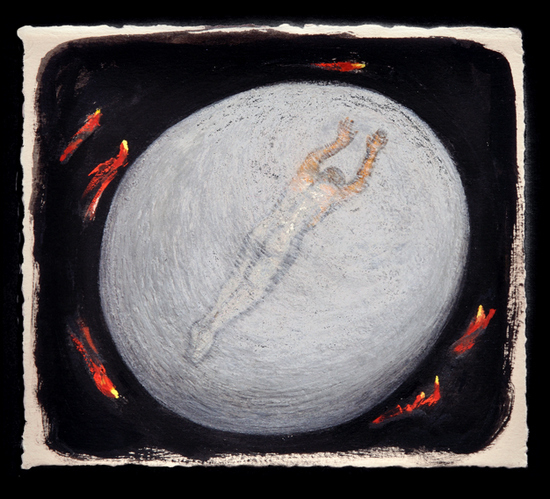 Nancy Mozur, Phane, Gouache and oil crayon on paper, 6 5/16 x 7 3/16 inches
I like to wed various myths together with images that emerge from within my mind. The phoenix bird is a tale of regeneration. Its fate is to burn up and through its remains, rises to be born again. That renewal repeats itself symbolically as carbon ashes give way to the diamond as new life. Fire plays an important element in this tale. Heat throughout myths often results in change from destruction to creation. In the Orphic religion, the hot passion between the black-winged Night and the Wind produces the silver egg of Eros. Within the fiery depths of the Egyptian underworld, the serpent Apophis battles against the fist of Amun furthering the soul's journey towards a renewed Sun God. As my imagination, sputters, inflames and blazes, visions appear, waiting to be transformed.
- Nancy Mozur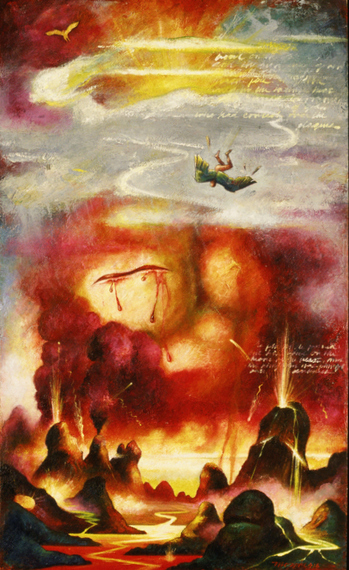 Jim Morphesis, The Fall of Icarus, 1994, Oil on wood panel with wood frame, 42.5 x 28.5 inches
Ovid's story of Daedalus and Icarus is the tale of a loving father's loss of his son. It is also the story of youthful exuberance and the first mortal hero to fly god-like over land and sea.
Daedalus was a great craftsman and inventor who had gone to Crete to construct the labyrinth for King Minos. When his task was completed, Daedalus petitioned the king for permission to return home, but Minos, not wanting the only man who knew the secret of the labyrinth to leave, refused the request. Minos possessed the earth and the sea, but not the sky. And so Daedalus planned to make his ill-omened escape by constructing wings of feathers, wax and linen for himself and his son, Icarus.
With ease father and son took flight. Their dual shadows passed over Samos, the fields of Delos, the villages of Paros and out over the sea. The exhilaration of flight, and the experience of seeing the world as no other human had, compelled Icarus to disobey his father and soar higher. When Icarus reached the realm of Apollo and his chariot, the heat of the sun melted the wax, feathers slipped away and Icarus fell.
Greek myths have a way of offering even the most tragic heroes the means for redemption. In my painting, with broken-hearted Daedalus looking down helplessly, foolish and courageous Icarus plummets toward an apocalyptic landscape and a final dive in the sea that will forever bare his name and render Icarus immortal. - Jim Morphesis
Myth and Image
A multi-cultural look at myths paired with contemporary images
El Camino College Art Gallery
16007 Crenshaw Blvd, Torrance, CA 90506
August 25 - September 18, 2014
Artist's Event with Lauren M. Kasmer, Tuesday, September 9, 1 p.m.
Participating Artists:
Melinda Smith Altshuler, Catherine Bennaton, Mark Clayton, Raoul De la Sota, Satoe Fukushima, Suvan Geer, Susan Hamidi, Zeal Harris, Brenda Hurst, Lauren M. Kasmer, Filip Kostic, Patricia Krebs, Peter Liashkov, Karena Massengill, Lynne McDaniel, John Montich, Jim Morphesis, Nancy Mozur, Stuart Rapeport, Annemarie Rawlinson, Thea Robertshaw, Roxene Rockwell, Cory Sewelson, Nancy Webber
GALLERY HOURS
Monday and Tuesday 10-4 Wednesday and Thursday 12-8
The ECC Art Gallery is closed Friday, Saturday and Sunday and selected Holidays.
Admission to El Camino College Art Gallery and to all related events is free and open to the public. On campus parking requires visitors to purchase a $3.00 permit.