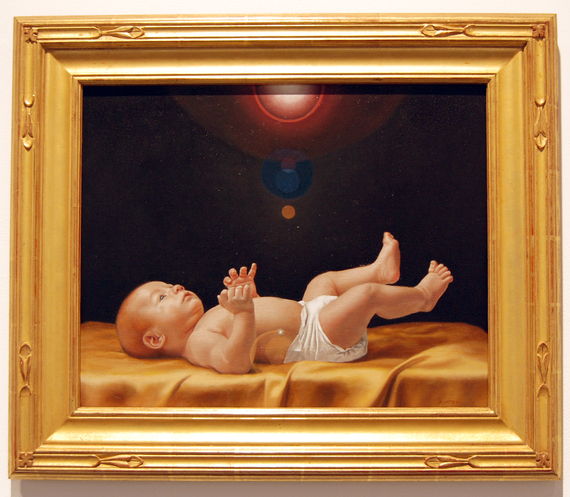 From Whence We Came, 2014
oil on canvas panel
22-1/2 x 26-1/2" fr.
At Lora Schlesinger Gallery in Santa Monica, painter Kimberly Merrill is showing a group of fifteen works that explore themes of spirituality, human connection and saintliness. Painted with exquisite care, Merrill's oils demonstrate her mastery of light and form, both of which are remarkable, especially considering that she came to painting late in life after raising a family. I recently interviewed Kimberly and asked her about her background, her ideas and her subjects.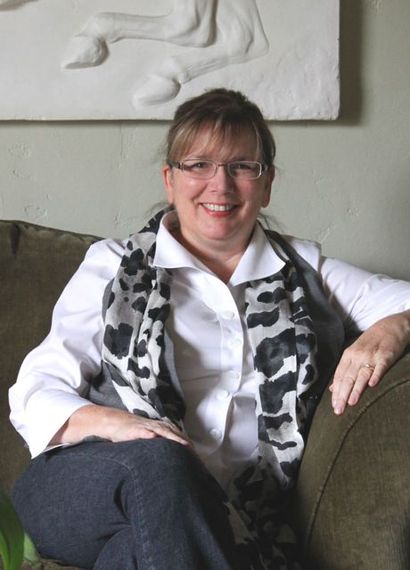 Kimberly Merrill: Photo - Jon Swihart
Tell me a bit about your early life: when did you know you were an artist?
I grew up in a middle class Minnesota family where art was not on our radar. Later, when I became a stay-at-home Mom, I did the traditional female arts: knitting, quilting, crocheting, etc. When we left Minnesota for my husband's career, I starting taking classes at the local community college. One of the first classes I took was ceramics, which I loved, but when I took my first 2D class, I was hooked. It was during that time that I accustomed myself to the idea that I could actually be an artist. It was so out of my perception of myself that it took a while. I was divorced in 2000, which forced me into making a decision to fully commit to painting. I was accepted at Laguna College of Art and Design that year, at the age of 44: it was a bit of a late start! With hindsight, I realize that the 'female arts' were my outlet for expression before I discovered the fine arts and knew that I was an artist.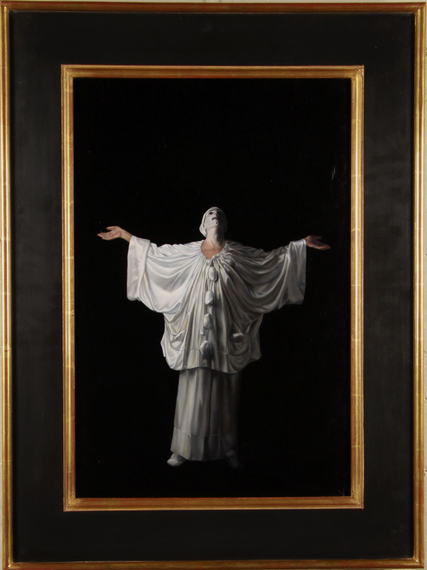 Reverence, 2014
oil on panel
30 x 22-7/16" fr.
Tell me about your experience in Laguna? Did you have any particularly helpful teachers or mentors there?
I graduated from LCAD with my BFA in 2004 and MFA in 2008. During my undergraduate years two teachers were pivotal in my experience and progress: Betty Shelton and Jonathan Burke. My confidence was in a particularly low place because of the divorce and they gave me added support and guidance that made all the difference. In graduate school, Jon Swihart was my mentor, for which we have taken much ribbing! Jon likes to joke that he was paid to date me. All kidding aside, we had so much in common artistically and aesthetically, that it was a great match. People sometimes assume that Jon is responsible for influencing me with his style, but the truth is that we already had that in common. He has been instrumental in helping me evolve as a painter and has been my biggest champion.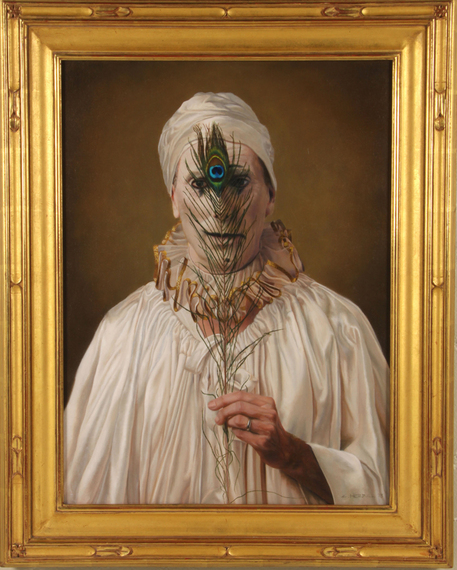 Peacock, 2013
oil on canvas panel
30 x 24" fr.
How has your art evolved over time?
I haven't been painting all that long, but in the course of painting this show, I felt myself moving toward more simplicity. I love the emotional power of isolation and how in the isolation of a figure, the viewer can find connection to our human sense of being in this life alone, which ironically, we are all in together. In some of this work, I have used isolation from other people to focus on our connection to something bigger than us and to describe the phenomenon of being physically alone, but never alone in the true sense of the word.
Your recent work features the figure of Pierrot. Tell me about your interest in this character and what he stands for in your work.
The Pierrot character originated in the 17th century as part of the commedia dell'Arte, which was a type of Italian theatre made up of masked characters. He has evolved over the years in both appearance and purpose, but this isn't actually relevant to my work. My interest in Pierrot had a serendipitous start... We were planning a party for Jerry Ackerman's birthday and decided to do a live replication of one of Gerome's paintings, 'The Duel after the Masquerade,' in which there is a Pierrot character. This character originated in the 17th century as a part of a type of Italian theatre made up of masked characters. I was struck by the character, how in his costume and make-up he lost connection to race or nationality, or even age. He became an icon for the everyday man. To me, the white shimmering costume, on the other hand, is a generic reference to religious or ceremonial robes. The costume on the 'everyday man' is a reference to the spiritual nature, or 'saintliness' of us all. With this, I have to say, I am not associated with any formal religion, but I do believe this connection is our life-force and our connection to each other.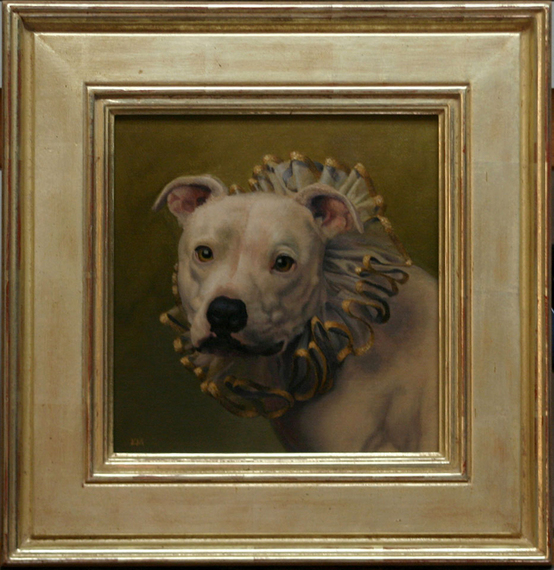 Man's Best Friend, 2013
oil on canvas panel
13-5/8 x 13-7/16" - fr.
You have a long-standing interest in painting animals: tell me a bit about that side of your work?
My first show was, 'Unleashed,' a show of dog paintings and portraits, and a dog does make an appearance in this show also. I believe dogs and other animals are our greatest teachers. They live their lives in the moment, innately aware of a life force beyond their physical form, through the good and bad experiences. They don't worry, complain and wish things were different than they are, and no matter how old they get, they still know how to enjoy life. The most amazing thing to me is how people change with the company of an animal and how that relationship can be remarkably healing. This relationship and these creatures deserve to be honored, and that's why they are represented by Lenny, the dog.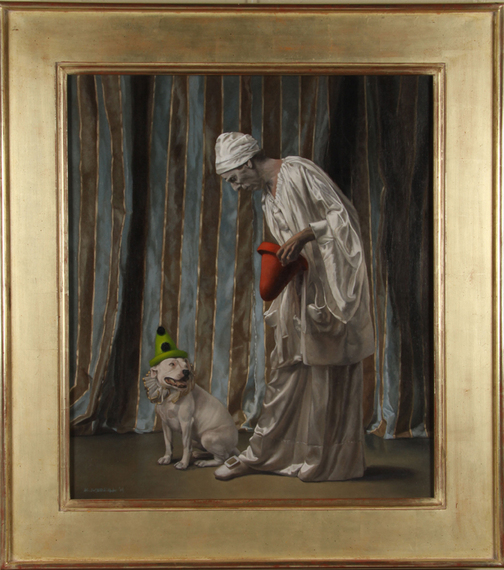 No Dress Rehearsal, 2014
oil on canvas panel
30-3/8 x 27-5/8" - fr.
Can you say a few things about the spiritual aspects of your recent work?
The stresses of the culture we live in are continually pulling us away from our own spiritual connection and from each other. I have come to see my work as a spiritual practice and contribution to countering that imbalance in my own small way. These days, the foundation of everything I paint is spiritually based, in that it brings attention to the divine connection we have to a higher power/energy, nature and each other. We are faced with so much negativity all around us; I want my work to be more of a peaceful retreat from all of that noise.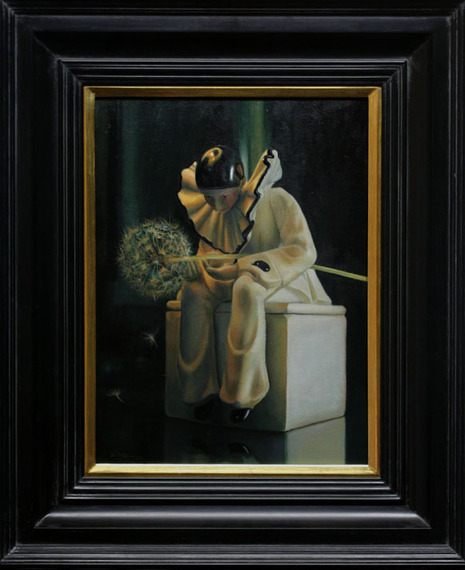 Ephemeral, 2012
oil on canvas panel
23-1/2 x 19-1/2" - fr.
What are some of your favored media and working methods?
I have focused just on oil painting for the last several years and work in a traditional academic style. A large percentage of my pieces are quite small, which suits my temperament and studio size well. I have always taken an intuitive approach to my work, but in the beginning I thought it was just being naïve. Now, I realize this is authentic for me. I'm not an intellectual painter. If I work just from my head, the work seems contrived and flat, because it lacks the emotions I feel most driven to relate.
What are your interests outside of art?
We have great friends that we enjoy spending time with and I have come full circle and re-embraced knitting and sewing, which surprises me more than anyone. I love the meditative quality of knitting and, as it turns out I'm not bad at it, so I've been taking commissions and selling my work. It's a great thing to be making money while watching TV in the evenings! I love to read, although I haven't been spending much time at it lately.
KIMBERLY MERRILL
Divine Journey
Lora Schlesinger Gallery
2525 Michigan Ave. #T3
Santa Monica, CA 90404
January 17 - February 21, 2015