The subject matter in
Chris Liberti's
recent paintings comes from his interest in the way the forms around him can be re-configured and made to work together. Whether Liberti is painting rooflines, bookshelves, palm trees or telephone poles, he sees them not as isolated elements, but as part of a larger scheme.
I recently interviewed Liberti in connection with the show of his work on view at the John Natsoulas Gallery in Davis, California.
John Seed Interviews Chris Liberti:
Chris Liberti
JS:
Tell me about your art education: who was your most important mentor?
CL:
Jim Phelan was a big influence. When I studied with him at Buffalo State College in 1995-6 he introduced me to the work of Richard Diebenkorn and Frank Auerbach, who both became very important to me. Jim is a "painter's painter" who let me do my own thing. His goal was to get each of his students on the path they wanted to be on. He never painted in front of us or showed his own work: that was important. He didn't want us to be too distracted by what he was doing.
148 Across, 2015, 30 x 24 inches, Oil on canvas
JS:
How would you describe your approach to painting and imagery?
CL:
It's kind of been a struggle between abstract and representational. I don't want to lock myself in to being one or the other. I think of abstract as free: there is more looking involved, more than looking at what was being painted. Also, I like working with the negative space around an object more than working with the thing itself.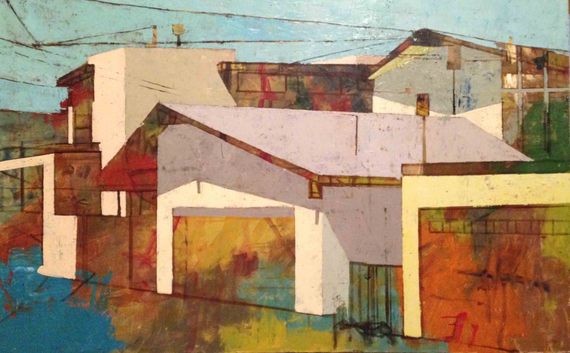 Garages, 2015, 30 x 48 inches, Oil on canvas, Oil on canvas
JS:
You have mentioned to me that both Diebenkorn and Van Gogh continue to influence you. What do you admire in each man's work? I admire their uninhibited use of color, the immediacy of their paintings and also gestural and painterly qualities. Both Diebenkorn and Van Gogh had the ability to take everyday scenes and subject matter and turn them into something compelling. You can see and feel their passion for their work and each used line very powerfully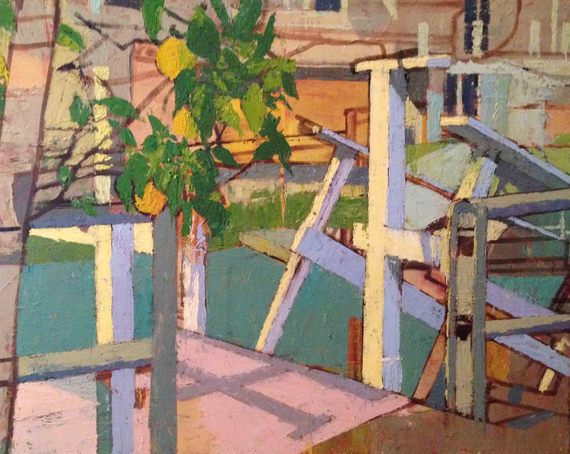 Lemon Tree, 2015, 16 x 20 inches, Oil on canvas
JS:
Your paintings look as if they have been worked and re-worked many times: is that true?
CL:
I have a problem on deciding when things are finished. I constantly work over things and am never truly happy. For example, the painting
148 Across
was started in 2008, and then I worked on it again recently.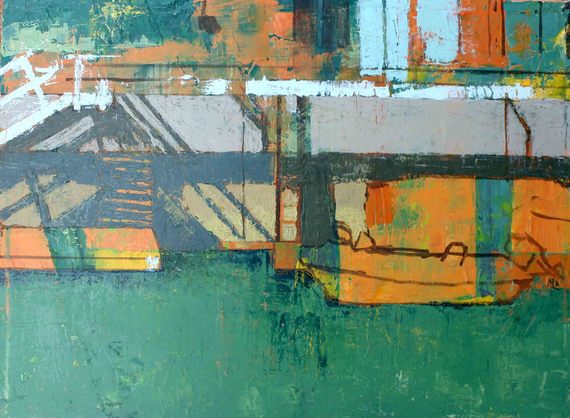 Canal Wall, 2014, 12 x 16 inches, Oil on canvas
JS:
What do you enjoy most about painting?
CL:
Physicality: that's what I enjoy the most.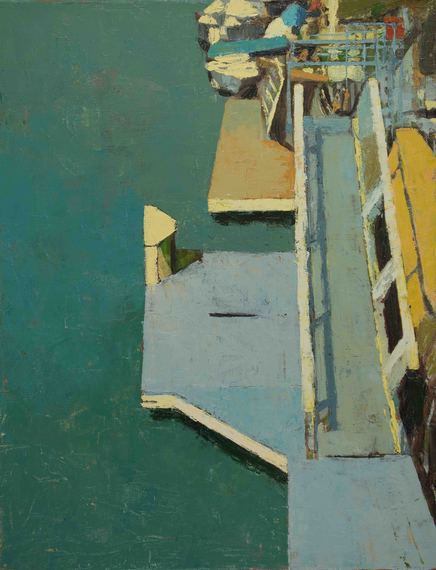 Dock, 2015, 18 x 14 inches, Oil on canvas
JS:
How do you know when a painting is finished?
CL:
If I can get into a piece and get into that zone, someone else will feel that same way. I'm not looking for a specific feeling. I hope others can as well.
Chris Liberti: California etc.
March 11 - April 11, 2015
John Natsoulas Gallery
521 First Street Davis, CA 95616