David Allan Peters, whose work is on view at Ameringer | McEnery | Yohe through April 19th, has been building heavily layered paintings that he carves into to reveal rich stratigraphies of color. Kaleidoscopic in their intensity, Peters' works are both intuitive excavations and explorations of pattern.
I recently spoke to David Allan Peters and asked him about his background, his education and his methods.
John Seed Interviews David Allan Peters: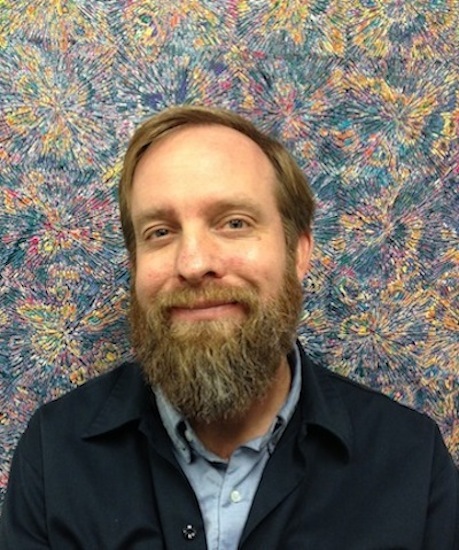 David Allan Peters
JS:
David, from what you tell me you grew up in a family that supported your creativity...
DAP:
Definitely: as a child I was making things all the time. My parents were very supportive and I was was allowed to try whatever I wanted.
JS:
When did you decide to be an artist?
DAP:
I took my first art class in junior college in Cupertino, CA (which at time was a very small agricultural town) and began playing with materials and received encouraging feedback from my teachers.
Then I got serious and attended the San Francisco Art Institute from 1995 through 1997. In San Francisco, I was exposed to more art and artists: it was a
big
step. My parents got me an SFMOMA membership and I would stop in at the museum daily. I was exposed to so much there: I loved their Sigmar Polke, and I remember seeing a Richard Serra splash piece.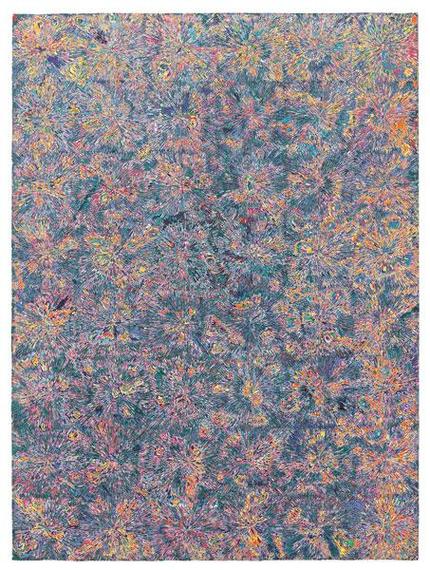 Untitled #26, 2014, Acrylic on wood panel, 48 x 36 inches
JS:
What kind of work did you do in San Francisco?
DAP:
At SFAI I was into abstraction and materials. I was trying to make my own kind of marks, but not a brushstroke. Being in the Bay Area I was looking at "juicy" paintings -- like Joan Brown and Jay DeFeo's
The Rose
-- and I kept asking myself: 'How can I use that kind of energy another way?'
I did some cut out paintings, and also some that were scratched out and had sand in them. That was the beginning of the layering in my work. I was just making a lot of work, painting all the time, becoming obsessed with the process of making paintings.
Liat Yossifor,
who is also showing at Amerigner | McEnery | Yohe, was an undergraduate at SFAI with me, and I remember that we were both completely "geeked out" on painting.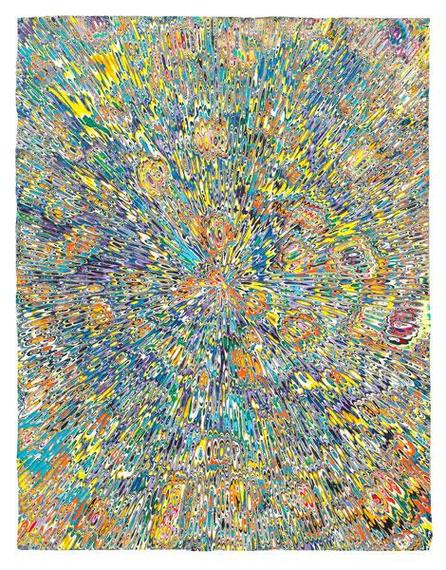 Untitled #1, 2015, Acrylic on wood panel, 18 x 14 inches
JS:
And after that you did grad work in Claremont with Karl Benjamin, right?
DAP:
Actually, when I got to Claremont I hadn't heard of Karl Benjamin. But I started to see him and his dog 'Macho'. We started to talk a lot, and we clicked and became good friends and I started helping him out as a studio assistant. Karl reinforced the intuitiveness in my art work. That was a turning point for me. Although I still wasn't sure what was going on in my work at that time, something was changing and I began to work with color more.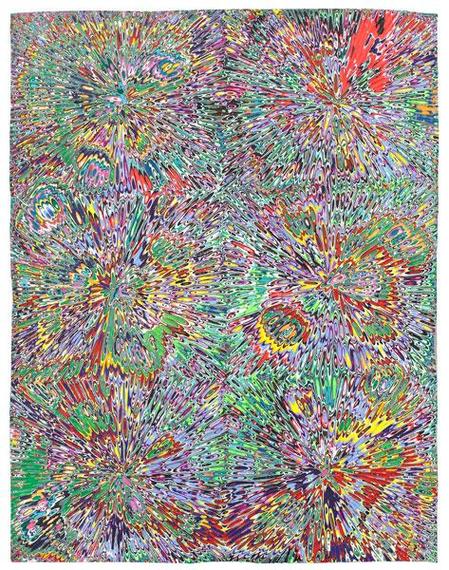 Untitled #2, 2015, Acrylic on wood panel, 18 x 14 inches
JS:
Have you always been an abstract artist?
DAP:
Not exactly. As a kid, I copied old master paintings out of my parent's old art books. I tried hard to paint those kinds of paintings, but I couldn't quite do it. I soon figured out that I could make them look good by hiding paint layers by putting stain over them. It made them look much better, and I used sandpaper to bring up the colors. It definitely connects with some of what I am doing now.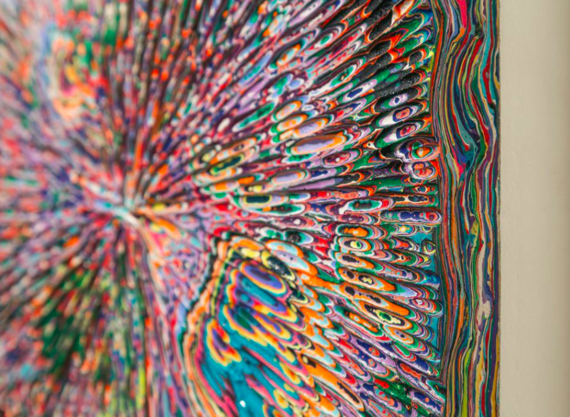 Edge detail: photo by Lance Gerber
JS:
Tell me a bit about the processes involved in your recent "carved" works.
DAP:
They just go and go: I don't keep track of how many layers I have used...sometimes hundreds. One of my big things is the edge. I am always thinking about lines and stripes in my paintings. And to see all of those, you have to look around the piece. As far as carving goes, its just one little chip at a time... like a mantra... until the painting becomes harmonious.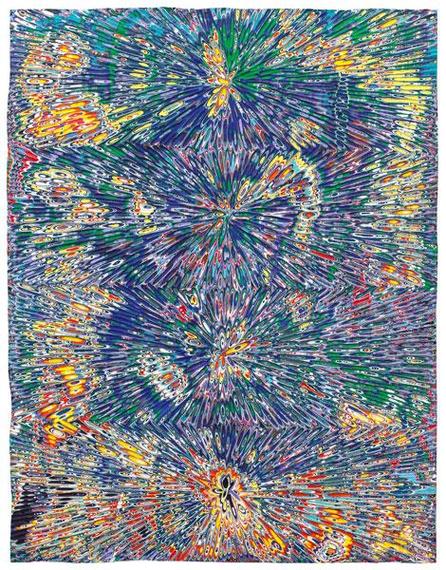 Untitled #4, 2015, Acrylic on wood panel, 18 x 14 inches
JS:
Are you pouring paint as you go? Scraping?
DAP:
I do it with a paintbrush. I start by hiding the strokes from the layer before: I make all these fine layers and then I try to erase them from the surfaces. There are a lot of happy accidents along the way: random things. But then, I regain control by carving the surface.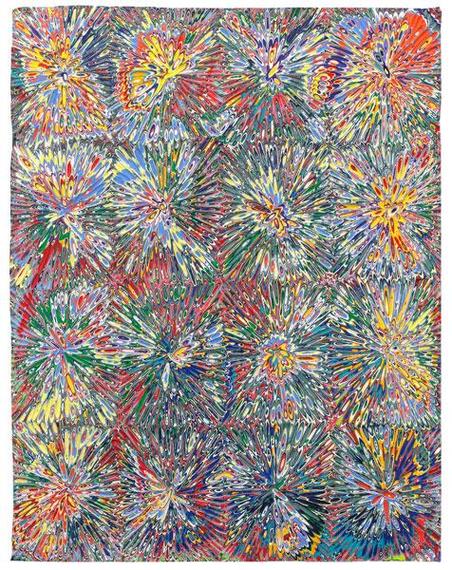 Untitled #6, 2015, Acrylic on wood panel, 18 x 14 inches
JS:
Who are some of the other artists that you are looking at?
DAP:
I live in Little Ethiopia in Los Angeles which is blocks away from LACMA. I take breaks from my work and ride my bike up to LACMA a few times a times a week. I enjoy looking at Gerhard Richter, Robert Ryman and Tomma Abts.
I keep to myself so I can stay directed. You have to work hard.
JS:
What are your interests outside of art?
DAP:
I ride my bike, garden -- I try do quiet things. And I enjoy NHL hockey.
JS:
Is there anything else you would like to say about your work?
DAP:
I'm a shy person which enables me to stay directed and work hard at making work. I want people to get what they can from them, to take their time and enjoy.
David Allan Peters
March 19 - April 18
Ameringer | McEnery | Yohe
525 West 22nd Street, NY, NY 10011
Works by David Allan Peters
can also be viewed at:
Royale Projects: Contemporary Art
73190 El Paseo Suite #3 Palm Desert CA 92262
760.742.5182