The past few weeks have been busy, so an important career milestone almost slipped by with my having noticed: May 13th was my "Five Year Blogaversary." On that date in 2010 my first blog appeared in the HuffingtonPost. Titled
"Picasso's Recession-Proof Harem"
it appeared in the HuffPost "New York" section, as the Arts page hadn't opened yet. HuffingtonPost Arts--now
HuffingtonPost Arts and Culture
--officially opened a month later on June 15, 2010 under the direction of its amazing founding editor, artist
Kimberly Brooks
.
"Picasso's Recession-Proof Harem" was the first of a total of 259 blogs (this one included) that I have posted over a five year span. That means I have averaged just under a blog a week over time. When I started, I had absolutely no idea that I was capable of writing so much or so often. Blogging has been a huge surprise for me: it has been a life-transforming experience and a door-opener.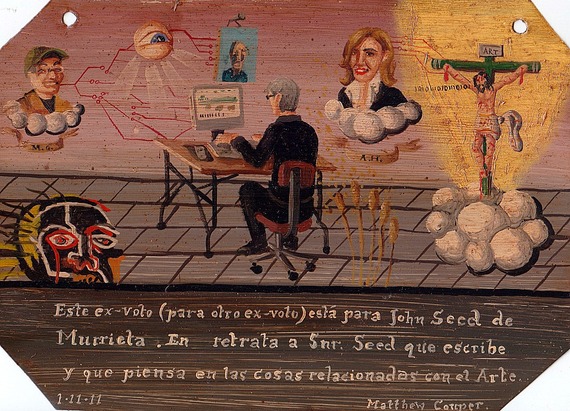 Ex-voto painting by Matthew Couper
Matthew Couper's wonderful ex-voto painting, sent me to me as a gift early in 2011 does a great job of capturing the spirit world of my newfound avocation. Seated productively at my computer, a grid of red circuitry connects me to Mat Gleason--another early HuffPost Arts blogger--and also to an all-seeing eye and to a painting by my mentor, the late Nathan Oliveira. A head by Jean-Michel Basquiat--an art world frenemy from many years ago--rises over the floor tiles to my left while my journalistic patron saintess, Ariana Huffington, raises a knowing eyebrow to my right. Christ, crucified for art, adds an additional touch of religiosity and devotion to the tableau.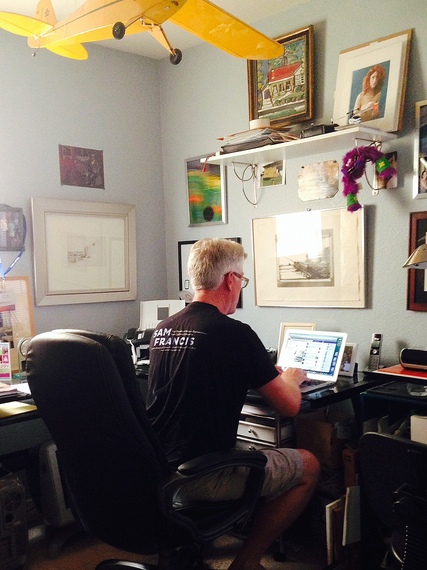 At work in my office
Matthew's painting captures some of the imaginative and psychological forces that surround my interest in writing. A photo of me at work in my real office shows some interesting correspondences. I do spend a great deal of time leaning over my laptop, and a work by Nathan Oliveira--one of his "Tauromaquia" monotypes-- does hang in front of me as I write. A large model plane that I built and put too much work into to actually fly hangs over my head, a reminder of a hobby of the past. The energy that I used to put into making things seems to all go into writing these days. After recently re-organizing a bookshelf in my office to contain all of the catalogs and books I have contributed to over the past few years all the effort suddenly seemed tangible.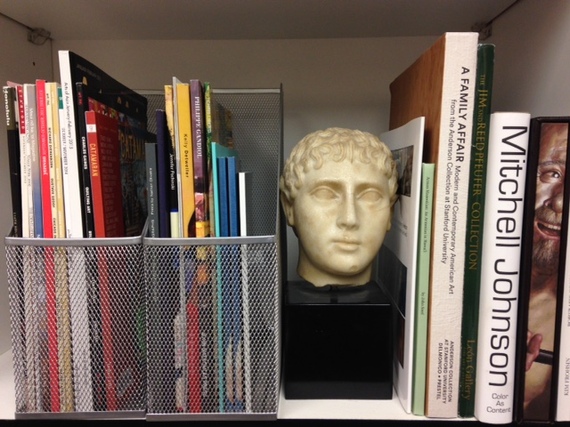 Art catalogs and books
The following list contains some reflections, notes and comments from five years of blogging:
A few things I have learned:
Every word matters. You never know who is reading your blog. Every blog is important.
My favorite quote from an artist:
"The bravest thing in the world is to take a position without a pre-planned fall back." - Kyle Staver quoted in
"A Brother Honored"
My favorite reader comment:
"Read it. Excellent. Loved the Mao." Steve Martin responding to my blog
"I Don't Deconstruct"
on Twitter:
Blogging is different from other kinds of writing:
You wake up in the morning, drink your coffee, and blog about what you want to write about in the way that you want to.
Blogging is truly social:
I have never had so many friends. Oh, and a few frenemies too...
Something I need to do again:
The "Paintings and Palettes" and "Studio Visit" blogs were a lot of work, but a lot of fun too.
Click here for one...
A common misconception.
I have written predominantly about representational painters. For that reason, some people have come to think that I don't care for other types of art. That isn't true. I write about representational painting because there is simply so much good work out there that hasn't gotten the attention that it deserves.
Humor is important:
You can say things with humor that you can't say another other way. A list of my satires
can be found at this link.
I'm often asked if I have a favorite artist:
Yes, it is the artist I am writing about at any given moment.
Artists need to have their stories told:
Interviewing artists has allowed me let artists tell their stories. An index of the 75 interviews I have conducted since 2010 can be found on my personal website.
http://www.johnseed.com/p/interviews.html
Some Acknowledgements:
I owe a great deal of thanks to Arianna Huffington, Kimberly Brooks, Kathleen Massara and Katherine Brooks (my editors). I owe even more to my wife Linda who has supported me, even when I have been writing when there is laundry that needs folding.
To my readers:
Thank you for reading. There is a lot left to write... more blogs are on the way.