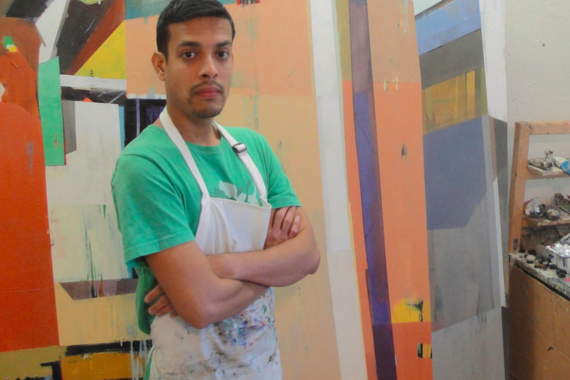 Siddharth Parasnis
Siddharth Parasnis, whose work is on view at Campton Gallery through May 31, knows how to play geometry against instability. His architectural fantasies are improvised constructions built from planes of color that collide, overlap and coalesce into form. Parasnis works from his memories of places he has lived and traveled -- including India, Guatemala, Costa Rica and the Honduras -- but it isn't quite right to say that his work has a sense of place. It would be more accurate to say that he creates new places that demonstrate his affection for buildings and cultures that haven't lost their souls. The buildings he admires, and the buildings he paints, all bear traces of eccentricity and individual effort in their construction. In a way, Parasnis manages to say some things about people without including them in his pictures.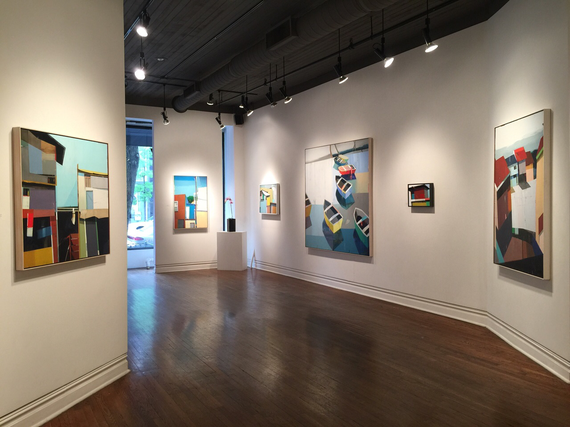 Installation View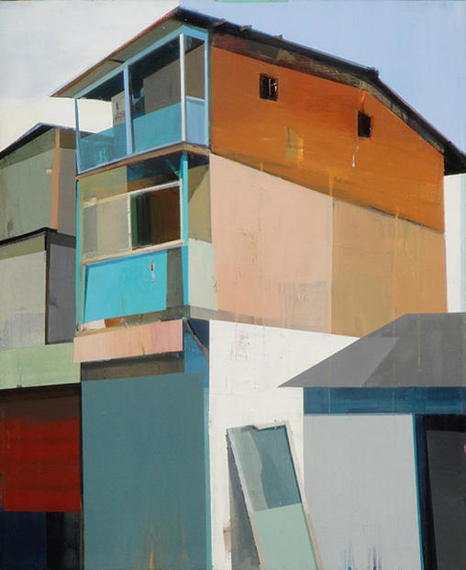 Eternity #65, Oil on canvas, 55 x 45 inches
A native of India who currently works in the Bay Area, Parasnis has hybridized a wide range of influences from Indian miniature painting to the works of Richard Diebenkorn and other American abstract painters. He has a dynamic color sense that enlivens his compositions with unexpected juxtapositions and fresh harmonies. Underneath the slight leanings of his structures is an ease with perspective and a firm, athletic command of line.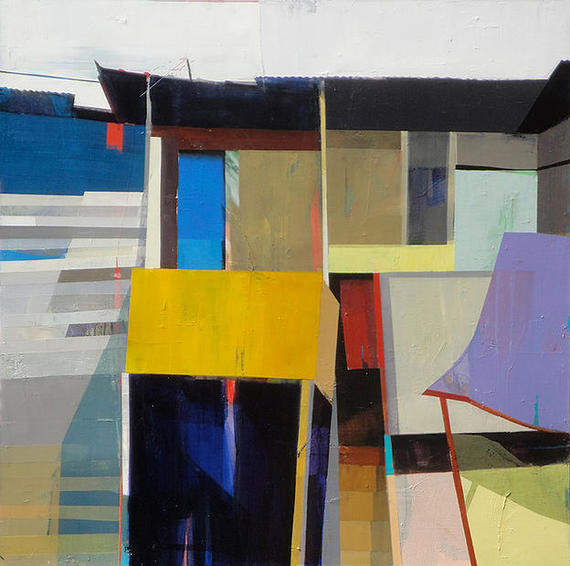 Eternity #53, Oil on canvas, 48 x 48 inches
Eternity #53
, which balances representation and abstraction, features a brilliant blue door that is shaded by a slightly tilted corrugated roof. Surrounded by energetically carpentered planes and stripes that are streaked with underpainting, the door offers entry to an invented world that is both dilapidated and enticing. It seems to suggest a delightful state of deferred maintenance that goes with a slower pace of life and less concern for upkeep.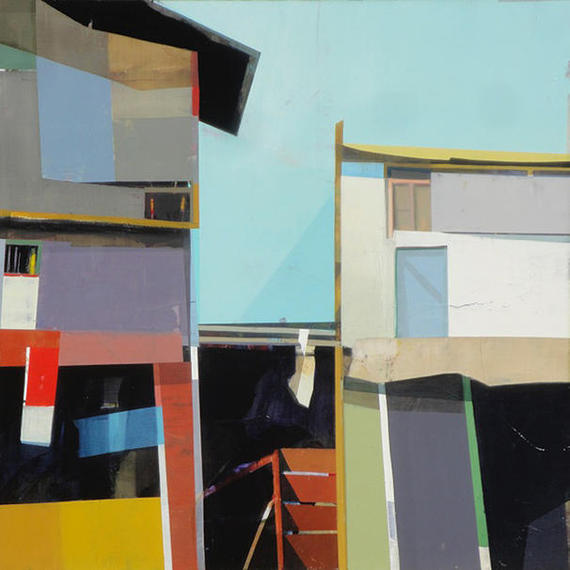 Hometown #33, Oil on canvas, 36 x 36 inches
In
Hometown #33
a symphony of jagged rooflines, tilting timber and unstable planes is bathed by a pale blue sky. It is a remarkably welcoming picture that makes you want to knock at the front door... if there is one. Inside you would likely find people who are have learned to improvise as the world around them shudders. Like the artist who invented the world that they live in, these imaginary people would likely offer you genuine warmth and conviviality.
Siddharth Parasnis: Solitude
May 9 - 31, 2015
Campton Gallery
451 West Broadway New York, New York 10012