Alexandra Tyng
, whose work was recently on view at the Gross McCleaf Gallery in Philadelphia, is a realist painter whose approach to her subject matter is distinctly contemporary. In her exhibition, titled "Ways and Intersections," Tyng brought together imagery rooted in personal experience alongside landscapes and cityscapes painted from above and a selection of smaller plein air studies.
I recently interviewed Tyng and asked her about her background, her artistic development and her imagery.
John Seed Interviews Alexandra Tyng: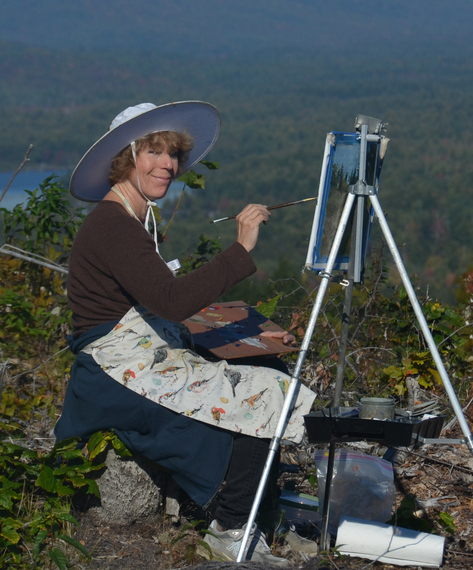 Alexandra Tyng painting at Baxter State Park in Maine
I understand that you were born in Rome. Tell me about your early life and exposure to European art and culture.
I was only 10 months old when my mother and I returned to the U.S., so I don't have any early memories of Rome, but my mother used to tell me stories about the villa where we lived with my uncle, aunt, and cousins, and our other travels around Italy, so the stories and accompanying photos made me feel as though I remembered it, plus we revisited the street when I was 11.
My father was very deeply influenced by the ancient architecture of Italy and Greece. So I heard a lot about European architecture in family conversations. I made two trips to Europe when I was 11 and 18 and the highlights for me were always art and architecture. My father liked to go to old-and-rare bookstores and find books on artists he thought might inspire me. Some of the books he gave me were on Gustav Doré, Albrecht Dürer, Canaletto, Hogarth, Cruikshank, Beardsley, Rackham. I was slower to learn about painters because as a child I was so focused on drawing. But by the time I went to Europe at 18 on a youth hostel bike trip, I was discovering the 17th century Dutch painters and it was a thrill to see their original work at the Rijksmuseum.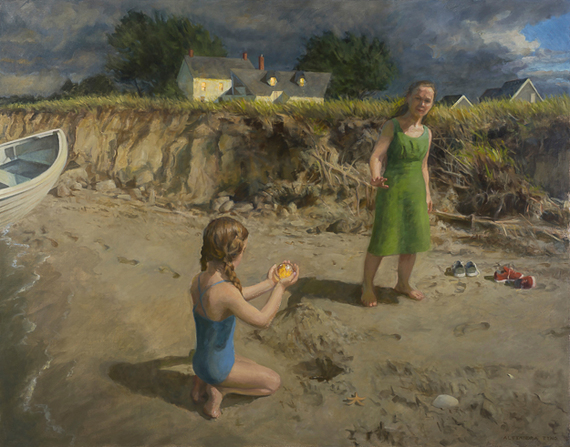 The Unseen Aspect, oil on linen, 44 x 56 inches
Tell me about your college years in the U.S. Were you an art major?
I went to college in the early 70s when Abstract Expressionism dominated the art scene. I had a lot of intellectual curiosity so I wanted to go to an academically challenging college. I went to Harvard, where the art department was very small, almost nonexistent, but the art history department was excellent. Art History proved to be the perfect fit because I loved learning about the different periods of history though the lens of art and architecture. I could take a few art classes so I signed up for a drawing class taught by William P. Reimann. He had us drawing all sorts of objects, and fellow students. One day he brought in a twisted tree stump for us to draw. We drew self-portraits at the beginning and end of the class, and I couldn't believe the difference between my "before" and "after" drawings. Taking this class really changed the way I approached drawing.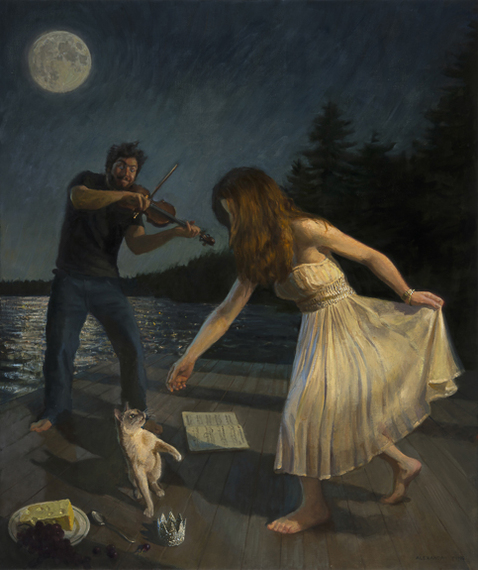 Perigee, oil on linen, 50 x 42 inches
What did your art look like when you began to paint seriously? How has your work changed over time?
When I was in high school, our school librarian bought a painting from me, and from that moment on I was serious about painting and totally hooked on oils. My early paintings were all reliant on photos so the color looked like 1970s color photos and the values were really exaggerated. I knew how I wanted to paint, and I knew I wasn't there yet, but I couldn't imagine the long road ahead of me.
In college I saw a lot of art in museums and was particularly taken with how Sargent painted the illusion of air in the shadowy darkness. I was determined to figure out how to mix color so I could achieve that illusion. All through my 20s, my art was slowly improving but it was not until I had two very young children and was not finding much time to paint that I had time to think about color; more specifically, the relationship between direct sunlight, indirect light, and shadow. I developed my own color theory, and a systematic way of mixing paint colors that resulted in a big breakthrough in my painting skills.
Another big hurdle was values. When my kids were a little older I began painting outdoors and from models on a regular basis, and within a year or two I noticed a drastic improvement, so I've kept on with that, going on painting trips every summer and painting from models whenever I can, even with my commissioned work. Today I use a combination of oil sketches from life or nature, photo references, and imagination to make paintings. I think, if you looked at my early work, you'd notice a similarity in subject matter, but a great difference in skill. Hopefully, I'll be way better twenty years from now. Learning is a lifelong process.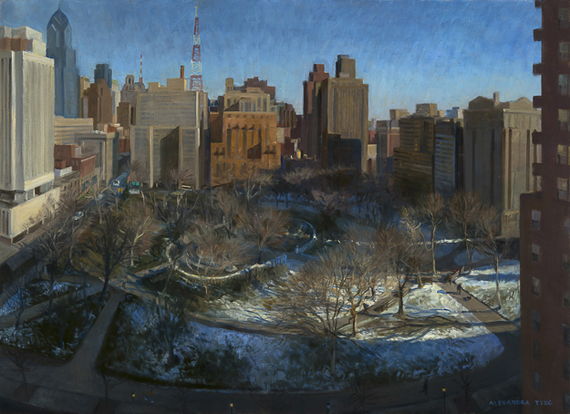 Rittenhouse Square in Snow, oil on linen, 32 x 44 inches
Who have your mentors been?
I've had the good fortune to meet and become friends with the husband-and-wife team who illustrated so many of my favorite children's books, Beth and Joe Krush. Beth died a few years go, but I still see Joe and sometimes I bring him a painting I'm working on. He's great at pinpointing problems with composition and perspective, and he gives me excellent advice. I admire him so much and consider him a true friend.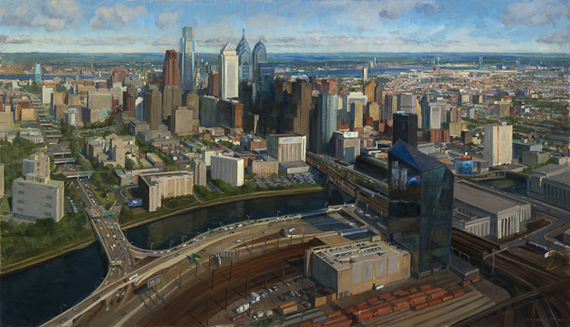 Downtown Routes, oil on linen, 38 x 66 inches
Your current show seems to have two themes: "Intersections" which are cityscapes and also "Ways" which are works that come from personal experience. Tell me about these dual tracks in your work.
It's interesting to me that you see these two genres as separate "tracks" in my work because, when I first started painting, that's the way they were--not in my head, but as they appeared to the outside world. I had two totally different careers painting commissioned portraits and landscapes for gallery shows. The separation felt more and more artificial until, about 12 years ago, I made the decision to bring landscapes and figures together in my work so people could actually understand what was going on in my head. It's important to me that the figures are totally integrated with the environments.
So the theme "Ways and Intersections" actually refers to both genres. In the cityscapes it's literally about the ways of getting from one place to the other, and the interconnections between places that you see more clearly when you are looking down from an elevated perspective. The idea of "Ways and Intersections" also has to do with people and human relationships, the journey through life and the interactions between people. I like imagining how things look from different people's perspectives. My figurative paintings are about the people I paint and also a little about me--so each painting is like an intersection of thoughts, feelings and experiences.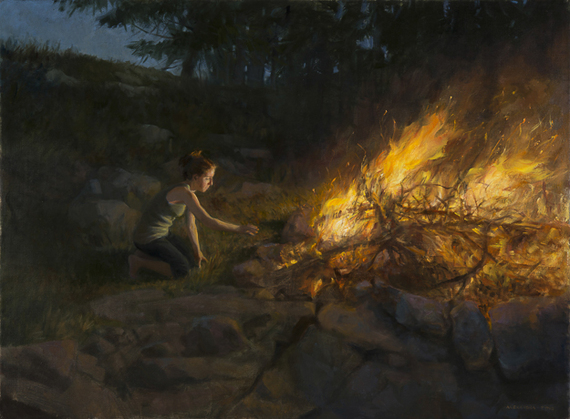 Jannipäev, oil on linen, 34 x 46 inches
Can you tell me about the imagery of the work Jannipäev?
Jaanipäev
is the Estonian word for Midsummer Eve, or St. John's Eve. My daughter spent a year in Estonia, studying in Tartu and researching her grandfather's (my father's) early life on Saaremaa. While she was there she went to a Jaanipäev celebration and came away from it with a strong impression of this ancient tradition involving a bonfire and dancing in the long summer twilight. The painting is about her memory of Estonia and her connection with her own roots. The fire also refers to her grandfather's childhood on Saaremaa where he burned his face and hands in an accident with hot coals when he was three years old. This was a life-changing experience, to almost die from burns and then be disfigured for the rest of his life. Fire appears in my work quite a lot as a symbol of transformation.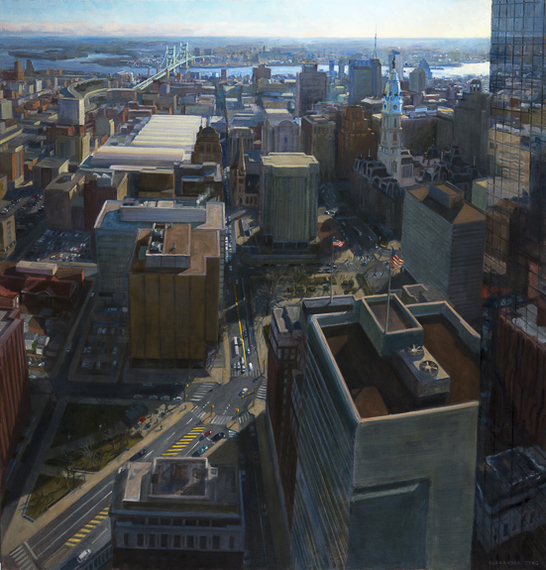 Off the Grid, oil on linen, 48 x 46 inches
What are your interests outside of art?
That's a hard question because everything I do these days seems to relate to art in some way. Every year I go to Maine, and when I'm there I love to hike, canoe, kayak and swim. I try to stay active all year. I read a lot, mostly fiction, historical fiction, biographies, Jungian theory, fairy tales, mythology, and folklore--but that relates back to art again because I get ideas for my paintings. I'm also passionate about Victorian architecture, furniture, and fashion; my husband and I live in a Victorian house that has been in a perpetual state of restoration in-process for more than twenty years.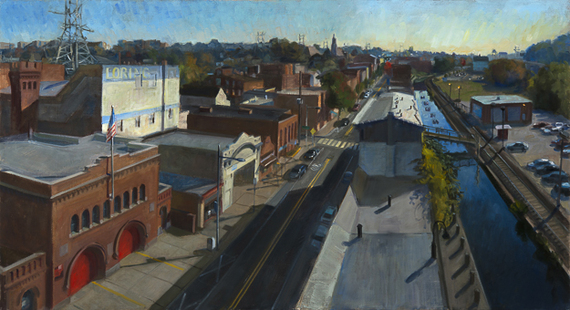 Parallel Ways to Center City, oil on linen, 24 x 42 inches
Is there anything else about your work that should be said?
It's hard for me to judge what's worth saying about my own work. I put a lot of thoughts, feelings, and ideas into my paintings, and I don't expect everyone to see or care about all that goes into them. The important thing to me is that a person looking at my work will enjoy it and bring his or her own associations into the experience. If there's a little overlap, then there is a communication between the artist and viewer. This area of overlap is not a visual experience--it's sensed rather than seen. It's what gives art its mystery and impact. This "unseen aspect" of art is what I strive for and hope to express in all my work.
Links:
Alexandra Tyng at Gross McCleaf Gallery
Alexandra Tyng: Paintyngs (Blog)