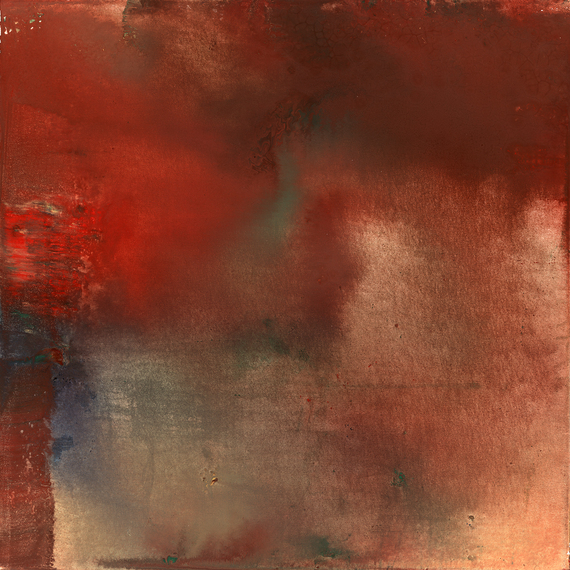 Chelleneshin #21, oil on canvas, 30 x 22 inches
The paintings of
Yari Ostovany
, now on view at Stanford University's Paul G. Allen building, are stylistically related to works by second-generation American Abstract Expressionists -- for example Helen Frankenthaler and Jules Olitski -- but as curator DeWitt Cheng notes, they also are inspired by and refer to the artist's Iranian cultural background. For example, the title of Ostovany's painting
Chelleneshin
refers to a period of solitude:
Chelleneshin is a compound word in Persian consisting of the words Chelleh; which describes a period of forty days; and Neshin, which literally means sitting. It refers to a seeker going into solitude for a period of forty days and forty nights to pray and meditate. In several mystical traditions, The Cycle of Forty is a common duration needed for spiritual metamorphosis and transitions to another, transcendent dimension.
Ostovany's interest in and ability to reference culture strikes DeWitt Cheng, who organized the exhibition, as admirable: "I find his seriousness about spirituality and his cultural heritage interesting and inspiring. I wish that more artists today took it upon themselves to attain a modicum of cultural literacy both inside and outside of their disciplines/professions. And Yari makes beautiful, gutsy paintings too."
I recently interviewed Yari Ostovany and asked him both about his background and his art.
John Seed Interviews Yari Ostovany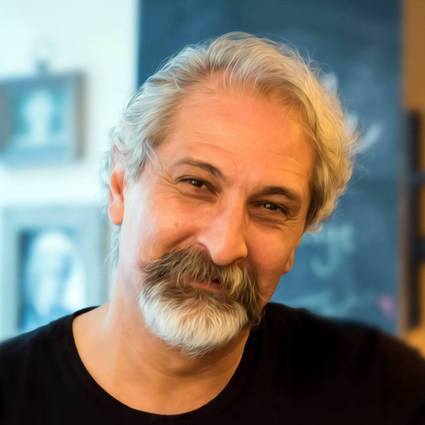 Yari Ostovany
What can you tell me about growing up in Iran? Were you always artistic?
My father's love of music (both western classical and Persian classical music) meant that music was always filing the air in our house when I was growing up. My first love was poetry, modern Persian poetry to be precise. When I was 14 a friend of mine who had started taking painting classes encouraged me to do so as well saying that she thought it wold suit my temperament perfectly. My first art class was a Tehran University extension class while I was still in high school (my sophomore year). I was hooked. Gallery hoping in Tehran became my favorite pastime and the newly built Tehran Museum of Contemporary Art my hangout.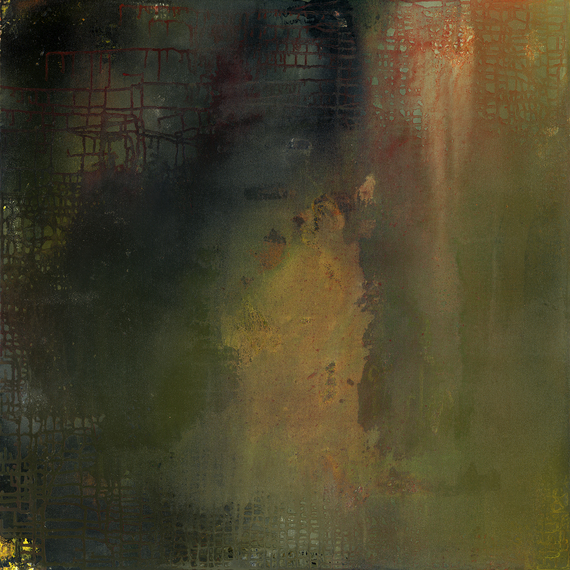 The Third Script, #30, oil on canvas, 36 x 36 inches
Tell me about your studies in Nevada and San Francisco.
I did my undergraduate work in Northern Nevada (University of Nevada in Reno) and my graduate work at the San Francisco Art Institute. I was fortunate enough to cross paths with some wonderful teachers in both places. I think living in Northern Nevada instill a sense of space, a sense of vastness in ones work.
How did your art develop while you lived in Cologne?
I maintained a studio at first in Merten (halfway between Cologne and Bonn) and then in Cologne proper. I work on many pieces at the same time and so change manifests itself slowly in my work, so I can't quite put my finger on exactly how living there affected my work.
Have you had any important mentors?
I have been fortunate to have two outstanding mentors, both from the San Francisco Art Institute; the late Carlos Villa and Jeremy Morgan whom I continue to learn from still.
Tell me about some of the poetic sources that inspire your current work.
For me it is not about any specific poetic sources. I am interested in the non-linear and in general it is the lyrical and poetic quality in things that draws me towards them. I suspend myself in an atmosphere, a feeling and let it wash over me. True, occasionally a book or the oeuvre of an author or an artist kindles a creative spark (flow) as in the work of John Berger whose sensibility I connect with in a very direct way but for the most part it is the general atmosphere of a piece for example Attar's
Conference of the Birds
or Beethoven's
Grosse Fuge.
Conference of the Birds #55, oil on canvas, 30 x 30 inches
Can you describe some of your working methods?
I approach my work in the studio with as much of a Zen beginner's mind as possible, quieting the mind, connecting to a greater energy and using the energy of the gravity of the earth to push and move paint. There is a lot of pushing and pulling of paint using traditional as well as non traditional tools. I start with gestural marks (sometimes calligraphic-based), solid forms and shapes which then begin to disintegrate as the layers explode and implode, are added, rubbed out, re-applied, scoured into and scraped away and built back up, expanding and developing in a rhizome like, lateral structure until the distinction between the foreground and the background and the spatial hierarchy begin to dissolve - somewhat akin to layers of memory - and give way to another, ephemeral sense of form and visual phenomena.
Are there any living artists that you admire?
Too numerous to mention but to name a few Gerhard Richter, Pat Steir, Tony Magar, Anselm Keifer, ...
What are your interests outside of art?
Music (mostly classical, jazz and world music) philosophy, mysticism, literature and theater.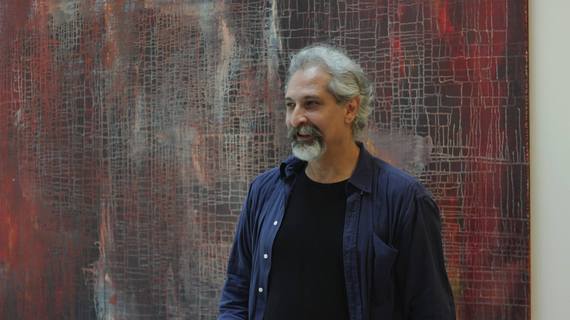 Yari Ostovany: photo by DeWitt Cheng
Exhibition Information:
Two concurrent solo exhibitions,
Numinous
, by Yari Ostovany and
We Will Never Not Have Been
by Jamie Bollenbach, will both be on view through July 10th in The Center for Integrated Systems of the Paul G. Allen Building, Stanford University. The exhibitions continue in the adjacent David W. Packard Electrical Engineering Building.
For a map and directions, visit the
Stanford Art Spaces Facebook Page
About Stanford Art Spaces
Stanford Art Spaces is an exhibition program serving the Paul G. Allen Building, housing the Center for Integrated Systems, the program's longtime sponsor, and the David W. Packard Electrical Engineering Building, with smaller venues located throughout campus. All are open during normal weekday business hours.
For further information, or to arrange a tour, please contact Curator DeWitt Cheng at 650-725-3622 or dewittc@stanford.edu.