At the Crocker Art Museum in Sacramento, the works of
David Ligare
(b. 1945), a contemporary Classicist and a maker of "literate pictures" are currently on view. Ligare, who endows his images with strong Conceptual underpinnings, seeks out ancient ideas that are relevant to the modern world and paints them in a refined, elegant and luminous style.
I recently interviewed David Ligare, and asked him about his artistic development and his ideas.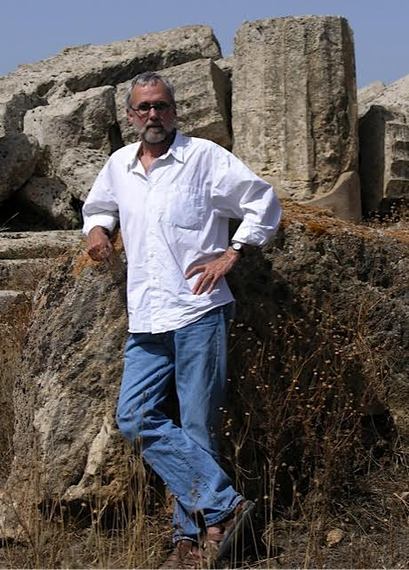 David Ligare
John Seed Interviews David Ligare
David, tell me a bit about your beginnings as an artist.
As a student, I went to Art Center in Pasadena: this was from 1963 through 1965. I was in the illustration program but I left that program because I wanted to be a fine artist. I began working outside, working directly from nature, mostly in watercolor. The earliest works in the Crocker show date back to when I lived in Big Sur and when I was experimenting and looking at all manner of approaches to art making. I was very aware of New York and Los Angeles artists and what they were doing at the time, but back then I was looking for my own voice amid all the various styles and concepts.
How did your work develop in the first decade of your career?
In the 1970s I did a series of paintings of draperies floating over the sea, named after Greek Islands. The forms reminded me of classical sculpture, of broken and fragmented Hellenistic art from which only the drapery remains. I exhibited these works in New York in 1978 and after the show I asked myself: "What else can I do with this?"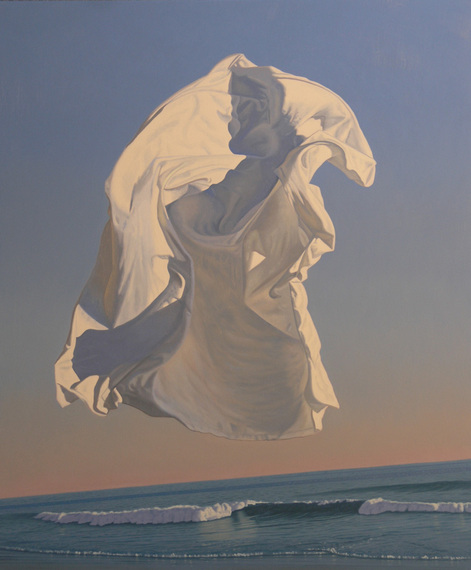 Serifos, Thrown Drapery, 2010 oil on canvas, 60 x 40 in. | Private Collection
I had a lot of questions, for example: should my work, which was very photorealistic, be more expressionistic? I went through the whole menu of things that other artists were doing and I found that there were thousands of artists doing each type of work. There are thousands of Abstract Expressionists, thousands of Conceptualists, thousands of Pop artists, but NOBODY was doing anything with Classical narrative. "This is an interesting challenge," I decided.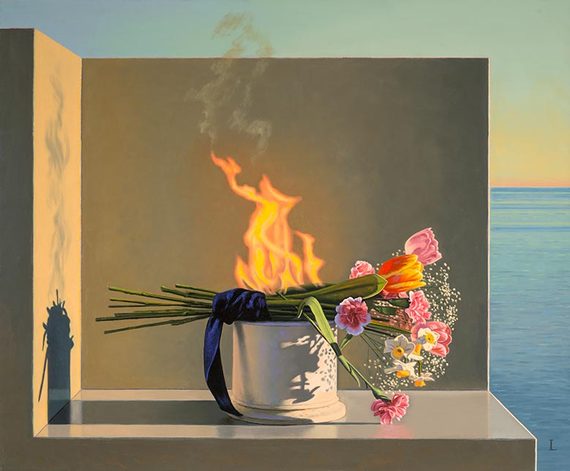 Still Life with Burning Flowers, (Offering), 2015 | oil on canvas, 20 x 24 in.
Weren't there at least a few Europeans--for example Carlo Maria Mariani--who were working with Classical imagery in painting?
There were, but at the time I didn't know about the others. By the early 80s I became aware that there were others using classical imagery in one manner or another, I also became acquainted with Postmodern architects like Leon Krier who gave me a greater sense of how Neo-historicism can affect city planning and social organizations. There were also a number of exhibitions that had some kind of classical theme, Modern Myths was one, but most of the contemporary classicism was connected to Postmodern architecture.
Of course since then Postmodernism has become something else entirely. At any rate, the type of work that I was doing, and which interested me, was rarely covered in art magazines and the shows weren't reviewed. There were so few people doing what I was doing: it felt wonderfully illegal. I liked that part about it. It seemed like the truly "modern" thing to do, to go against all the art laws of the time.
I did get a very good review from William Wilson in the Los Angeles Times in 1983. That was encouraging. I got a very bad review from another critic in the LA Times in 1986 but he didn't really know his art history so it was easy to dismiss. I also felt pretty confident in my direction by then. Things began to change in 1988 when William Wilson of the LA Times profiled me along with Jon Swihart, Randall Lavendar and John Nava in a major feature article titled "The Shock of the Old." That had an impact.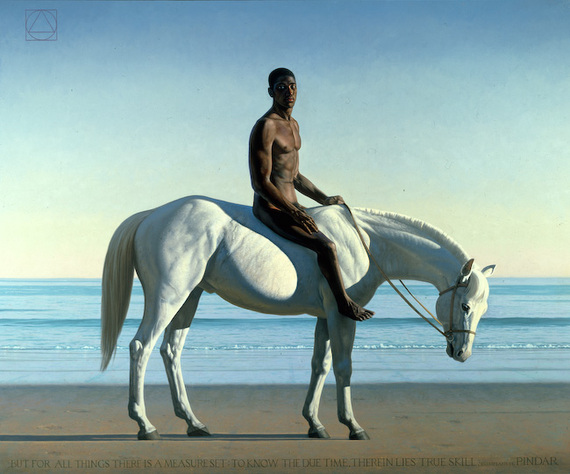 Arete (Black Figure on a White Horse), 2000 | oil on canvas, 96 x 116 in. Collection: The San Jose Museum of Art, San Jose, CA
What motivates you to work with Classical ideas and imagery?
I have said over and over: 'As a society, we are in need of a renewed desire for knowledge.' Art can answer that need by inspiring us to look at history and the foundational elements of our culture. There were amazing thinkers in ancient times. That rich wisdom seems so radical to me, and it is often totally applicable to contemporary situations. Also, I think I am first and foremost a conceptual artist, and as a result I am interested in theory. Ancient art is very much wrapped up in the idea. An historian like Winkelman concentrated on ancient aesthetics, I'm more interested in the concepts and ideas - followed up, of course, by the reverence of representation. My work is also about scholarship, and learning. I see serious study as a radical act.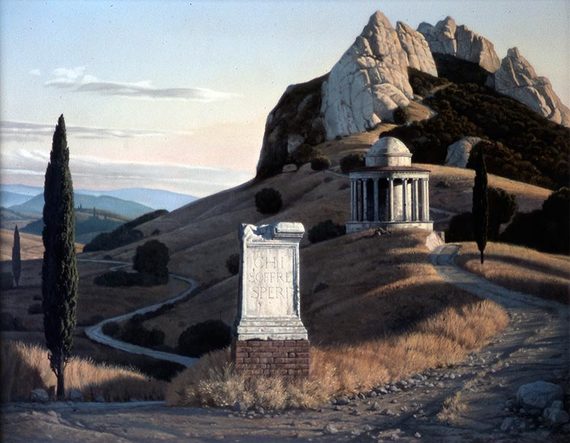 Chi Soffre Speri, 2003 | oil on canvas, 40 x 48 in. | Private Collection, London
What was it like to see your work from past years brought together at the Crocker?
To walk in and see all those paintings, including many I haven't seen in many, many years was extraordinary. One of the things that surprised me was the scale: these are big museum-sized paintings. But they look so right to me, as if someone else had painted them. I'm very happy with how the show looks. The curator Scott Shields and his team did a wonderful job with the installation and with the book.
What do you hope viewers will take away from the show?
I want people to know that there are quite specific ideas connected with the paintings in the show: the labels are great and will help explain them. Each work has a philosophical or historical idea attached to it.
Can you tell me about a few of the images and ideas?
Hercules Protecting the Balance Between Pleasure and Virtue, 1993 | oil on canvas, 60 x 56 in. | Private Collection, Santa Barbara, CA
The essence of Classicism is balance between opposing forces. My painting of Hercules is about the balance between pleasure and virtue, about living our lives with the right balance between the difficult things and the enjoyment of life's pleasures. There is a common misconception that Classicism is authoritarian but it actually isn't. If you look at Greek pots, they illustrate every aspect of ancient life from worshiping the gods to war to sex - even vomiting and defecating. Classicism is filled with all the joys and sorrows of life - of seeing and perceiving and thinking the deepest thoughts.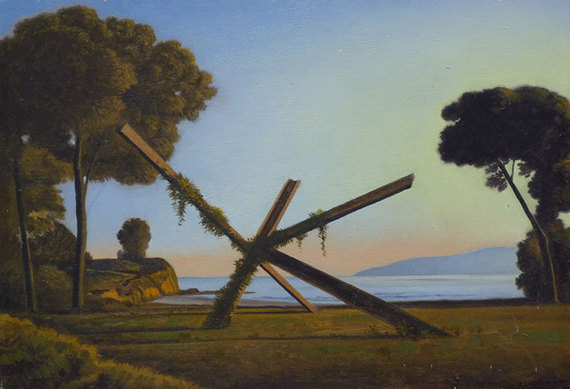 Et in Arcadia Ego, 1987 8 1/2 x 12 in. | Private Collection
The most interesting thing for me is to deal with big ideas like Death, as I did in my painting Et in Arcadia Ego. Even though we may be living in a beautiful place (and we do) there is always that potential awareness of mortality. The late afternoon light in my paintings is another representation of the melancholic passage of time.
What do you tell people who find your art and interest in Classicism conservative?
Well, first of all, although I enjoy looking at lots of Contemporary art, I also feel that despite it's extreme diversity, it follows pretty strict conventions. It is now literally the academic in that it is taught in almost all the schools and is eagerly welcomed into all the museums. I have often said that I wanted to make paintings that are as difficult for a contemporary curator or critic to see as a Richard Serra sculpture is for a farmer. Art that is absurdist, irrational or trangressional might be amusing and expensive but it is no longer either radical or useful. It is now the conventional and conservative. The true liberal is a Humanist with all that implies.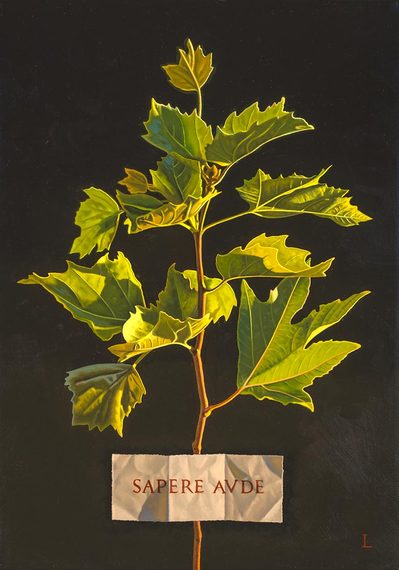 Sapere Aude, 2015 | oil on canvas, 20 x 14 in.
The inscription appearing on a branch in my painting Sapere Aude means "Dare to be wise." It's a quote from Emmanuel Kant from the period of the Enlightment and it is something that I think is now a radical idea. As I said before, I strongly believe that we are in need of renewed desire for knowledge. If students have no passion for learning, then even the best-funded schools can't help. The culture is the key.
Exhibition:
David Ligare:
California Classicist
The Crocker Art Museum, Sacramento
June 7, 2015 - September 20, 2015
Symposium:
On July 18th the Crocker Art Museum in Sacramento will present an all day Symposium on the art of David Ligare and Armin Hansen. For information and registration contact the Crocker Museum at:
https://www.crockerartmuseum.org/calendar-event/310