If you look over the biography of artist Ruth Weisberg you will note that she was born and raised in Chicago. After earning a BA and an MA in Michigan, where she also taught, Ruth moved to Southern California in 1969 where she has lived since. Ruth has also spent time overseas, including three formative years in Italy between the ages of 17 and 21, as a student at the Academia di Belle Arti in Perugia.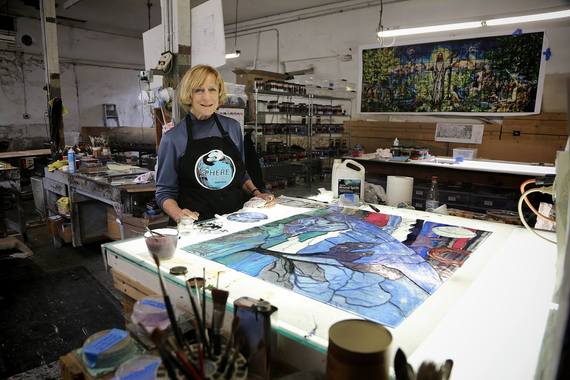 Ruth Weisberg at Judson Studios, Los Angeles: Photo by Eric Minh Swenson
Of course, the physical locations where an artist literally "lives" may have only slight connection to the life of their mind. In Ruth Weisberg's case it has to be said that she has lived--as an artist--in the margins between reality, history and art, constantly inter-weaving them in an effort to reconcile her own identity and experience with universal forces and concerns. To put it another way, Ruth has a feeling for culture as adventure. Making art is her personal way of obliterating the boundaries of time and place and of using imagination and empathy to suggest parallel realities that are zones of the "in between."
"My main pre-occupations have been time and memory," Ruth recently explained to me; "I'm very interested in the artist's ability to travel through time." While growing up in Chicago--her father was an architect and her politically active mother was "the president of everything"--Ruth was exposed to artistic culture by the Art Institute of Chicago, where she also took her first ten years of art classes. She grew up with the knowledge that her family was part of a diaspora. The sweetness of her early life was both deeply connected to her family's Jewish heritage and also tempered by her growing awareness of the previous generation's tragic losses.
By her fourth class at the Art Institute Ruth had made up her mind to become an artist. It helped that her parents approved of her choice, and also that she was able to study as a teenager with a brilliant drawing instructor: Emmanuel Jacobson. To this day drawing remains central to Ruth's work in all media including printmaking and painting and is an important aspect of her teaching at the USC Roski School of Art and Design.
Because of her attachment to drawing and earlier engagement with Italian Renaissance art, Ruth found herself "out of synch" during her art studies at the University of Michigan. "The choices were Abstract Expressionism or Pop," she recalls. "I was interested in surface and tactility but couldn't have been more remote from Pop." As a woman artist Ruth also became increasingly aware of her relative "invisibility" in the male-dominated art world. After graduate school she held a teaching job at Eastern Michigan University and also received a Ford Foundation grant to research and illustrate a Holocaust-themed book:
The Shtetl, a Journey and a Memorial
.
For Weisberg, who as a young woman saw and was emotionally devastated by her grandmother's "Memorial Book," filled with images of Polish Jews who had perished in the Holocaust, this project was a watershed. It established her "voice" as an artist, and confirmed her feeling that as an artist she could be a "witness to history" across time and memory. Like writer/critic Susan Sontag, who in 1945 saw photos of Nazi concentration camps in a book and later wrote that "When I looked at those photos something broke," Ruth is a Post-Holocaust intellectual. Her art is driven by her sense of empathy towards a profound quest for life's redemptive meanings as the antidote for her glimpse of incomprehensible evil.
Looking across time is both an imaginative act for her and a moral imperative. As Ruth once wrote: "My work demonstrates intense interest in the cycle of life, the continuity of generations, and issues of survival and impermanence."
* * *
Weisberg's current exhibition--
Ruth Weisberg: Reflections Through Time
--offers the opportunity to view and consider a selection of her key works. Most are drawings and prints, along with a single mixed media painting on canvas. "I see painting and drawing as tremendously inter-related," Weisberg comments, "and printmaking has always been very important to me." The show has been hung to forefront pairings of works and relationships between themes, and works that might have been made decades apart are often seen in close proximity.
The color lithograph
Waterborne
, created in 1973, is one very personal and revelatory image that suggests myriad themes and possibilities of meaning.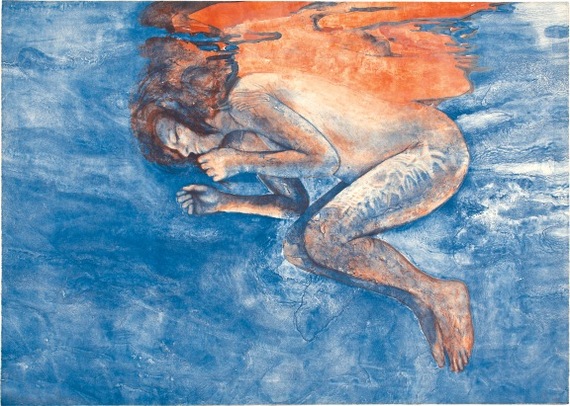 Waterbourne, 1973, Color Lithograph, 30 1/4 x 42 1/4 inches
While pregnant with her first child, Weisberg floated nude in the pool of her great friends the art patrons Elyse and Stanley Grinstein. In some respects, the lithograph she created from this event could be said to be a record of a performance that deals with emergence, motherhood and birth. In fact, Weisberg had been around performance and dance during her time in Ann Arbor Michigan, and after coming to LA had taken part in a performance workshop with the late Rachel Rosenthal.
Printed at Cirrus Editions,
Waterbourne
is a rich masterful print that demonstrates Weisberg's confident drawing and interest in texture. It presents a distinctly feminist consciousness, in which the artist presents herself as having a heightened awareness and sense of control over her own progress towards giving birth while also accepting the fluidity and risk of her situation.
La Comedia é Finita, 1977, Lithograph, 29 1/4 x 37 1/2 inches, Edition of 30
In a black and white lithograph made four years later--
La Comedia é Finita
--themes of transition are again apparent, but in a much darker context. Weisberg has always taken an interest in cinematic and theatrical settings, and in this case both are at work. A figure of Pierrot, a Commedia Del'Arte character who also appears in the paintings of Watteau, draws back a curtain to reveal the climactic scene of Marcel Carne's
Les Enfants du Paradis (Children of Paradise)
which was made during the Nazi occupation of Paris. A close examination of the figure of Pierrot, a character who often serves to suggest an honest witness or interloper, will tell you that "he" was modeled by a "she:" a friend and filmmaker named Laura Vazquez who often took care of Weisberg's children.
Among the faces in the crowd are those of some of the nearly 1,800 extras hired for the film--including members of the Resistance--many of whom were youthful and starving. Weisberg, who responds intuitively to her source material, is clearly dealing with the collisions between art and life that occurred during the making of the film, and with the idea that art can create an imaginative space in which one can make sense of life's potent mixture of pain and joy. For Weisberg, who was an infant in the relative safety of the United States during the years when this film was made, the print also explores the theme of where she was versus who she might have been.
Although Weisberg's ability to work on an intimate scale in making drawings and prints is one of the strengths of her oeuvre,
Reflections Through Time
also features a monumental, mixed media drawing, Island, that is just over four feet tall and seven feet and one half feet wide. Made for Weisberg's 2008 exhibition at the Norton Simon Museum--
Ruth Weisberg: Guido Cagnacci and the Resonant Image
--it is one of a series of works created to respond intuitively to a painting in the Simon's collection:
Martha Rebuking Mary for her Vanity
. Emanating from her conviction that contemporary art is not separate from art of earlier periods, Weisberg conceived
Island
as a dialogue with a work of art that was very much receptive and alive to her imagination.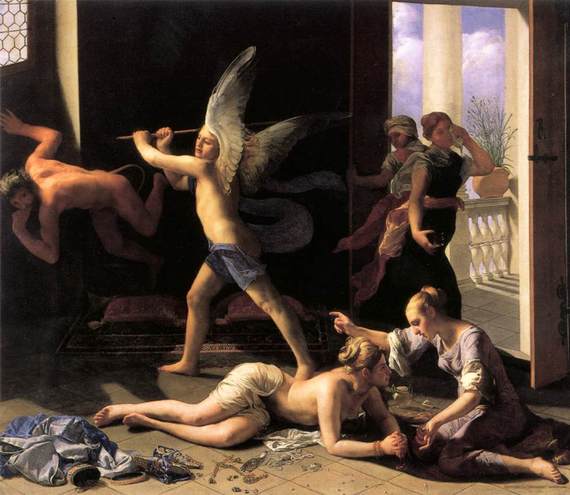 Guido Cagnacci, Martha Rebuking Mary for her Vanity, c.1660, 90.2 x 104.7 inches
The Norton Simon Museum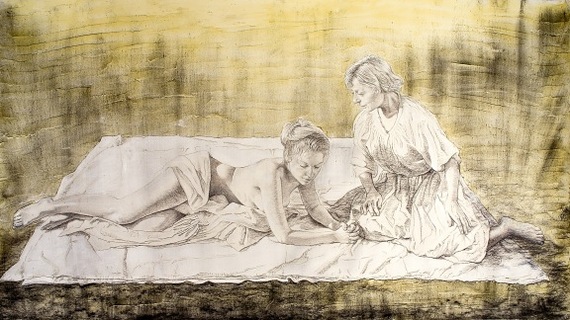 Island, 2007 Mixed Media Drawing on Paper, 51 1/2 x 90 inches
"I think it's a great painting," Weisberg says of the Cagnacci. "It has a theatrical sense of ensemble and presentation." Weisberg's drawing isolates two characters from the original canvas--the reclining semi-nude figure of Mary Magdalen and her kneeling sister Martha--and recasts them with herself and her daughter-in-law Laura Darlington. It is a re-enactment, something that is present of many of Weisberg's recent works. In regards to the Cagnacci image, Weisberg explains: "At its core, the original painting is about the relationship between two women." Weisberg's re-enacted and re-focused variation softens the sense of "rebuke" and transmutes the relationship between the two women into something more affectionate: perhaps a blessing. In fact, another major work in this series is titled
The Blessing
.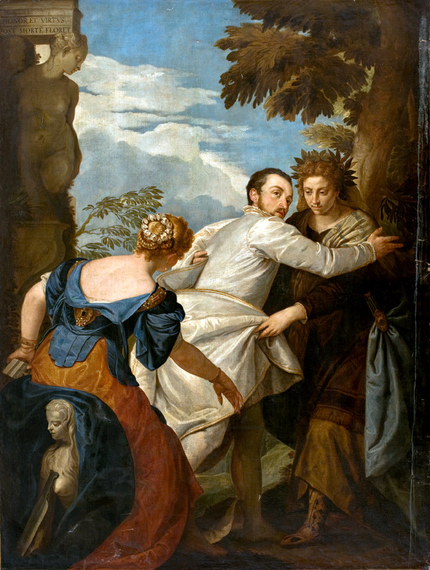 Paolo Veronese, The Choice Between Virtue and Vice, ca. 1565
Oil on canvas, 86 1/4 x 66 3/4 inches
The Frick Collection, New York
Another of Weisberg's re-enacted works is based on a work by Veronese that Weisberg views as "a very great and troubling painting." Titled
The Choice Between Virtue and Vice
, which is described by the Frick Collection's website in this way:
At a crossroads, Hercules encountered Vice, who offered a path of ease and pleasure, and Virtue, who indicated a rugged ascent leading to true happiness -- a moral lesson underlined by the motto on the entablature at upper left: [HO]NOR ET VIRTUS/[P]OST MORTE FLORET (Honor and Virtue Flourish after Death). The long talons of Vice have ripped the hero's stocking. A jagged knife leans against the breast of the sphinx supporting her throne.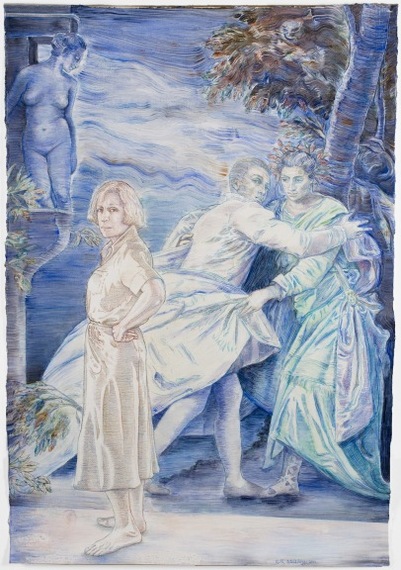 Questioning Veronese, 2011, Oil and Pastel on Gessoed Paper, 37 x 25 1/2 inches
Weisberg's painting removes the figure of Evil, and replaces it with a self-portrait that glances toward the viewer. "It's significant when someone in a painting is looking at
YOU
," Weisberg observes. "When characters don't look down or away, it reveals that the artist knows that they are going to have a direct communication with the work's viewers." As to just what her glance means, Weisberg is hesitant to comment: "My glance has many interpretations, and I like people to come to their own conclusions."
"While so many artists want to make history by being contemporary through stylistic gyration," explains art dealer Jack Rutberg, "Ruth Weisberg makes history contemporary. Art history is her source of inspiration as it converges with her own history." Looking through Weisberg's show it is very clear that not only is she deeply interested in finding the life and meanings of culture over time, while seeking to involve others in her sense of connection.
"A combination of intellectual and emotional is what I want" says Weisberg. As her show demonstrates, she balances those two aspects with considerable confidence and grace.
Ruth Weisberg: Reflections Through Time
June 13 - August 29th, 2015
Jack Rutberg Fine Arts Inc.
357 North La Brea Avenue
Los Angeles, CA 90036