In his most recent paintings, artist Adam Harrison explores the particular places he encounters in his everyday life. Working for periods of between four and six months, Harrison records both interiors scenes and cityscapes, documenting them with honesty and a journalistic approach. The resulting images--emptied of cars and people--emanate a certain sobriety while still hinting at human endeavor and energy.
John Seed Interviews Adam Harrison
Adam Harrison
Can you tell me a bit about your early life? Where did you grow up and were you always artistic?
I grew up in Boulder Colorado, in eyeshot of the Boulder Flatirons, where I was born into a pretty artistic family. Starting with my dad, whom I remember making intricate drawings of complicated circuitry and the like for electric engineers on his drafting table, would also show me wonderful M.C Escher type drawings that he made on his downtime during the Vietnam War. My grandmother on my father's side was one the founding members of the Helena Arts Council, which eventually turned into the Holter Museum of Art. Visiting gallery spaces, which exhibited curated shows put on by my grandmother, made a great impact on me. Also my mother, being a published children's book writer, surrounded me with books on artists and art techniques all my life.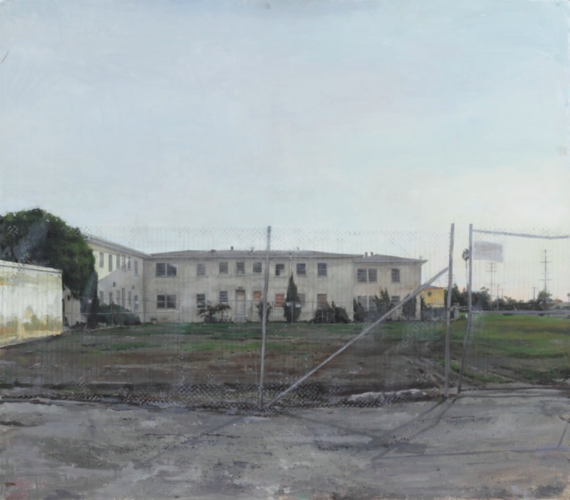 Lincoln Place (03/12), 2012, oil on panel, 42 x 48 inches
Did you have any important mentors while studying at LCAD and/or Long Beach?
Yes. The most important mentors for me would have to be Stephen Douglas from my time in Laguna, who taught me not to be afraid of paint; and Domenic Cretara and Yu Ji from Long Beach, for teaching me the value of working from life.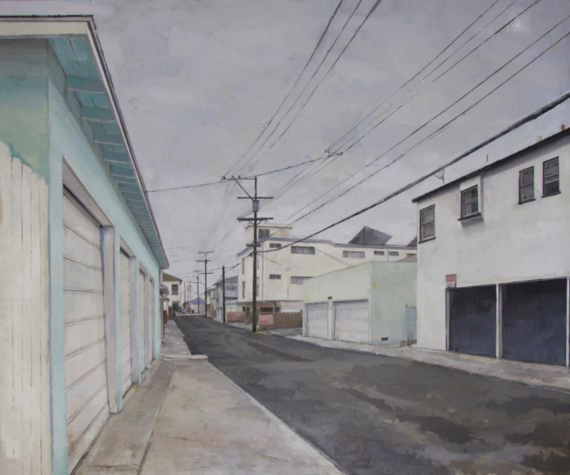 Ocean Park Alleyway (04/13-10/14), 2014, oil on panel, 50 x 60 inches
How long have you been painting cityscapes? How did you become interested in them?
I've been painting cityscapes since 2011. It was June of that same year when I saw a retrospective for Antonio Lopez Garcia. I was immediately impressed with Garcia's devotion to working with subjects he knew very well, like the city of Madrid, and also to his commitment to working from life. And that's when I started to paint and draw my city of West Los Angeles.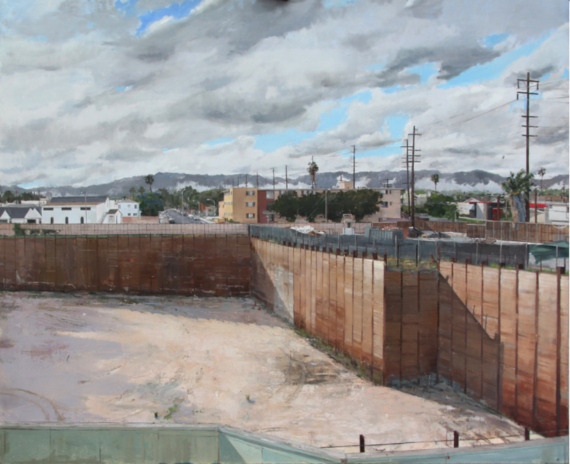 1900 Pico (12/14-7/15), 2015, oil on canvas mounted to panel, 48 x 58 inches
Tell me about one of the locations depicted in a recent painting and why you chose to paint it.
One of the most recent paintings came from the discovery of this huge pit, which was excavated about seven years ago on the grounds of Santa Monica College. When I was first hired there as an adjunct professor of drawing I was shown around the arts facility and came across this construction site. I was immediately taken by the vastness of the space carved out beneath the feet of Pico Blvd and the daily life outside of its tall construction fence - however it is completely invisible from everywhere except a few high outlooks from the college. "1900 Pico Boulevard", like all my paintings, was chosen by three criteria: practical to get to, and set up for a painting, i.e. workplace. Secondly, the location has to have a certain impact on first discovery. Lastly, the site has to be memorable, so much so, that the thought of not painting it, seems much worse than the energy and time needed to complete it.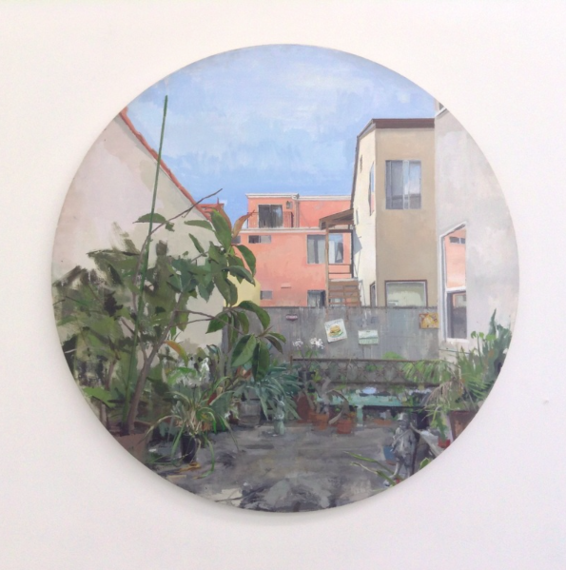 Lapin (03/14-09/15), 2015, oil on wood, 48 inches in diameter
Your work has a serious and reserved mood about it. Are you that way as a person?
I would agree that there is a fair amount of seriousness and reserve in my paintings but my working conditions force me to be spontaneous too; which yes, perhaps could describe my personality.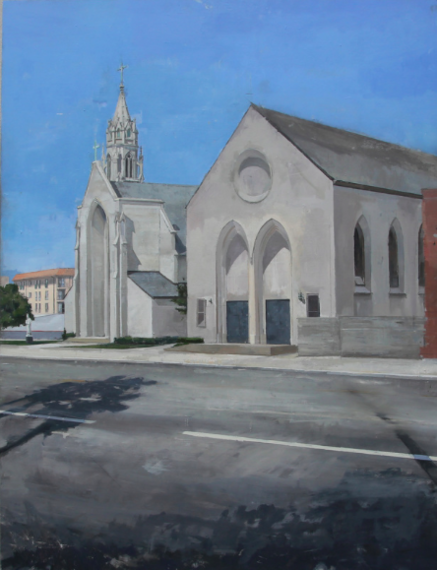 Saint Augustine (04/14-08/15), 2015, oil on panel, 60 x 46 inches
Who are some artists that you admire?
Well, I've already mentioned Garcia, but to list off the other artist which have been the greatest help to my development as an artist would have to be: Euan Uglow, Andrew Wyeth, Claude Monet and Rackstraw Downes.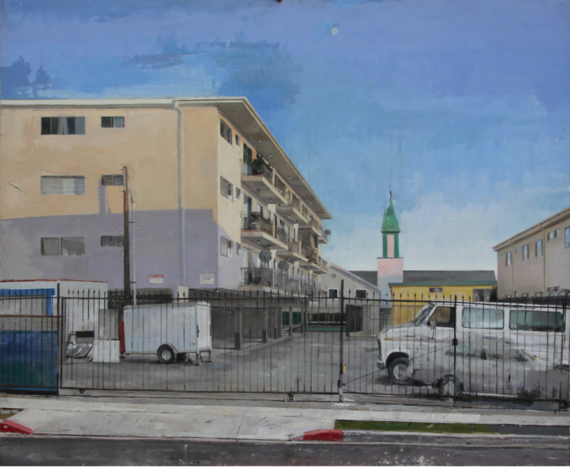 Santa Monica (06/14-08/15), 2015, oil on panel, 50 x 60 inches
What are your interests outside of painting?
I enjoy the outdoors, such as the rugged coastline of Northern California. Also, attending theater and visiting museums with my girlfriend, and reading history books - currently
The Journals Of Lewis and Clark.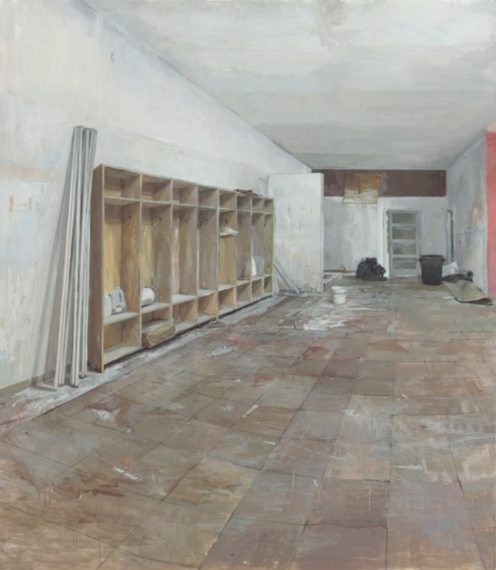 South Street (03/12), 2012, oil on panel, 42 x 48 inches
Is there anything else that you would like to mention?
Every time I head out to my painting site I experience a certain level of anxiety and it can take me a good twenty to thirty minutes to relax enough to enter the painting. But the strange thing is, I love working in public spaces, even past the nerves, I always gain new history and stories of the worksite by meeting the people who live and work around these areas.
ADAM HARRISON: Thousand Skies
September 12 - October 24, 2015
The George Billis Gallery
2716 S. La Cienega Boulevard
Los Angeles, CA 90034