Paul Schimmel (far left) speaks to a phalanx of arts journalists
Yesterday I attended a press preview at the about-to-open
Hauser Wirth & Schimmel
Gallery in downtown Los Angeles and came to the frightening realization of just how many arts journalists there are out there:
ZILLIONS
. So rather than writing extensively about the new gallery, or the show on view (
Revolution in the Making: Abstract Sculpture by Women, 1947-2016
) I'm going to just make a few choice observations. If you want to read more, don't worry: a tsunami of coverage is on the way.
Here is one thing that has to be said: Paul Schimmel knows how to make lemonade when handed lemons. What he has accomplished since being fired from MOCA in late June of 2012 is staggering. Speaking to the press yesterday and describing his vision for what Hauser Wirth & Schimmel can and will be must have been the high point of his life. Schimmel and his partners in this enterprise have given Los Angeles a tremendous gift.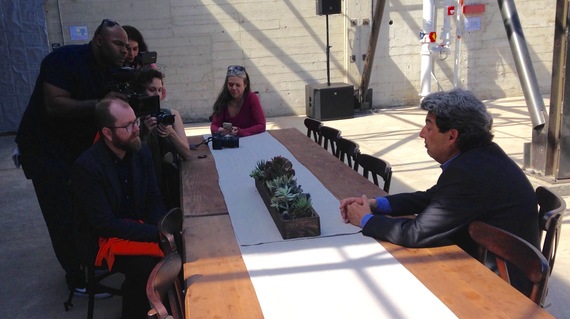 Paul Schimmel faces his interviewers
Regarding the building:
go see it when it opens to the public this Sunday.
My personal response is that it is a wonderfully re-purposed space that preserves a sense of history and feels welcoming but not pretentious. It reminds me of MOCA's Geffen Contemporary (the "Temporary Contemporary in it's early days) in that has been renovated in the service of art, not in the service of an architect's ego. It doesn't feel at all corporate and has a genuine sense of civic purpose. Some glimpses follow: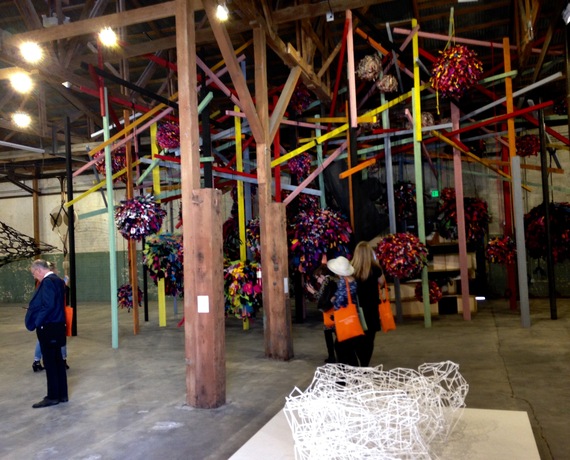 Looking into the East Gallery: Rachel Khedoori's Untitled in the foreground

Phyllida Barlow's untitled: pianoframeandcover in the background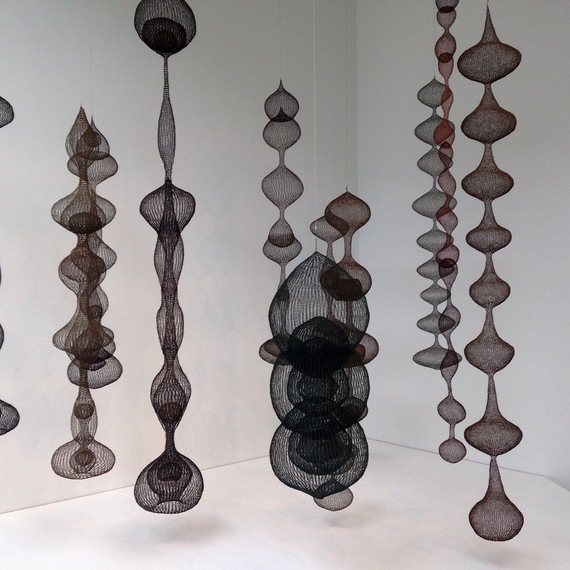 A group of works by Ruth Asawa in the South Gallery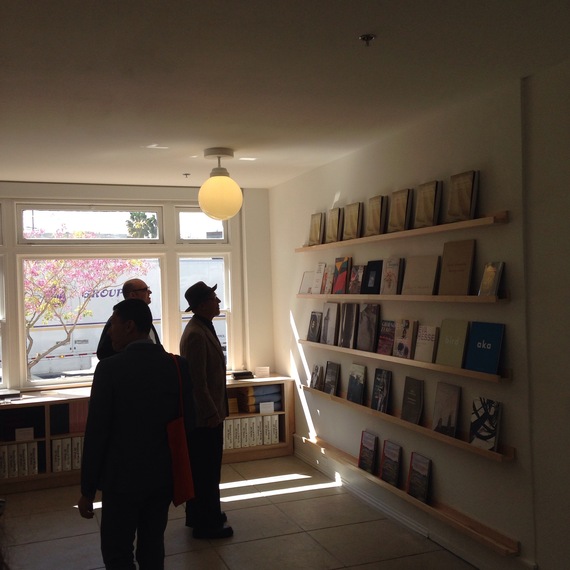 A reception area and book display
Regarding the exhibition here is a capsule review: it is absolutely wonderful. Again, other writers will soon tell you more. The work that made the biggest impression on me was that of Lee Bontecou (I missed her 2003 show at the Hammer). I stared into the maw of her powerful Untitled of 1961 and felt grimly fascinated by the saw-band teeth that glimmered in its recess.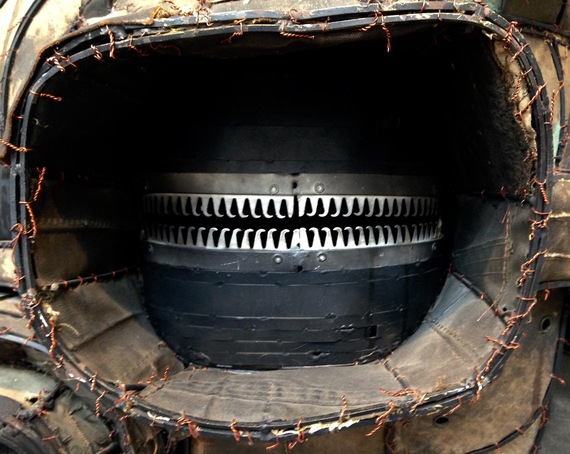 A detail of Lee Bontecou's Untitled, 1961
After the press preview, I drove just down Santa Fe under the freeway and visited CB1 Gallery, where visiting gallerist George Adams had just installed
JOAN BROWN HERSELF: Paintings and Constructions, 1970-80.
I wasn't able to take any installation views as the Hauser Wirth & Schimmel event had depleted my iPhone's battery, but I can tell you that the show fits perfectly into CB1's smaller annex.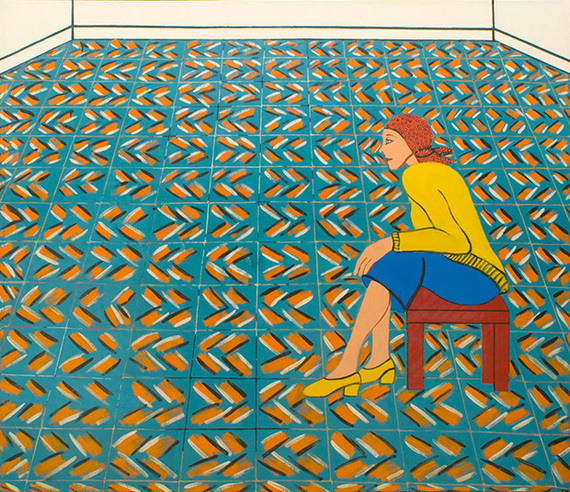 Joan Brown, Woman Waiting in a Theatre Lobby, 1975, Enamel on canvas, 78 x 90 inches
Here is a some information about just what is on view:
JOAN BROWN HERSELF begins chronologically with examples of four enamel on masonite paintings from the early 1970s; notably "Christmas Time (Noel and Joan)" (1970) and "Parts of A Woman" (1972). Additional works include two constructions in cardboard and string, "Luxury Liner" and "The Smoker" (1973) as well as two large-scale canvases, "Woman Waiting in a Theater Lobby" (1975) and "The Kiss" (1976). The exhibition continues chronologically with an example of her late-70s immersion in spirituality, "Cosmic Nurse" (1978), and concludes with "Self-portrait at Age 42" (1980), one of many "birthday" self-portraits she painted over the course of her career.
Whether you haven't ever seen Joan's work before--or if you are like me and haven't seen it in a long time--you will enjoy this show. The work is remarkably touching and it has grit and humor too.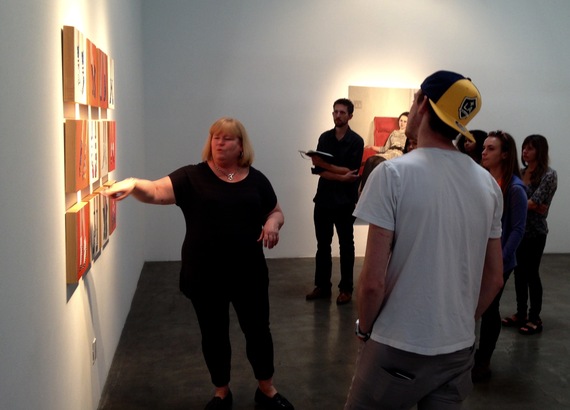 Lani Emanuel discusses her work
At Bergamot Station (my next stop) the theme of art by women continued. At
Lora Schlesinger Gallery
, where I was joined by a group of students from the Laguna College of Art and Design, painter Lani Emanuel told us about the evolution of a five year body of work on the theme of young women coming of age. Crisply observant and lovingly crafted, Emanuel's suite of paintings is worth a visit.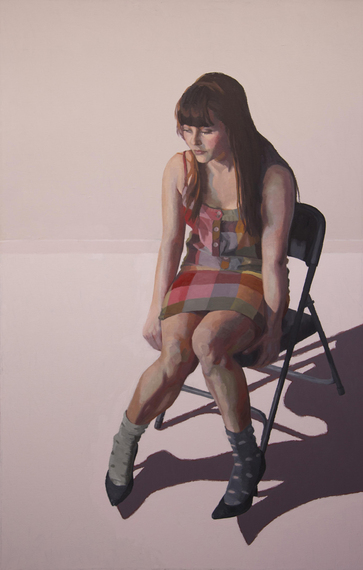 Lani Emanuel, Zorn Zara, 2014, oil on canvas, 66 x 42 inches
Driving home, the skyline of downtown glistened as I sat mired in slow-moving traffic. A raging fire at a commercial building in Boyle Heights -- not too far from Hauser, Wirth and Schimmel -- added smoke and color to the scene, suggesting a celebratory bonfire. If you don't mind risking the traffic, you should really consider attending the public grand opening of Hauser, Wirth and Schimmel this Sunday (information follows). LA's art scene is blossoming and coming of age and women artists are in the spotlight. Both of these things gives us reasons to smile and hope.
***
'Revolution in the Making: Abstract Sculpture by Women' will be on view at Hauser Wirth & Schimmel daily from Wednesday, Friday - Sunday: 11 am - 6 pm and Thursday: 11 am - 8 pm, from 13 March through 4 September, 2016.
GRAND OPENING: Sunday, March 13th, 2 to 6 PM
***
Joan Brown Herself: Paintings and Constructions, 1970-1980
at CB1-G 1923 South Santa Fe Avenue, Los Angeles March 11 - April 23, 2016 Opening Reception: Friday, March 11, 6 - 8 p.m.
***
LANI EMANUEL
She's Becoming
January 30 - March 12, 2016 ARTIST TALK: Saturday, March 12, 2016 @3pm