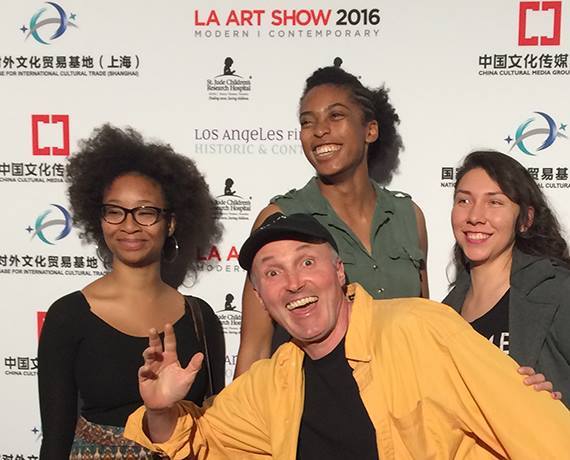 Walt Morton at the LA Art Show
Walt Morton, a brilliant former adman who now writes and paints in Venice Beach, CA has been sending me scouting reports from the LA Art Show. Walt has an eye for talent and I am passing on the "Academy Awards Style" mentions and comments he has sent me. Links to artist's sites are included. - John Seed
WALT MORTON: The Los Angeles Art Show is now 21 years old. What started as a sleepy sales event for a handful of West coast galleries has grown into LA's native world-class art fair. 60,000 viewers come to see 130 international galleries packed into one giant hall of the LA convention center. I saw a lot of art presented in far greater density than any museum, and in a more chaotic arrangement. Seeing 10,000 pieces of art in one room is enough to nearly cook your eyeballs.... I confine my review to oil and acrylic paintings of which there were hundreds at the show. To further narrow the field, I sought out works that meet the following criteria: "Works of high technical merit and skill and/or works by a new artist unknown to me and/or works with originality." I want to make you aware these painters exist and also to give each artist a virtual fist-bump of respect. Am I prejudiced in selecting any of these painters? The short answer is no. I just have unusually exquisite taste and in the best spirit of Hollywood, I'm giving out my personal awards to the following artists:
***
BEST ANTI-PORTRAIT TO DANIEL COVES
Just enough detail but not fussy. It's funny and somber. Perfect execution of this idea.
http://danielcoves.es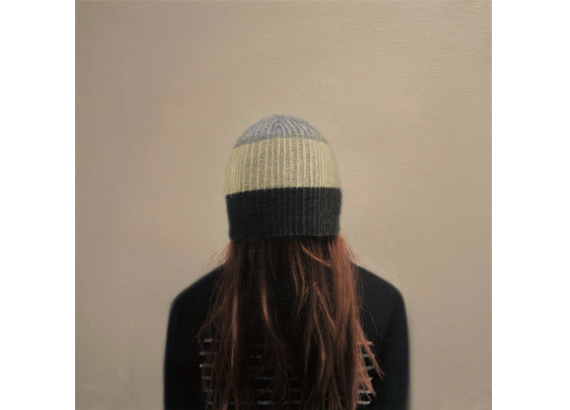 BEST ANTI-SEASCAPE TO MATTHEW CORNELL
He re-energizes this venerable genre by painting common seawater with a rare jolt of pleasure.
http://matthewcornell.com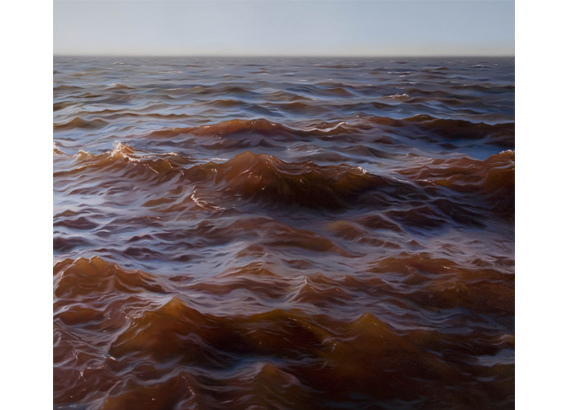 BEST ZEN MOMENT TO TAMIE OKUYAMA
She combines the deep feelings of Shinto nature worship with the joy of Hayao Miyazaki's animated films.
http://www.tamieokuyama.com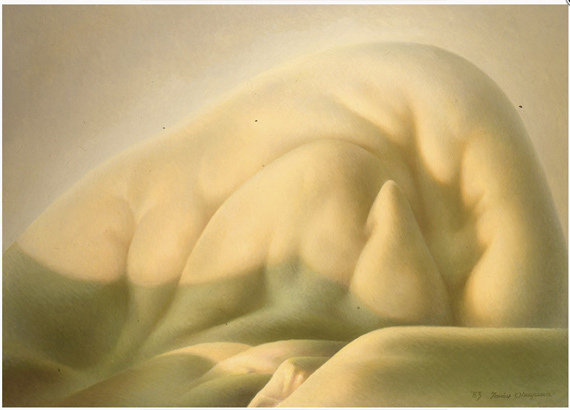 BEST CALIFORNIA ARCHITECTURE TO ANDY BURGESS
Flavors of David Hockney and Raimonds Staprans but a houseful of enthusiasm for the history of design.
http://www.andyburgessart.com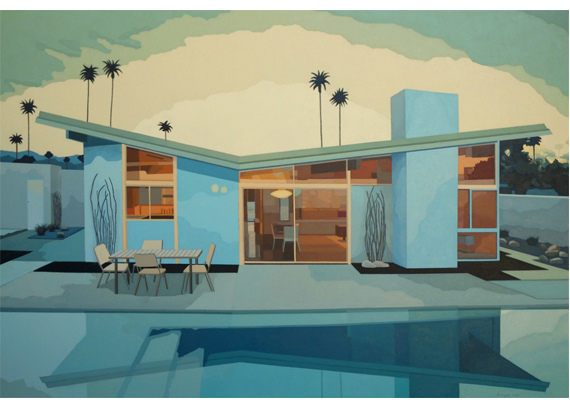 BEST GENRE MASH-UP TO TAKAHIRO IMAI
Unusually successful collision of old Dutch painting-ness with a manga comic book aesthetic.
http://takahiro-imai.deviantart.com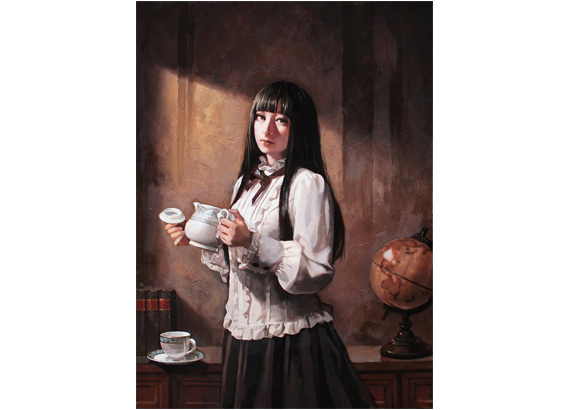 BEST USE OF TOO MUCH DETAIL TO NEIL HOLLINGSWORTH
Among the notable hyperrealists at the show (also Robert Cottingham, Tony South, and Eric Forstmann) Neil's work stands out for his content choices of selected invasive Americana.
http://www.neilhollingsworth.com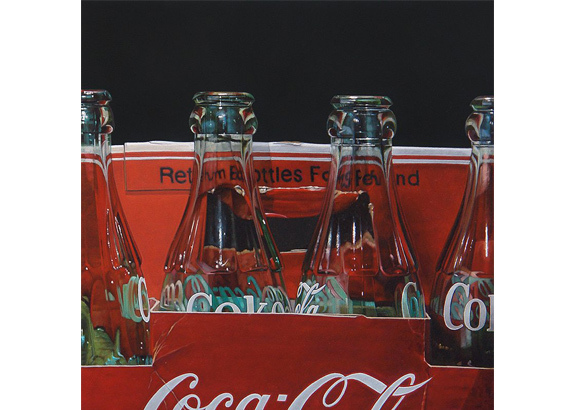 BEST PUNK ROCK FEEL TO VALERIE POBJOY
Documentary and gritty, this smells like the real deal. One of the best paintings of a dirty sink I have ever seen. We've all been in this bathroom, alas.
http://www.valeriepobjoy.com/Painting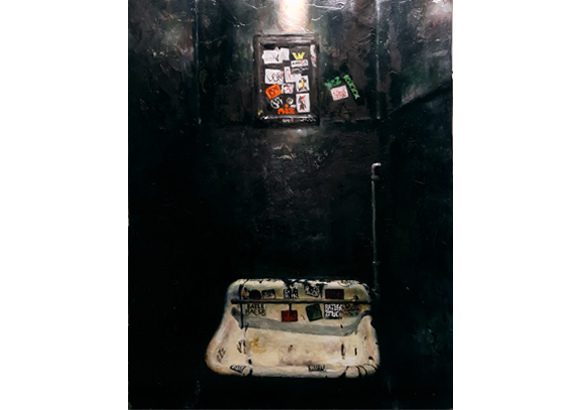 SPECIAL WILDER WILDLIFE AWARD TO JULIE BELL
Unfairly labeled as a fantasy artist, Bell's vivid animals in crazily inventive compositions subvert all previous ideas of what wildlife art should be about.
http://www.juliebell.com/new-paintings/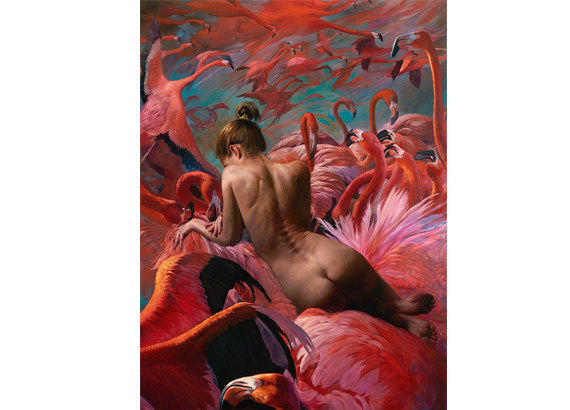 OVERLOOKED GENIUS MEMORIAL AWARD TO RALPH WICKISER
Ralph L. Wickiser (1910-1998) crossed nature and abstraction with a tonalist palette. Far ahead of his time, go compare him to living Beijing artist Lu Song.
http://www.ralphwickiser.com
SPECIAL INSANELY GOOD AWARD TO JAN ULDRYCH
A tour-de-force by a Czech artist showing in LA for the 2nd time. Since graduating art school in 2009, his work has matured immensely. Possibly the next Gottfried Helnwein (but far more reasonably priced.)
http://www.januldrych.com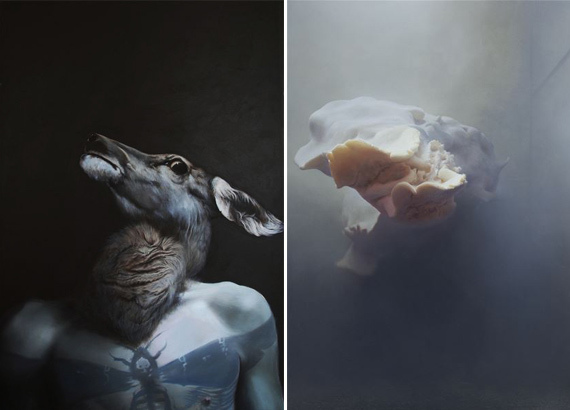 ALSO TERRIFICALLY NOTABLE PAINTINGS BY:
http://www.brittsnyder.com
mysterious, melting and blasted chilly figurative works.
http://davideddington.com
a simplified, stylized world like a happier Luc Tuymans.
http://www.miguelangelmoya.com
fantastic glassy work of yummy preserved sea life.
http://www.jacobdhein.com
colorful human figures that remind me of Alex Kanevsky in a good way.
http://michaeldowlingstudio.com/home.html
iconic big strange works on wood that feel retro-primal.
http://www.amayagurpide.com
super fantastic floral and figurative work, a big talent.
http://www.mandycao.net
fairytale magic realism meets surrealism. Many attempt this innocence, she's got it.
http://www.sebastianvelasco.com
hyper-colored urban dystopias with bravura.
http://www.lipking.com
all about the beauty of Western Americana. And don't forget the beautiful women.
http://www.peterdrakeartist.com
unique acrylic aestheticism, master of the childhood-as-blur zone.
http://www.johanbarrios.com
monochromatic, figurative and peculiar. Faceless fun.
http://tomasspevak.cz
apocalyptic fractured visions of ruined Europe, a scent of Justin Mortimer.
http://www.kisungkoh.com
a good exemplar of magical animal realism (a new mutant genre also explored by Martin Wittfooth and Heiko Müller.)