Painter
William Wray
has a feeling for city grit and urban energy. A versatile artist who is both a skilled plein-air practitioner and an experienced animator/cartoonist, Wray has a brisk, bold style that gives his city scenes a jolt of painterly drama. A selection of Wray's recent paintings will be included in the group show "Uptown" which opens at
Sue Greenwood Fine Art
in Laguna on Thursday March 3rd.
John Seed Interviews William Wray: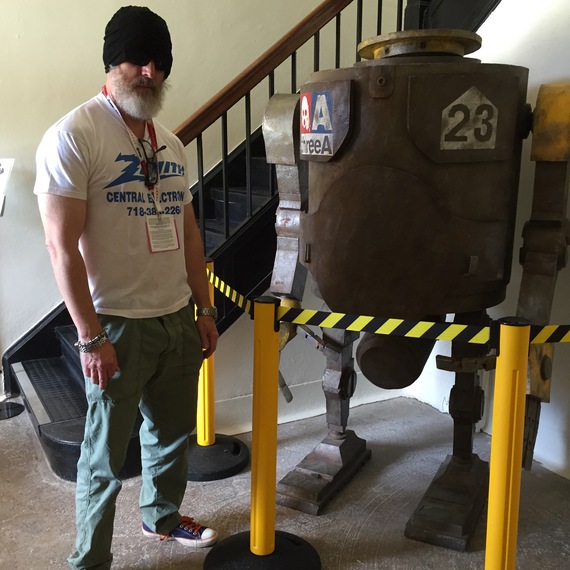 William Wray
Tell me a bit about your upbringing and early artistic experiences
I traveled worldwide as the child of an Army Officer who also wanted to be a modern artist. My mother was a good artist too, but never persuaded herself to be serious about it, but did educate me by taking me to museums for modern art shows. As lonely kid I lived in my imagination spending lots of time copying comic book art, drawing hot rods and war scenes.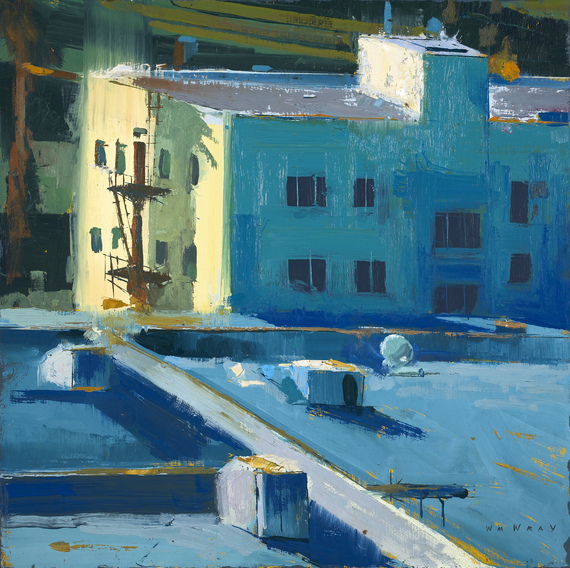 Roof, 24 x 24 inches
How and when did you end up at the Art Student's League?
I wanted to go to Art Center, but my folks said: "Get a degree first at Orange Coast College." To my dismay the teachers there had embraced free love and contemporary art. Foundation classes were spotty at best. So I dropped out and worked professionally in Animation going to school privately on the weekends and at night. One of my teachers recommended the Art Student's League. It was cheap, easy to get scholarships and in NYC where I longed to go anyway.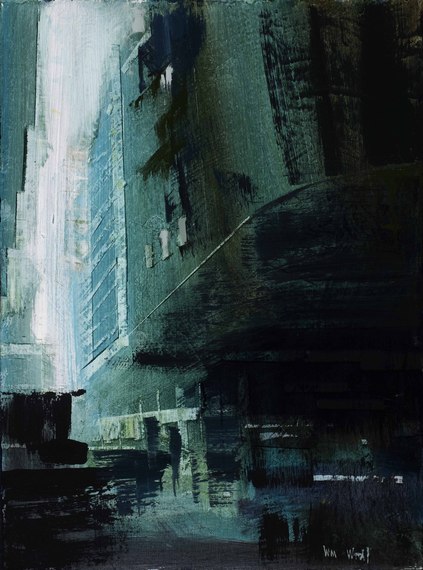 HK Alley #1, 14 x 19 inches
How did your cartooning career develop, and what were some high points?
I've always made a living in animation and comic books. Highlights have included being the head of the
Ren And Stimpy
background painting department and directing and writing many episodes. I did comic books for all the majors and had a ten year stint at
Mad Magazine.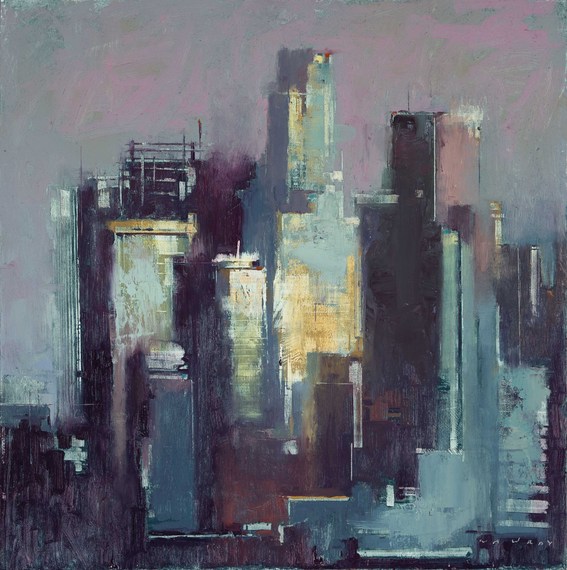 LA, 24 x 24 inches
Your work has aspects of plein air painting, gestural abstraction and illustration (right?) How did it all come together?
I always had fine art as a goal in my back pocket and in mid-life I discovered plein air as a way to break in to some kind of fine art, cartoon backgrounds being a good skeleton for realistic landscape painting. Eventually I evolved to paint more gesturally and came to understand abstraction by deconstruction of my landscapes. I also was obsessed with finding a way to make Illustration technique and narrative accepted as a legitimate fine art approach. My
Hollywood Blvd Superhero
paintings are my bid at selling that concept.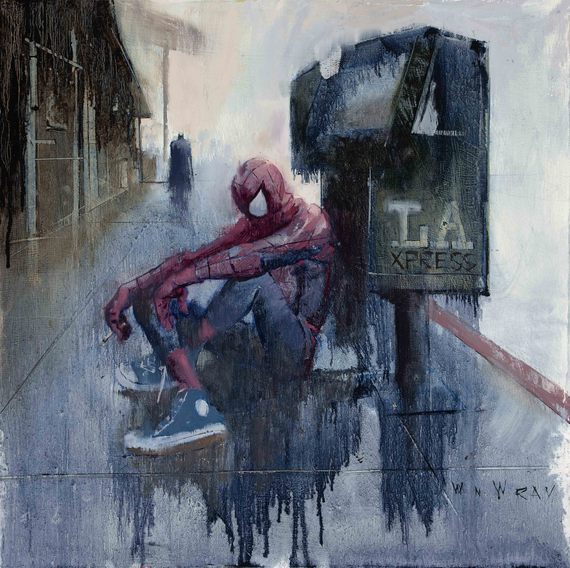 The Breakup, 24 x 24 inches
What are you going to be showing at SGFA? I showing my
Urban Landscapes
which seem to be a comfortable fit for her gallery. It's a combination of loose realism with strong, but simple abstract foundation shapes, varying degrees of transparent under painting and some opaque passages. I generally crop a view as close as possible (without loosing the narrative) to achieve another level of abstraction very much like the process Richard Diebenkorn used to get abstracting from windows on the corner of a building. The show has a nice range of my approach from limited color to rich and bright.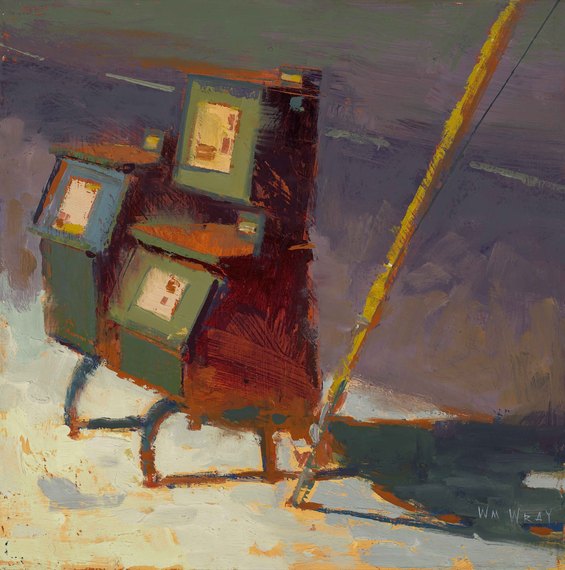 Newsbox, 16 x 16 inches
Tell me a good art world story
When I was going to the Art Students League in NY. I commuted from Soho to 57th Street. There was a new Keith Haring drawing on the subway every week or so. Part of me sensed that his work would one day have value, but I really didn't like it and came to blame him as a symbol of what was wrong with the art world. So I never took one off the wall. I could have collected at least a dozen of them and financed a lot of painting time for myself. Pride.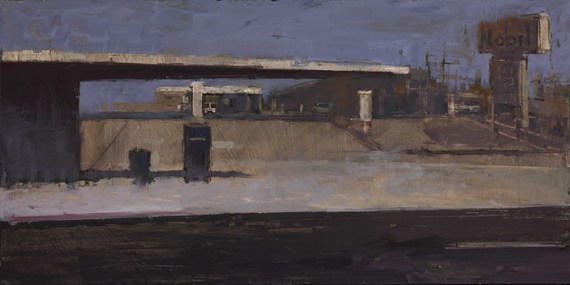 Mobil, 24 x 48 inches
What else would you like to tell people about you and your work?
It's taken me years to understand and accept the contemporary art world and my place in it. As soon as I finally stopped resenting it's dominance, I realized I was interested (in my small way) to convince other classically oriented painters to learn to like or at least understand and be more accepting. I've lived to see the beginnings of a resurgence in figurative drawing and painting skills, I could not be more pleased about it critics like you helping to champion it. I'm hoping traditional art and contemporary can let the past differences go and work together.
UPTOWN
James Kroner, Francis Livingston, Craig Mooney, Glenn Ness, Siddharth Parasnis and William Wray Opening: Thursday, March 3, 6-9PM Continues through April 15th
Sue Greenwood Fine Art
330 N. Coast Hwy. Laguna Beach, California 92651