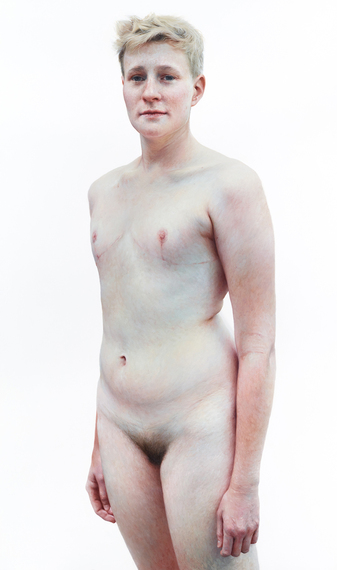 Aleah Chapin, Qwill, 2015, Oil on canvas, 84 x 50 in.
© Aleah Chapin, Courtesy of Flowers, London/New York
In her solo exhibition at Flowers Gallery--
Body/Being
-- artist Aleah Chapin is showing a series of monumentally-scaled nudes that navigate the boundaries of gender specificity, exploring both the male and female experience of the body. The series was partly inspired by the gender transformation experiences of Chapin's cousin Qwill, who recently came out as gender neutral. Chapin's frank, lovingly crafted nudes are powerfully human and uncannily present: painter Eric Fischl calls Chapin "the best and most disturbing painter of flesh alive today."
I recently interviewed Aleah Chapin to ask her about her background and her current work.
John Seed Interviews Aleah Chapin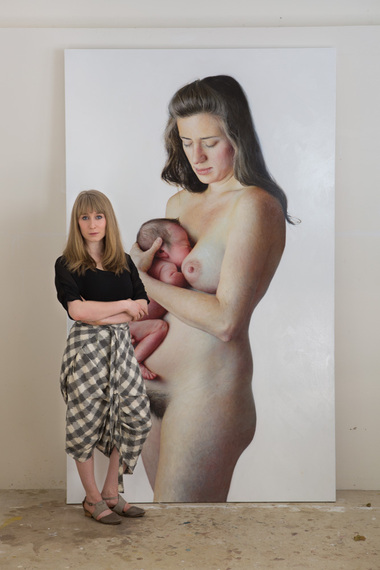 Aleah Chapin: Photo by Hannah Wahl
I underestand that you grew up on an island north of Seattle: tell me a bit about that....
Well it was a really wonderful place to grow up for many reasons, one being the community. My best friends now I've known since we were babies, they are probably more like siblings (many of their mothers are the "Aunties"). Another wonderful thing was the freedom to explore the natural environment and the connection with nature. Most of my time was spent in the woods making elaborate fairy houses or following deer through their narrow paths along steep hillsides. I think this feeling of safety with the natural world gave me a strong foundation of "home."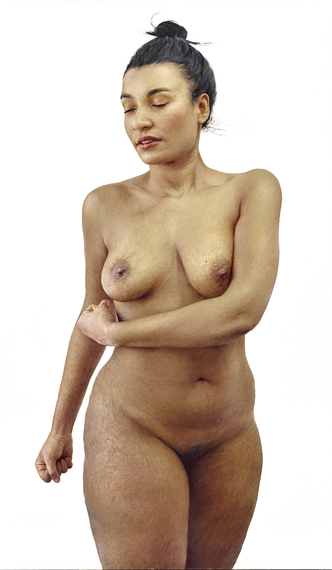 Aleah Chapin, Cece, 2015, Oil on canvas, 84 x 50 in.
© Aleah Chapin, Courtesy of Flowers, London/New York
During your studies (both art Cornish and the New York Academy) what were you painting and how did you develop?
I came to Cornish with a very slim idea of what kind of art I wanted to make. I just wanted to paint and draw people (which is essentially what I do now) but from my first day there, my horizons exploded. I became interested in video art, installation, sculpture, performance and combing them all. It was an incredible time. But by the end of those 4 years, I came back to painting. This lead me to apply to the New York Academy of Art where I was able to dive into my love of the figure and realism, but in a much more conscious way. Moving across the country to this big city gave me the space to explore and I ended up looking right back at the world I came from. I had felt a lot of pressure (from myself) to make "big important paintings about big important things" which never worked. It wasn't until I realized - through being very overwhelmed and confused - that I needed to start at the beginning and just paint what I know. That's how the "Aunties Project" began, which was the base for so much and was the first work that really felt like I was being honest with myself.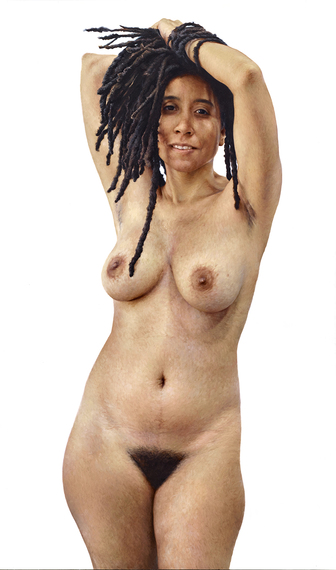 Aleah Chapin, Kara, 2015, Oil on canvas, 84 x 50 in.
© Aleah Chapin, Courtesy of Flowers, London/New York
Being a realist, representational artist is still seen by many as outside of the "mainstream" but you have received tremendous attention and recognition in a short time. Are you surprised, and how have you handled it all?
Yes, I'm really surprised. Getting recognition for paintings of my naked friends and family was the last thing I thought would happen! I made that work because I knew I had to make it, and because I had promised myself that during my time in graduate school, I would forget about "fitting in and making a living" and just focus on painting what I wanted to paint. It was such a surprise when people responded to those paintings. I wasn't expecting it at all, so at the beginning, I don't think I handled it very well, (although it may have seemed so on the outside.)
Inside, I was really overwhelmed at the attention I was receiving. I got solace out of the fact that I felt good about the work I was making, and I felt safe as long as I was in the studio being true to my own vision. I don't want to complain, since seriously I feel like the luckiest person in the world, but through the difficulties of being in the spotlight, I was able to develop some thick skin and realize that the only way through was to continue to create work I felt good about, no matter what anyone else said. And then of course there's the incredible feeling of knowing that by doing this work that is so very personal, I was affecting other people in a positive way as well. Knowing this gives me courage to continue every day.
Aleah Chapin, Paula, 2015, Oil on canvas, 84 x 50 in.
© Aleah Chapin, Courtesy of Flowers, London/New York
The idea of the nude is often associated with perfection and/or heroism. Do you work in that tradition or against it?
Probably against it, but I also find perfection in imperfection and its incredibly important to me to paint people how they are. There is too much glossing over of reality and I know as a woman growing up in this world and struggling with my own body, that we need to see more images of real people. There is so much bravery in inhabiting your body fully, that standing strong in your imperfection is the definition of heroism to me.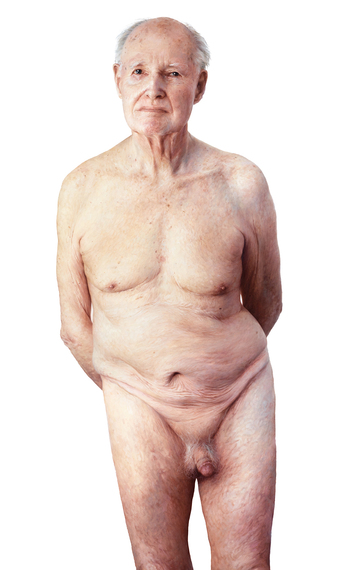 Aleah Chapin, Roger, 2015, Oil on canvas, 84 x 50 in.
© Aleah Chapin, Courtesy of Flowers, London/New York
Tell me about one of the paintings in your current show, and what you hope it captures.
One of the men I was lucky enough to work with was named Roger. He was an 84 year old man and when I first met with him, he told me he had cancer. He wasn't torn up about it, it just seemed like it was a fact of life. During our photo shoot, something was different about him. It was an interesting contradiction between being comfortable and grounded in his body, and also not completely being there. He wasn't attached or self conscious. He just was who he was.
Not long after our initial meeting and photography session, he told me that something had changed and he didn't have much longer to live. I started the painting immediately and worked on it for about a month intensively. One night, when I was getting close to the final brush marks, the painting was giving off a feeling that usually alerts me that it's finished. But this feeling was stronger than it normally is. It was as if he was there in the studio with me, like the painting was more than what I had put into it. The next day, I found out he has passed away that previous evening.
This experience of creating a body through paint while being so aware that this man, Roger, was leaving his body was the most powerful painting experience I have ever had. I realized then that this show was about much more than gender. It was about what it really means to be in a body. What I hope this painting captures is that sense of life's delicacy and that intense relationship we have with the bodies through which we experience this world.
Aleah Chapin, Rachel and Wes, 2016, Oil on canvas, 84 x 50 in.
© Aleah Chapin, Courtesy of Flowers, London/New York
Given that you deal with deeply personal things -- including aging and gender -- do you ever find that viewers are embarrassed or confused by what you present? How about your subjects?
Yes, I think people can be uncomfortable about the work I do, but less often than I would expect. The reactions I get mostly are incredibly humbling. People seem to see themselves in the work which is something I'm so grateful for. By creating such personal work, I hope to reach people on that universal level. My models themselves are the bravest people I know. They are exposing the raw and honest truth about themselves, giving up control to my vision as an artist, and letting what happens happen.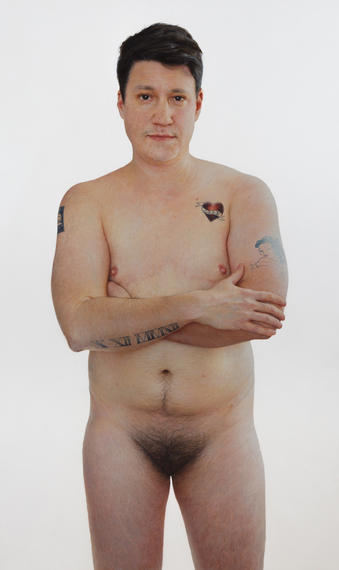 Aleah Chapin, Emmett, 2016, Oil on canvas, 84 x 50 in.
© Aleah Chapin, Courtesy of Flowers, London/New York
Is there anything else about you or your art that needs to be mentioned?
Perhaps just a note about pronouns since much of this show is about gender. If you refer to Qwill, or Paula, both of them prefer to use gender neutral pronouns. This means "They, Them, etc" instead of "She or He". For Example "I'm so thankful to them for posing for the painting". I know it is grammatically incorrect when speaking about one person, and that's something that poses some very difficult challenges, but there seems to be no alternative right now. For Emmett, "He" is good. I know all of this can be pretty confusing, but I want to make sure that I show respect to my models. They give me so much of themselves, that this is really important to me.
Aleah Chapin: Body/Being
Flowers Gallery, Chelsea
May 12, 2016 - Jun 11, 2016
529 West 20th St. New York, New York, 10011