What's a brand? A singular idea or concept that you own inside the mind of the prospect." - Al Ries, chairman and co-founder, Ries & Ries Focusing Consultants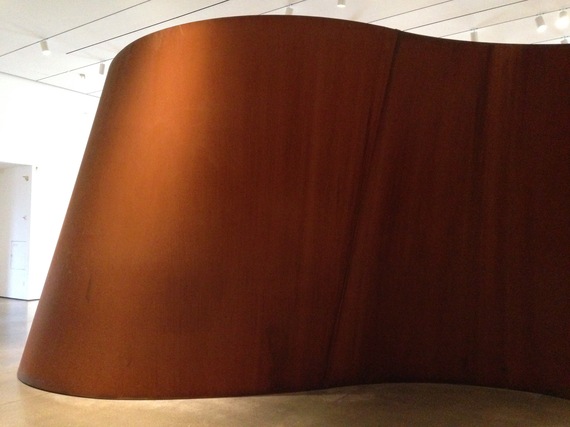 A partial view of Richard Serra's Band on view at LACMA
If you are a museum-going Californian, there is a good chance you have seen one of Richard Serra's massive rusted steel sculptures lately. Since 2006, when Serra's torqued elipse
T.E.U.C.L.A
was installed
at the Broad Art Center at U.C.L.A.
California's finest heavy crane operators have been busy lowering a new generation of his works into prominent locations across the state. I recently walked around Serra's twenty ton
Band
on the lower floor of LACMA's Broad Contemporary Art Museum, where it is literally impossible to miss. Just an hour away, Serra's 66 foot tall, 360 ton
Connector
, installed in 2013, dominates the pedestrian plaza of Orange County's Performing Arts Center. In the Bay Area, visitors to the first floor of SFMOMA's spectacular newly-opened 460,000 square foot building are being greeted by Serra's 2006
Sequence
, which was previously on view at LACMA and Stanford University's Cantor Art Center.
Sequence
, consists of two conjoined steel spirals that weigh over two hundred tons, requires a dozen flatbed trucks when being transported.
Serra's art has become an instantly recognizable brand. When you see massive rusting steel plates in a museum or plaza, the word "Serra" flashes in your mind. A Serra is about massive weight, materiality and scale that controls your experience. Being in or around one--or watching one being installed--is meant to inspire awe and at least a tinge of sublime fear. Every Serra installation is both a work of art and a marketing device that reminds us of the artist's market dominance.
Video: The Installation of Richard Serra's Sculpture Sequence at SFMOMA
Richard Serra is routinely referred to as one of the world's "greatest living sculptors," and the artist himself isn't shy about concurring. In 2013, when Vanity Fair magazine asked 100 art world notables to select "The Six Greatest Living Artists"
Serra voted for himself.
Darren Jones, a Scottish-born critic now living in the U.S., begs to differ. In a recent, widely-circulated blog--
The Fascism of Recent Art History: A Conspiracy of Hysterical Importance
--Jones calls Serra a "McDonalds of the art world" who never fails to "miss an opportunity to dictatorially stomp his jurassic footprint across the globe on the grounds of any museum that will house one of his insufferable metal tantrums."
Honestly, Jones seems to be the one having the tantrum--an art critic tantrum--but in comparing Serra to McDonalds he does touch on an interesting point: its not entirely off base to compare a leading contemporary artist to a ubiquitous brand. One artist friend of mine uses a similar metaphor to poke fun at a broader phenomenon. He notes that contemporary art museums across the U.S. tend to showcase the same "menu" of blue chip contemporary artists, so he calls these museums "Olive Gardens." Theodor Adorno once cautioned that the "commoditization of culture results in conformity," and the seeping presence of "branding" into the field of contemporary art feels consistent with his warning.
Serra's
Sequence
, I would argue, is a kind of logo in steel that "sells" the related "products" on view at SFMOMA, which is now the largest institution of its kind in the world. As any good marketing student knows, effective branding can result in the sales of not just one product, but of other products associated with that brand. The broader field of Contemporary Art ™, with its values of progress, boundary pushing and cultural significance draws more and more well-educated, well-funded individuals towards its commoditized magnetism.
Just a block away from SFMOMA, mega-dealer Larry Gagosian has just opened his 16th location. Has there ever been a more powerful art brand than Gagosian Gallery? Gagosian has played a crucial role in advancing Serra's career and the presence of
Sequence
at SFMOMA must be one of the most validating and powerful "product placements" ever. Gagosian Gallery, it should be mentioned, is listed as one of
SFMOMA's Corporate Donors
, right after Ferrari of San Francisco. Contemporary Art, like Ferrari, is a luxury brand.
In San Francisco, where the 2015 median home value is $1,135,900, luxury brands are the ones that do well.