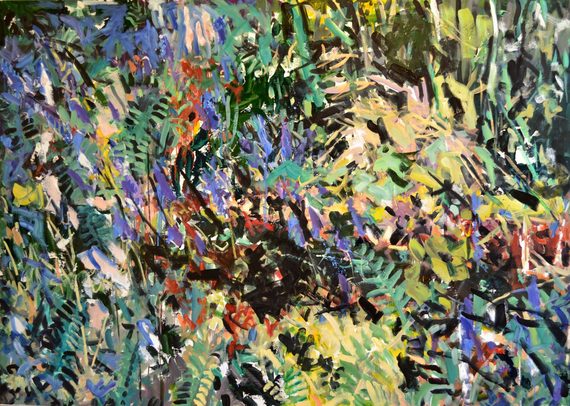 Wild Lupin, Oil on Linen, 79 x 57 inches
Artist Pat Mahony enjoys taking long walks that give her time to reflect and take in her surroundings. Over the past two years, while taking these strolls, Mahony has become tuned in to what she calls the "perfect chaos" of closely observed nature. It is this wild and unpredictable energy--the randomness of light and color seen at a particular moment in time--that has inspired her recent oil paintings. Capturing just the right balance of chaos and structure has been a challenge. "My goal," Mahony explains, "has been to somehow define the chaos of nature without losing the necessity of creating a cohesive painting that hopefully elicits an emotional response from the viewer.
I recently interviewed Pat to ask her about her recent paintings, which will be on view at the
John Natsoulas Center for the Arts in Davis
, beginning on May 18th.
John Seed Interviews Pat Mahony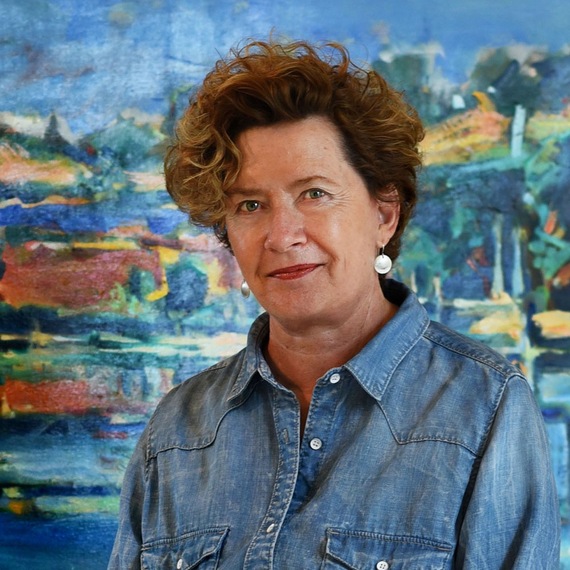 Pat Mahony
Pat, tell me about your education and early career.
I attended the University of California, Santa Barbara, and graduated with a BA with honors in 1973. Because of my financial circumstances I was unable to attend graduate school despite the encouragement of my professors. I worked in the financial field as a stockbroker, first full time and then part time until I could devote myself full time to my art. At that point I took classes from several prominent artists here in Sacramento and finally with their help I was finally affiliated with the Artists' Contemporary Gallery. This was the premier gallery at the time in Sacramento and represented Wayne Thiebaud and Gregory Kondos among other luminaries. It was a huge break for me. This was in 1980. I had my first solo show at Sacramento City College in 1981.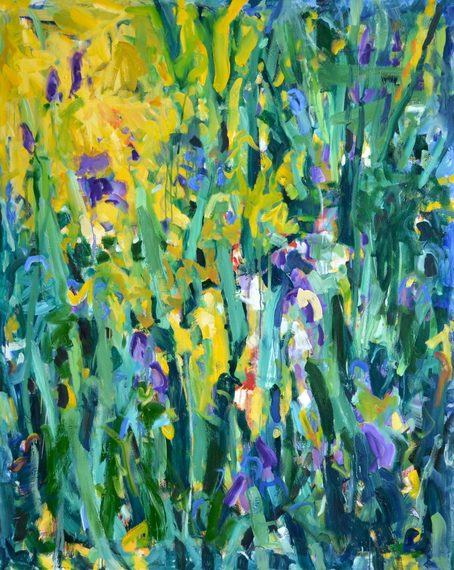 Purple Iris, Oil on canvas, 60 x 48 inches
What kind of work were you doing in the 80s?
Even though my background/degree in college was in printmaking and oil painting, I first started working in watercolors. I have always tended to paint what I know. I was living in an urban environment at the time so I painted architectural scenes. They were interpretations of building facades, focusing on shadows and windows in a grid-like fashion. I started getting national exposure in that medium and won awards in national watercolor competitions and appeared in many watercolor and artist magazines. I also caught the eye of Allan Stone, of the Allan Stone Gallery in New York, and he exhibited some of my work in group shows starting in 1987.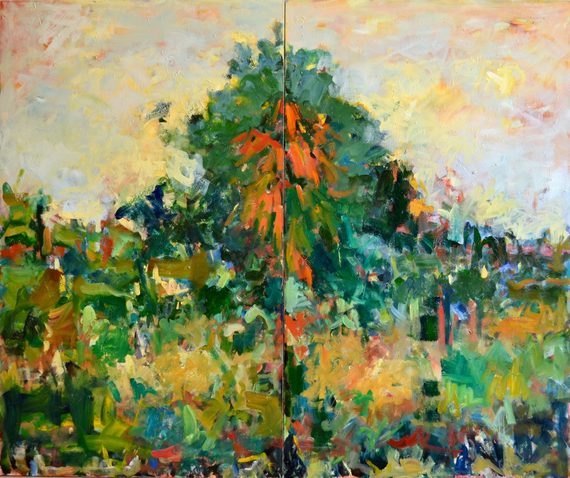 Red Sapling, Oil on canvas, 60 x 72 inches
How did your work change over time?
It was after that time that my husband and I moved to a rural location on the Sacramento River. The move caused me to shift my focus to the landscape. It was at this time that I decided to switch back to oil painting. I wanted to work in larger formats and have greater color fastness with the paint. Almost all of the work I did from 1988 to 2002 were my impressions of the River and the surrounding farmland. The landscapes were well received and many are in the permanent collections of corporate and public institutions.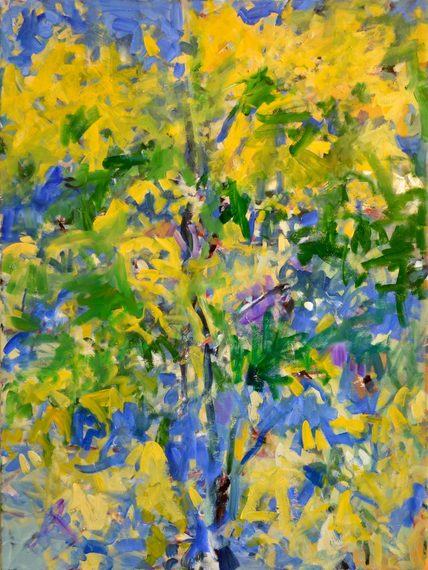 Spring Pear, Oil on linen, 48 x 36 inches
Tell me about how the imagery of your current show evolved.
In 2002 we moved to another part of town where my studio backs up to a nature preserve and the American River. The riparian habitat is very different here from the one along the Sacramento River. I have been greatly influenced again by my surroundings. The current show involves my observations over the last two years of walking in the forested area near my home.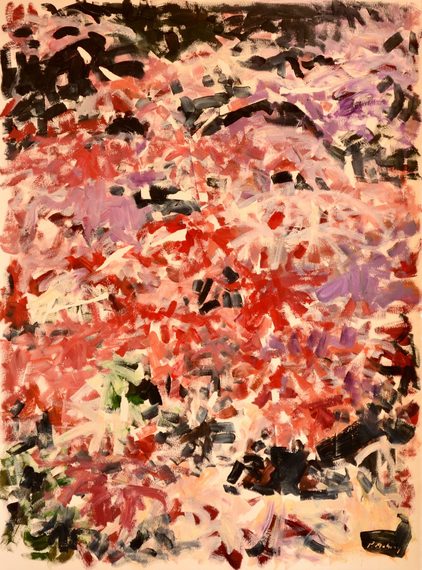 Japanese Maple, Oil on paper, 30 x 22 inches
Most of my previous landscapes were influenced by memories of nature and vistas were seen as a whole. In my walks over the past 2 years I began to notice the wild energy reflected in nature up close and began to observe what I would characterize as a perfect chaos. The harmony I always saw before was slowly being replaced by the sheer randomness of light and color given the particular day or time of year. My goal was to somehow define the chaos without losing the necessity of creating a cohesive painting that hopefully elicits an emotional response from the viewer.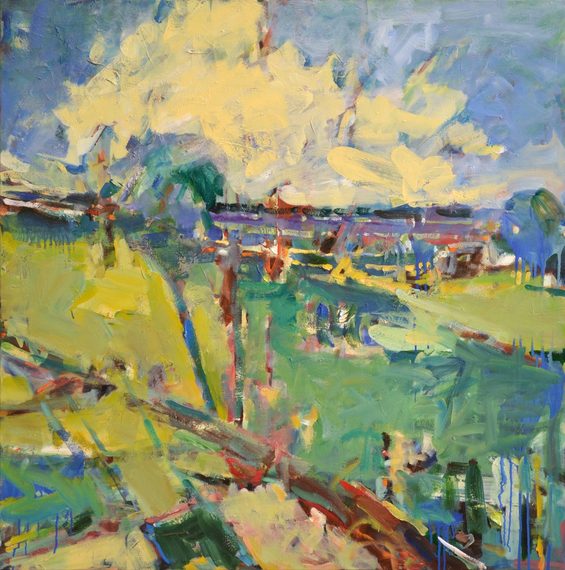 Spring Countryside, Oil on canvas, 36 x 36 inches
What kinds of materials, media, sizes and ideas are you currently working with?
All of the paintings in the show are oils on canvas, linen, or paper. Many of the paintings are quite large, up to 7' x 7'. The idea with some of the large pieces is to bring the viewer into the tree canopy. In others I attempted to magnify the wild flora. In all of these cases my intent is to push the representational aspects of what I see to the edge of abstraction. Especially on the large pieces, I have tried to match the wildness of nature with a wild and physical application of paint.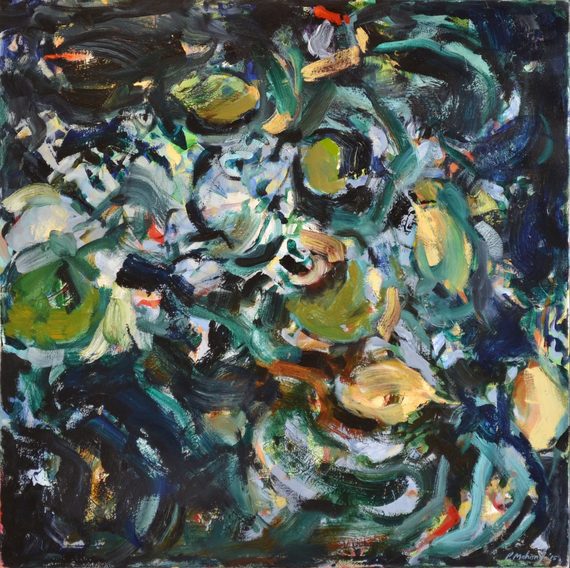 Yellow Leaves, Oil on canvas, 36 x 36 inches
Where does your work seem to be going?
I find myself throwing paint at the canvas and/or using my hands to apply the medium in an effort to reflect what I am seeing and feeling in the subject matter. My work has always hovered between representation and abstraction but this is a new phase for me. I feel it is part of my evolution toward total abstraction. In this series I feel as if I were having a conversation with nature.
Pat Mahony/Bob Schlegel
May 18 - July 12, 2016
Opening Reception: Saturday, May 28th, 7 pm - 9 pm
John Natsoulas Gallery
521 1st Street, Davis CA 95616