I believe that the greatest truths of the universe don't lie outside, in the study of the stars and the planets. They lie deep within us, in the magnificence of our heart, mind, and soul. Until we understand what is within, we can't understand what is without.
- Anita Moorjani, writing in Dying to Be Me
Artist Ed Penniman's paintings of California scenery go quite a bit deeper than simply showing us how he sees the world around him. Indeed, part of their depth is related to Ed's familiarity with the coastal landscape of Santa Cruz where he was born, made his first paintings at the age of twelve and continues to live, but familiarity alone can't account for the dreamlike vibrancy and spirituality that radiates from Penniman's landscapes. They are—in many important respects—inner vignettes that transmit the deep appreciation for life of a man who has been to the brink of death and made a comeback. Penniman is an artist living out his second life: a life infused with humility, awe and gratitude.
Always inclined towards art, Penniman's first life was centered on a career in design. After graduating from the Chouinard Art School with a degree in Fine Arts, Penniman—a hot young talent— had a job in advertising waiting for him. After a detour into his family's escrow business, he climbed the career ladder nimbly, winning awards as a graphic designer and proving himself adept—even exceptional—in generating the kinds of images and forms that present corporations and their products convincingly and seductively. Penniman was clearly, in the material sense of the word, a success, although his record as a family man was noticeably flawed.
Then, at age 42, Penniman experienced a traumatic illness that would prove to be transformative: he was struck by Guillain-Barré Syndrome (GBS), an inflammatory nerve disorder that brought convulsions followed by paralysis.
Finding himself shockingly reduced in his physical capabilities, angry at the situation and uncertain about to what extent he might eventually recover, Penniman was turned inside himself to face a wall of angst and fear, with transformation and re-invention as his only options. "I had come to a crossroads in my life – a point in which my existence as I knew it needed to die," he later wrote.
As he did recover—slowly—Penniman found that he was able to reach into a personal well of positivity to allay his fears and find the way forward. Among the positive byproducts of this traumatic experience, Penniman found himself developing what calls a "witness consciousness" that allowed him to see the separation between his mind and body. Although his range of physical actions was severely limited, his state of mind offered glimpses of respite, control and even joy.
During his rehabilitation process—in which the most rudimentary daily activities were practiced and re-learned—Penniman was given an easel and paints. Since he could only move his head, he held the brush in his mouth. Rather than feeling disappointed by the results, Penniman soon felt "liberated." Through painting, Penniman could momentarily transcend his physical limitations and express himself. "I learned to appreciate what I had," Penniman recalls, "and to hold my self-criticism in abeyance. I suddenly appreciated everything." Additionally the sense of limitation made every bit of progress precious and authentic: "As I progressed, I recognized more and more of my personal style in the art I was creating. It looked like I had done it. I had reclaimed a fundamental part of myself through my art."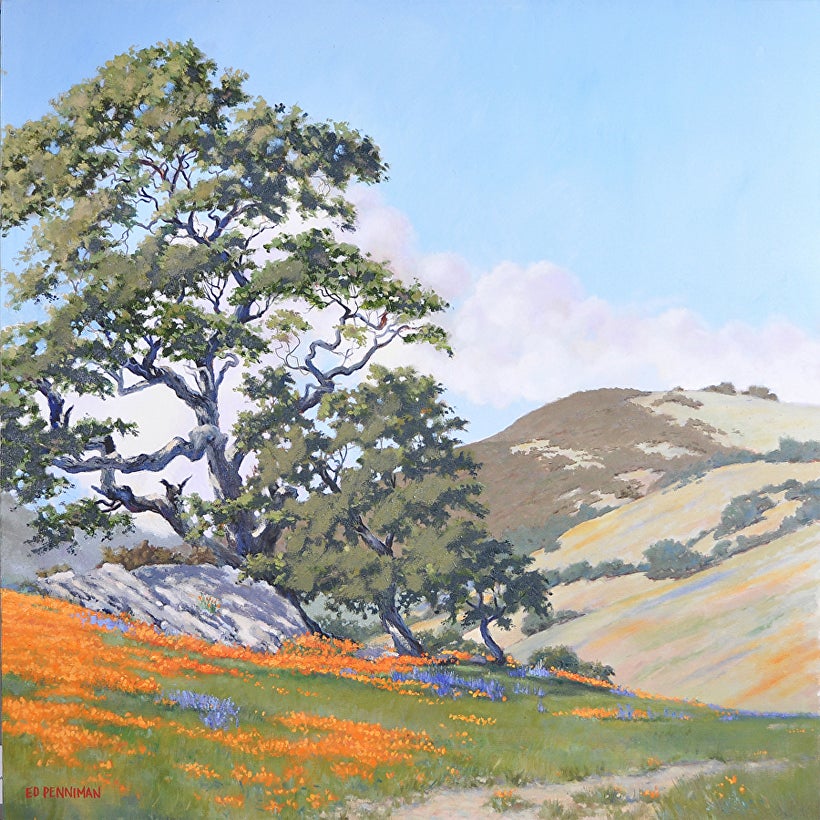 Another by-product of Penniman's situation was that his physical limitations were so daunting that they forced him to confront and challenge his emotional and psychological limitations. In time, Penniman came to enjoy the psychotherapy sessions he was receiving, and was thrilled to encounter what he now calls the "intricacies of the mind." Increasingly tender in his self-perceptions and in his relationships with others, Penniman blossomed into a much more self-aware human being, and this new, deeper awareness and sense of appreciation radiated into his paintings as he became able to work with his hands: "I started doing watercolors—landscapes—and they were like 'places' I could go. It was fulfilling to see nature come alive in painted form and to provide a destination for my inner journeys and meditations."
Along with the process of deepening, Penniman found he was encountering a greater multiplicity of inner-selves and their associated roles. Some of these are reflected in the series of self-portraits the eventually filled the cover of his recently published book:
You Are Up to You: Innovate a New Self for a New Life. Feel Spiritually Whole Again After Trauma and Disability.
Increasingly leaving behind the "inner-child" that had been so prevalent before his paralysis, Penniman discovered and painted himself as a chef, a satyr, a priest and a Santa Claus (to name a few). As Penniman philosophizes in his artist's statement, "Self-portraits are the most personal kind of artistic expression; brutally honest, unforgiving, revealing, self-referencing, frustrating, joyful, and/or uncomfortably objective."
Now three decades past the shock and trauma of his original illness, Penniman is indeed a man with a more varied set of goals and perspectives and a deeper engagement with both himself and his community. A painter, writer and curator, Penniman has gone through a range of developments in his art that began with the idea of becoming a "really good landscape painter in the California Impressionist style." He has certainly hit that mark, as his 2016 painting of Schwan Lagoon amply demonstrates: Penniman has a steady hand that works in concert with a superb sense of color. His paintings of California's Central Coast have a great tranquility about that that reflects both Penniman's sharp eye and inner peace.
Penniman's recent move from watercolors into oils has allowed him a new range of experimentation—with his palette and with his brushwork—that has left him more free than ever to make "the joy of accidents" part of his artistic method. Penniman is also working a bit with the human figure and, partly as a by-product of his engagement with the unconscious via psychotherapy, is beginning to delve into the study and use of arcane symbols of the subconscious, as it has a symbolic, universal language.
Looking over Penniman's works is likely to satisfy the soul and delight the eyes, but not because of the skill or training that are admittedly there, underlying their essence. The vitality of the work is hard won, the result of a deep psychic wakeup call that came into Ed Penniman's first life when the neither expected or wanted it. As painting can teach us, sometimes it is the accidents that leave the richest traces, guiding us to reach for something that we are not even sure is there, grasping for meaning and paying attention to the new shapes of things that come next.